Interview: 10 Questions for Mads Mikkelsen |

reviews, news & interviews
Interview: 10 Questions for Mads Mikkelsen
Interview: 10 Questions for Mads Mikkelsen
The Bond baddie on monarchy, typecasting and what's rotten in the state of Denmark
Mads: about the boy...
From playing a blood-weeping Bond villain in 2006's Casino Royale to his repeated collaborations with directors such as Nicolas Winding Refn (Drive) and Susanne Bier (After The Wedding), Danish-born actor Mads Mikkelsen has carved out a respected niche on both sides of the pond.
He can come out of questionable blockbuster material unscathed – as his recent turns in
Clash of the Titans
and
The Three Musketeers
demonstrate – and elevate good material with his relentlessly compelling, peculiarly intense screen presence.
He's recently been confirmed to play a villain in the follow-up to Kenneth Branagh's Thor, and he'll take on the role of Hannibal Lecter in a new US mini-series exploring the origins of everybody's favourite cannibal. On the home front, he won Best Actor at Cannes this year for Thomas Vinterberg's The Hunt, in which he plays a man who becomes the target of mass hysteria in a small Danish village.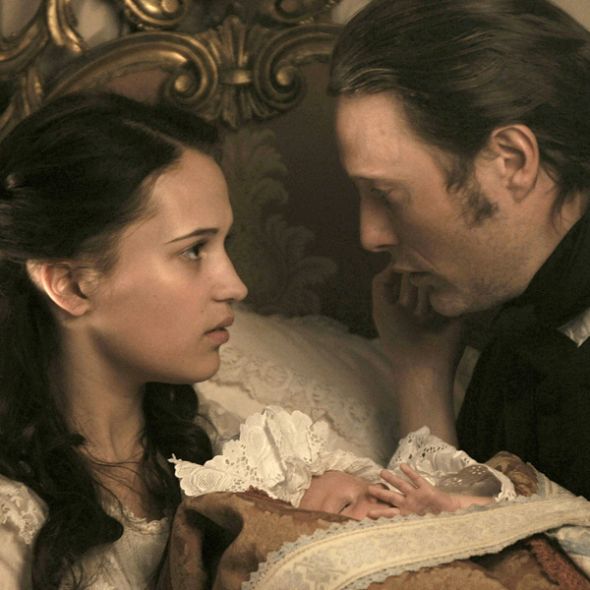 Mikkelsen's new film A Royal Affair is a dark, urgent period drama based around real events in 18th century Denmark, with an emotional immediacy and freshness belied by its rather drab poster campaign. Mikkelsen plays royal physician Johann Friedrich Struensee, who is brought in to treat King Christian VII (Mikkel Følsgaard) for his unspecified mental illness. Struensee develops a genuine bond with the king, but also falls for his mistreated queen Caroline Mathilde (Alicia Vikander), and uses his increasing position of power to bring about a series of reforms which ultimately lead to his downfall. It's a conflicted, dramatically fraught role and Mikkelsen plays all of the nuance and passion with none of the melodrama that might threaten to overwhelm the story.

In person, Mikkelsen is engaged, hugely enthusiastic and not even remotely villainous, as we recline on West London sofas to discuss monarchy, typecasting and what Yank filmmakers could stand to learn from Europe.

EMMA DIBDIN: The story of A Royal Affair isn't widely known here, but I assume it's much more so in Denmark?

MADS MIKKELSEN: In terms of the crown jewels of Danish history, yeah, it's up there with the top five. People certainly know that he had a relationship with the Queen, and took over the country, and there are divided opinions about whether it was a selfish act, whether it was ambition, whether he was a good man or a crook. I got very emotional when I read the script for this, and that rarely happens the first time. Normally it takes a while to dig into the script, and this is a period drama which can be even more tricky to get inside. You often have to get through the wigs and costumes before you find the human beings. But I thought it was beautiful, and there was no reason to say no.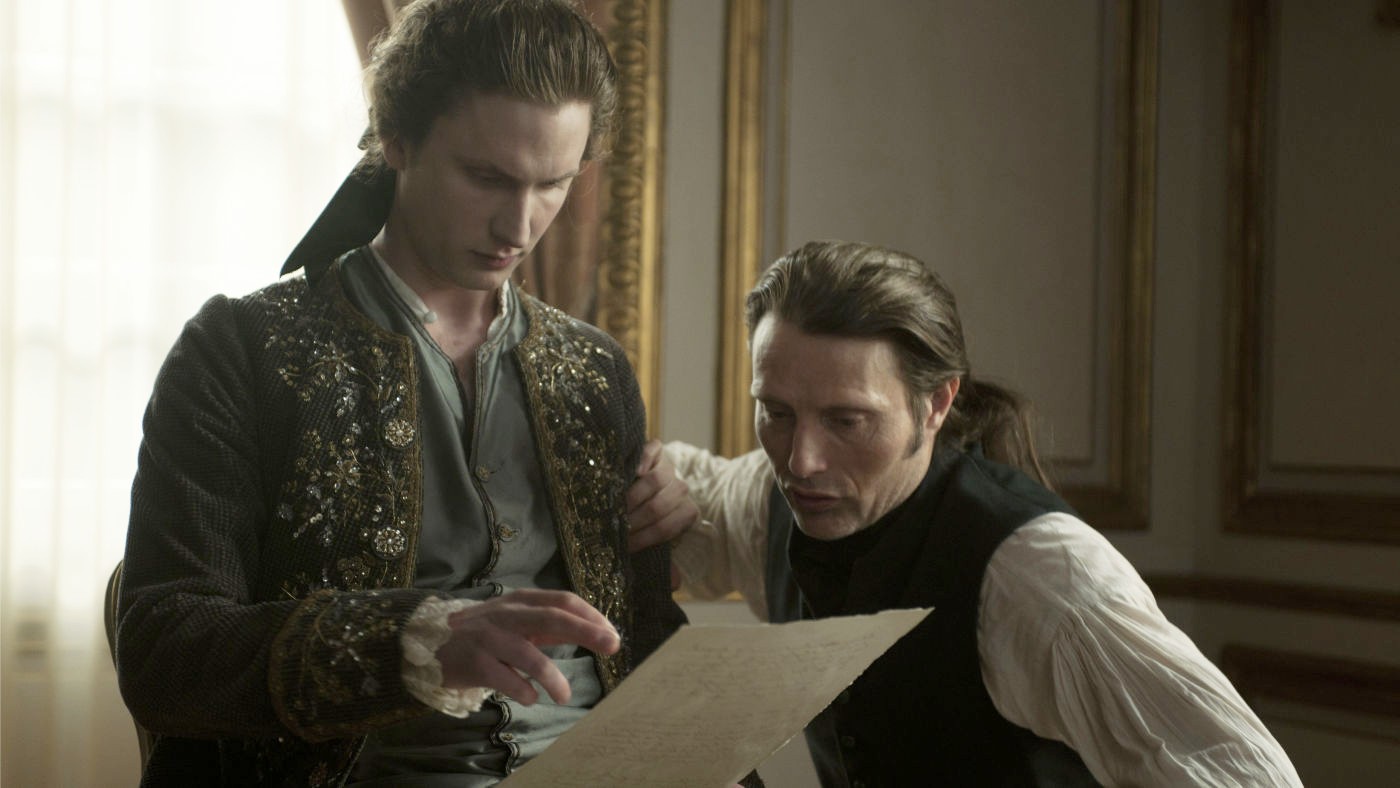 There's a lot of ambiguity to (your character) Struensee – you can make the argument that what he does serves the greater good, but he certainly seems to exploit the King's trust in him.

Totally. We do believe, based on the real letters and diaries, that the King and he really, really cared for each other, they loved each other. At the beginning, his dream is not to change anything in Denmark, his ambition is just to open up this young man, and find the key to him, because he's obviously absorbed by some problem. So that's why he starts persuading him to stand up for himself, and then as he realizes that there are people whispering in his ear, Struensee thinks "well, maybe I should be doing that, because I have better ideas than they have." And gradually, you start slipping from there.

How much is known about Struensee's relationship with the Queen?

We know for a fact that it was not a political alliance, it was a real love story. That was a benefit and gift for the film, because you can actually bring some romance to it without lying. And of course the fact that he's lying to his beloved friend the King makes this a very dramatic character, a man full of dilemmas. And at the end of the day he forgets everybody around him, he forgets the Queen, the King, his friends, and he's doing everything too fast. Like every good dictator in history, they start out with brilliant ideas but they forget, they get tunnel vision.


Given that you're playing a real historical figure, how much do you like to research the real person versus creating the character yourself?

Well, the very fact that this guy was originally 240 pounds, and very short, I've lost that battle already! But having said that, we're trying to at least give him the inner life that we believe he had, to a certain degree. We will never know exactly what happened behind closed doors, but from letters and from diaries, we can see that the relationships are true, and we know what happened, we know he got killed, we know he made 3000 rule changes in one year.
It was a very un-Danish film we did, in many ways, and I think we achieved something very beautiful with it
What's your opinion on the monarchy?
I'm a big fan of the monarchy – unlike Nikolaj [Arcel, the film's director] who is not, I believe. I'm from an old family of left-wing communists, but I like the monarchy! They can't touch our democracy at all, there's no fear of that, but I think there's something beautiful and dramatic about their history, not to mention the fact that they make an enormous amount of money for us. And in Denmark, we're fortunate to have some very smart people on the throne, smart enough to know their place. That's one of the reasons they've never been beheaded, I guess…
You've maintained a balance between American studio blockbusters and smaller foreign language projects – how different are the experiences in terms of shooting?
If this were an American film, it would be shot in six months. We did it in two months. I like to have a certain energy and speed when I work – it is quite tough to spend a week on one scene. American films could probably save a lot of money if they were a little more efficient, and we were extremely efficient. But having said that, it's also a luxury to go into a set that was built by 500 men on an American film, where you're genuinely like, "Okay, we are in a Greek palace now". That's a luxury too. If I were just dealing with dark, deep dramas, constantly, I'd be fed up with that. If I were only running around in sandals with a sword, I'd be fed up with that. But going from one to the other is just energising.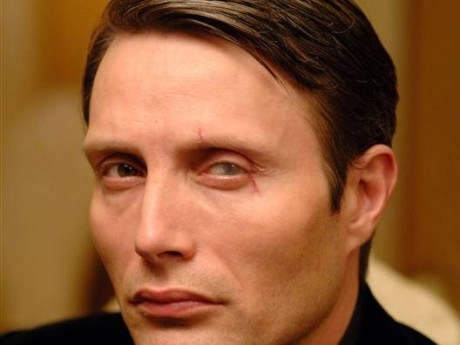 After Casino Royale (pictured right), were you inundated with offers for villain roles?

No, I was offered surprisingly few. I got offered a huge amount of dramas from all over Europe, very interesting, crazy films, radical stuff, and a lot of shit as well! I didn't have to consciously avoid being typecast as a villain, and I actually wouldn't have said no to a villain right after [Casino Royale], if the film was something I found interesting. I think you should be careful with planning your career too much, because at the end of the day if you do that you'll just be disappointed. You'll do your work as stepping stones, and not really be in the work.

How would you describe your working relationship with Nicolas Winding Refn?

It's interesting – we started out together but we're very, very different people. He can literally only talk about film. And I rarely talk about film, I love sports, and he has no interest in sports. So in terms of being friends, you would not say that we have mutual interests. But as working friends, it's a very different thing. I find myself as his translator, I'm sort of translating what he has in his head, and he likes the way that I do that, so it's been a successful collaboration. He's very radical in the way that he works, but he won't ever push you to do something you don't want to – you can just say "no, I find this stupid or pretentious", and you find a solution. But I also believe that he does find actors that he knows are radical themselves, he can expect that they will probably not back down. I've done some really crazy things with him, obviously.

And how does he compare to Susanne Bier, who you've also collaborated with again?

She's also a very radical woman, she's also pushing her limits a lot. She's very, very different from Nicolas, they're very different people, but she's a tough cookie. You can have a lot of laughs on the set, but you can also go very far with a scene, she's very open for your suggestions about taking scenes further than is on the page, just trying things.

If you had to choose just one of your films to play to someone who had no familiarity with your work, which would you pick?

Oh, that's very hard. Especially because of where we're at with A Royal Affair, because we're very emotional about this film. It was a very un-Danish film we did, in many ways, and I think we achieved something very beautiful with it, and emotional, so this would definitely be a film I'd be proud of people watching. In terms of character work, I'd also mention the second Pusher film, because I think that was a radical film in its own little universe. So those two, for now. And then I'll probably change my mind tomorrow!
Watch the trailer for A Royal Affair
I think you should be careful with planning your career too much. You'll just be disappointed
Explore topics
Share this article