Interstellar |

reviews, news & interviews
Interstellar
Interstellar
Christopher Nolan's imperfect but spellbinding space odyssey
A watery landing for Cooper (Matthew McConaughey, foreground) and comrades
Space, the final frontier. Except that on the slowly dying earth where Christopher Nolan's often awesome sci-fi epic begins, the instinct to reach for the heavens has been crushed by the struggle for survival as crops die and life-choking dust storms sweep across the American midwest.
In this eco-doom dystopia, technology has been deemed useless because food production is the sole imperative, and schools teach that the NASA moon landings were a fiction designed to bankrupt the competing Russians. Virgin Galactic is evidently not operational. It's only when former test pilot Cooper (Matthew McConaughey) fortuitously stumbles across the budget-starved remains of NASA that the historic dream of exploring distant worlds is rekindled. The aim? To find habitable planets to which mankind can migrate before the food and air run out.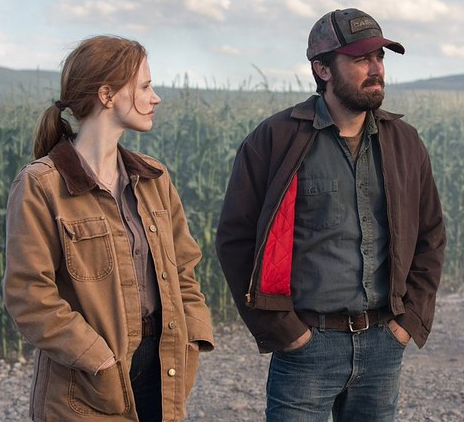 The way Nolan sets up the earthbound characters (Cooper, his son Tom, daughter Murph, and John Lithgow as his father-in-law Daniel), working the generations-old family farm, could be out of a John Ford Western. It feels like the start of a great saga, and not only because you know it's 166 minutes long. The capable, laconic Cooper is like the old frontiersmen reborn. "Man was meant to live on earth, he wasn't mean to die there," he says grittily (growing up fast - Jessica Chastain and Casey Affleck as Cooper's children, pictured above).
Nolan's ambition is huge, and it's a thrill to embark on a mission powered by philosophical ideas as much as rocket fuel. Primed by NASA's Professor Brand (a sad and wise Michael Caine), Cooper and his crew aim to pass through a recently-detected wormhole (one of those cosmic gateways beloved of sci-fi writers). Cooper is inspired by the vision but appalled that it means leaving behind his children. Survival of the human race must be paramount, but what kind of human are you if you deny the emotional and biological bonds of family?
Visually, it's frequently flabbergasting. The sequences where the wheel-shaped Endurance mothership (pictured below) soars past the rings of Saturn or is backlit by the huge neon-bright mouth of a black hole feel like dreams you may once have had. The frisson when Cooper flashily drops his space shuttle onto a new planet, like one of Tom Wolfe's fighter-jock heroes in The Right Stuff, turns suddenly to terror when a gargantuan wave reaching up into the clouds bears down on the craft.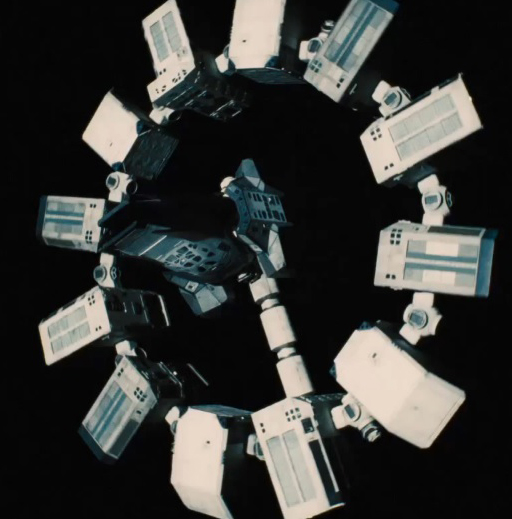 Thanks to input from theoretical physicist Kip Thorne, the screenplay (by Nolan and his brother Jonathan) essays some extravagant conceptual flights, including ruminations about the elastic nature of time. Cooper becomes distraught watching video messages from his children as they grow up to become Jessica Chastain and Casey Affleck while he himself stays relatively – I use the word advisedly – unchanged.
But when Nolan prepares for a denouement-splashdown, cracks begin to appear. Echoes of Stanley Kubrick's 2001: A Space Odyssey are too obvious to miss, but where Kubrick said he was creating "a visual, nonverbal experience", Nolan finds himself trying to explain intra-dimensional shifts and gravity-powered spaceflight to a cinema full of popcorn-chomping civilians. I started to experience flashbacks of dear old Scotty on the Enterprise, saying things like "Captain, if we plug both magma drives into the proton fibrillator, we might just be able to reverse time."
There's further cause for alarm when the doe-eyed Anne Hathaway, playing Prof Brand's daughter Amelia (pictured below with McConaughey), starts burbling inanely about the cosmic transcendence of love, while Hans Zimmer's music – a kind of turgid pseudo-Mahler mostly played on a giant organ – becomes so deafeningly overwrought that it does serious damage to the final part of the movie. Even McConaughey, whose aura now looms so large that even this movie isn't too big for him, struggles when he's supposed to be in several dimensions simultaneously, talking to his daughter through the back of an old bookcase in a scene that looks suspiciously like a leftover chunk of CGI from Inception.
But, flawed or not, this is still a cinematic event. It's not a great movie - Alfonso Cuarón's Gravity achieved far greater coherence by keeping its scope meticuously defined - but it has some great things in it. Besides, if you don't see it, you won't be able to argue about it.