'I'll show the lot of you!' Richard E Grant's Oscar nomination |

reviews, news & interviews
'I'll show the lot of you!' Richard E Grant's Oscar nomination
'I'll show the lot of you!' Richard E Grant's Oscar nomination
The Withnail star celebrates his Academy Award nod for 'Can You Ever Forgive Me?'
Wednesday, 23 January 2019
Richard E Grant anticipates vindication as Withnail
Richard E Grant has captivated the internet. The actor greeted the news of his nomination for an Academy Award by returning to his first rental when no one had heard of him. There he whooped with childlike delight, and then shared the whole thing in an utterly disarming Instagram post.
He also phoned up his co-star and co-nominee Melissa McCarthy, and together they cried. Perhaps now Grant will finally be umbilically linked in the public mind to his performance in
Can You Ever Forgive Me?
(
pictured below
), for which he has been nominated as Best Supporting Actor, as well as his career-igniting turn in
Withnail and I.

Grant plays Jack Hock, a debonair wit of no discernible morals who assists cash-strapped and deeply unpleasant non-fiction writer Lee Israel (McCarthy) in a career of fraud. The film is based on the late Israel's memoir, and directed by Marielle Heller, who made The Diary of a Teenage Girl. The nod from the Academy of Motion Picture Sciences couldn't have happened to an actor more intrigued by the thespian mind, and to whom the honour would mean more.
When I met him a few years ago he advised that, whatever they may tell you, actors are avid collectors of their bad notices. He could still remember verbatim the Withnail and I reviewers' fixation with his appearance. "They said 'lantern-jawed', 'undertaker's face', 'tombstone-featured', 'bug-eyed'. That's what they wrote down. I was astonished at the amount of trouble people went to to describe how weird-looking they thought I was. If somebody writes vitriolically about you, that feeds absolutely into the low-self-esteem department."
The charm of Grant is that, however far he has penetrated celebrity's inner circle, he has always somehow remained an anthropological outsider. He think it comes from growing up an expat in Swaziland: "That third-eye part of your brain never leaves you." As a child he would pore over pictures of movie stars in Plays and Players, Films Illustrated and Photoplay, and now and then he still leafs through bound copies in his study. "I am just astonished that people I had read about I now know or have met. And that still seems to me Dick Whittington-like. I still genuinely feel wide-eyed in wonderment, and that doesn't go away. Being star-struck is in your nature or not. Because talent is sexy and charismatic and very attracting."
It was Withnail that turned Grant, as Carrie Fisher once told him, from a tourist into an attraction (he is a committed and unabashed name-dropper). Daniel Day-Lewis had turned down the film's title role of an exotic but profoundly indigent actor. "I know that my entire career and life was changed by that part. That's a lottery in life that you have no control over whatsoever." Grant had the chance to thank Day-Lewis a few years later when he was cast by Martin Scorsese in The Age of Innocence. "I prostrated myself in his Winnebago and said, 'Oh Daniel, you know why I'm on the floor.' And he said, 'Arise, arise!' And he was incredibly charming.
"We talked solidly for five hours, and then for the next four months of the filming he never spoke to me. I was literally iced. I asked Michelle Pfeiffer and Winona Ryder what I had done and they said, 'Your character is hated by his character, so he is in the Method.' On the last day he came out of character and Daniel turned back into Daniel again. You know, he has three Oscars, so it's worked out very well for him. I couldn't imagine doing that. I think it would be so isolating."
Did he ever wonder what might have happened if Withnail had not turned him from an unknown and unemployed actor into a star sought by Hollywood's top directors? "I wouldn't be sitting here now. I would be a jobbing actor that people may recognise briefly from something or other."
He noticed a distinct upswing in his celebrity after recent appearances as a connoisseur/Lothario in Downton Abbey and as a recovering cocaine addict on Lena Dunham's acclaimed twentysomething comedy Girls. "The amount that I have ebbs and flows, it seems. People who don't know you from a bar of soap suddenly go, 'You've been on the telly, haven't you?' " (Pictured below: Richard E Grant in Girls with Zosia Mamet)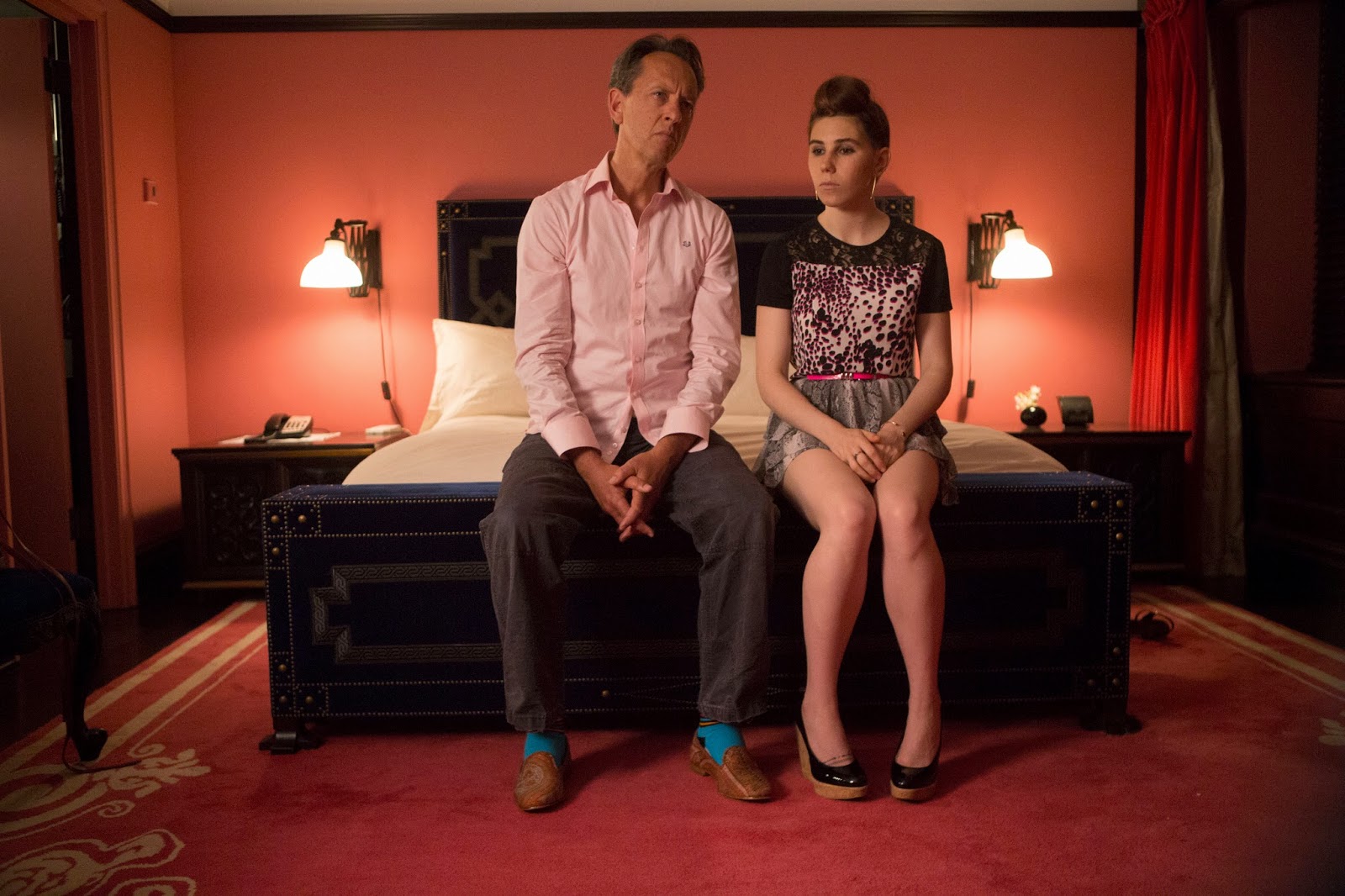 On both shows he was also of intense fascination to the cast. "You come in like the new boy going to school and they are so hungry for somebody new because they all know each other so well. So you have a brief honeymoon period where you are of interest." He could easily have been on television a lot more but he has refused invitations to dance or disappear into the jungle. Was the lure of yet more lashings of fame not at all tempting?
"I think it's career suicide to do it. Clive James As Seen on TV used to have those game shows from Japan where as a nation, horrified, we would go, 'We would never do that!' And now we've got newsreaders with cockroaches down their pants eating kangaroos' testicles. I'm just waiting for Bonk Thy Neighbour to come on. Because what else is left? Nothing is sacred on television whatsoever."
The evidence that Grant is absolutely riveted by human behaviour is there in two volumes of wonderfully indiscreet diaries. They also attest to a lifelong fear of laziness. His father died cruelly young at 52, and Grant has been busy ever since. "That agitation of thinking I've got to wrestle as much out of everything as possible has been an ongoing motor."
He is now 61, and has his dotage all lined up, based on advice given to him by John Gielgud. "He said, cultivate younger friends so that you're not alone if you do reach the great age that he did. "I am intimately close to the Spice Girls and the cast of Girls in the hope that when I'm in my wheelchair they will come and offer me sweet sherbets." For now he can stop envying other actors, and rest content that Withnail's mountaintop prediction has finally come true: "Bastards! You'll all suffer! I'll show the lot of you! I'm gonna be a sta-a-a-a-ar!"
Can You Ever Forgive Me? is released on 1 February
I was astonished at the amount of trouble people went to to describe how weird-looking they thought I was
Explore topics
Share this article