Hysteria |

reviews, news & interviews
Hysteria
Hysteria
A buzzworthy film tackles a sensitive subject with charm and restraint
Monday, 17 September 2012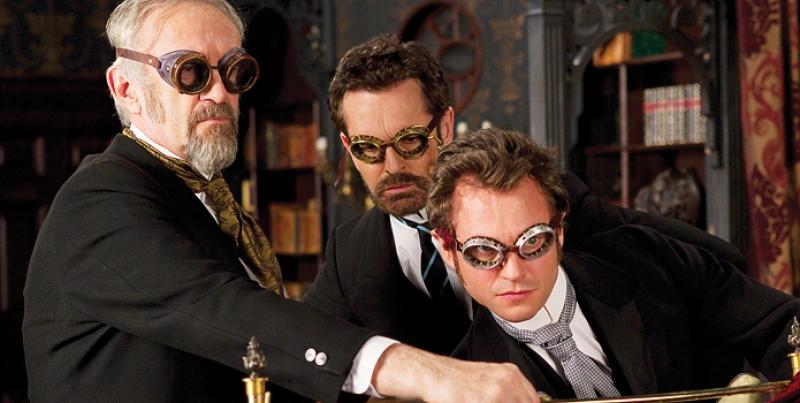 Jonathan Pryce, Rupert Everett and Hugh Dancy in 'the vibrator movie you can take your mum to'
"It is a truth universally acknowledged, that a single man in possession of a good fortune must be in want of a wife." It is a truth less universally acknowledged that a married woman in possession of a rich Victorian husband must be in want of a vibrator.
Ismail Merchant, James Ivory and Richard Curtis walk into Ann Summers… It's not the setup for a joke but it is essentially the starting point for Tanya Wexler's Hysteria – a film the director herself has dubbed "the vibrator movie you can take your mum to". Wexler gamely takes on the true story of this Victorian medical innovation, folding romance, comedy and a decorous bit of gender-politics into the costume-drama mix, and in so doing brings a whole new meaning to the term "feel-good movie".
It's the kind of film where Gemma Jones and Anna Chancellor just pop by for a quick orgasm
This is the 1880s and the only people getting much satisfaction are the quacks lining their pockets prescribing useless pills and "cures" (nice dose of leeches, anyone?) to their patients. Hugh Dancy's progressive young Dr Mortimer Granville (pictured below with Gyllenhaal) finds himself ridiculed and repeatedly fired for his belief in "germs", and in desperation seeks employment with the only man who will have him – Dr Robert Dalrymple (Jonathan Pryce), London's foremost expert in "hysteria".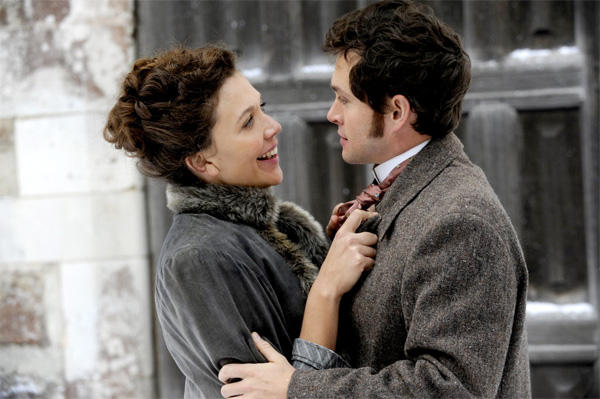 Dalrymple's motives soon become evident when we see the waiting room packed with women, hear the ecstatic cries from the treatment room, and witness his aching hands. But alas Granville too soon succumbs to hand-cramps, and if he is to have any hope of preserving his career or of marrying Dalrymple's pretty daughter Emily (Felicity Jones) he must find a solution.
This he does, with the aid of the eccentric Edmund St John-Smyth (an irrepressible Rupert Everett), a dilettante inventor working on an electric feather-duster, and the saucy prostitute-turned-parlourmaid "Molly the Lolly" (Sheridan Smith, pictured below, more than usually agile of tongue). And there's just a little Suffragette hindrance from Maggie Gyllenhaal as Charlotte, Dr Dalrymple's disreputable and socially minded "other" daughter.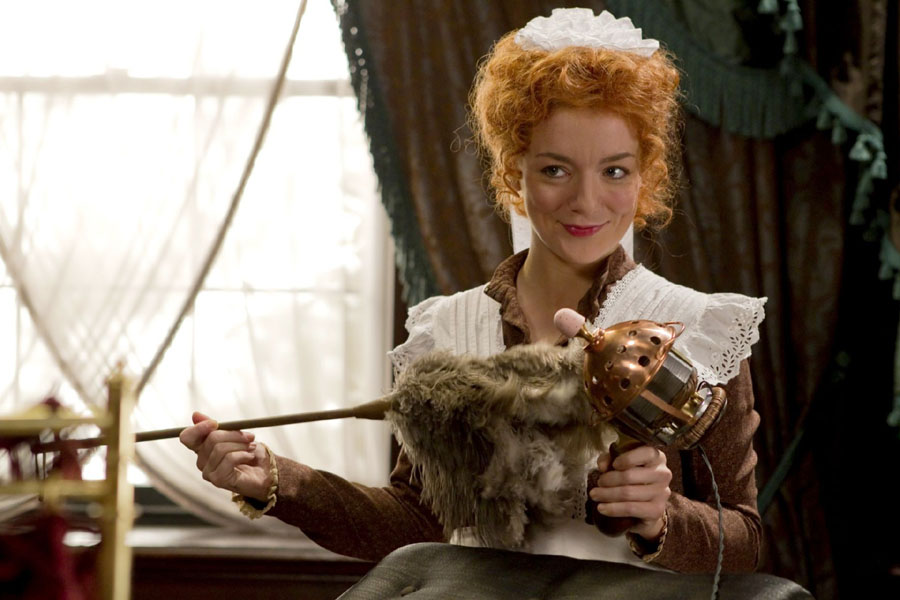 The plot is as predictable as the patients' "paroxysms", but thanks to Stephen and Jonah Lisa Dyer's screenplay it's a pleasure to watch the story play out. Dancy does a fine and foppish Hugh Grant impression, while Gyllenhaal takes on Emma Thompson's well-scrubbed matter-of-factness with ease. Their bristling anti-courtship however doesn't stand a chance against Everett's one-liners. All eyebrow and wicked asides, his turn as the "sometime drunkard and supreme sexual deviant" induces a fair few paroxysms of its own.
Pryce and Jones (pictured right with Dancy) get rather short-changed dramatically, but both camp it up with glee, and are in good company with an extraordinarily illustrious supporting cast. It's the kind of film where Gemma Jones and Anna Chancellor just pop by for a quick orgasm, generating the kind of politely metaphorical visual symbolism (think boiling kettles) that we haven't seen since the Naked Gun films.
It's all thoroughly charming and a genuinely good laugh, but at times this emphasis on palatability does risk neutering the issue, or at any rate concealing it among pastel ribbons and lace. A closing courtroom scene finally brings the feminist message to the fore, spelling out the frankly terrifying implications of men's misunderstanding of the female body. With America currently gripped once again in debate over a woman's reproductive rights it does however feel topically like too little too late.
Balancing a feminist agenda with explicit sexual themes and a consciously PG tone is a feat that might thwart even Dr Granville's dexterous hands, but somehow Wexler, er, pulls it off. Caught between multiplex and art-house the film might not get quite the attention it deserves, but give Hysteria a chance and it'll more than justify the buzz.
Watch the trailer to Hysteria