The Hitchcock Players: Kim Novak, Vertigo |

reviews, news & interviews
The Hitchcock Players: Kim Novak, Vertigo
The Hitchcock Players: Kim Novak, Vertigo
In Hitchcock's exquisite thriller a never-better Kim Novak drives Jimmy Stewart out of his mind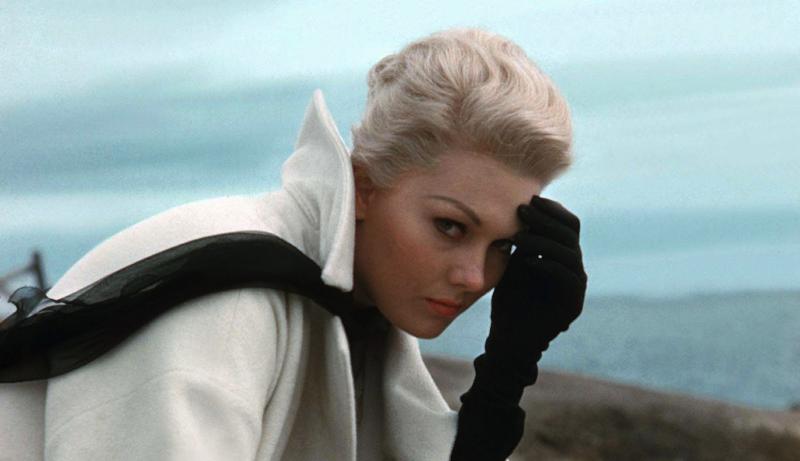 Lady and the vamp: Kim Novak casts a spell in 'Vertigo'
In Vertigo Kim Novak plays two women who are really just one. First Madeleine, a supernatural siren, a woman apparently possessed by her tragedienne great-grandmother Carlotta Valdes. However, it's a performance within a performance and she's merely a facsimile, a devastating creation played by an agent in a murderous plot. The imposter manipulates Scottie (James Stewart) into loving her only so that he may witness her apparent death.
Then there's Judy, the real woman behind the performance who is persuaded back into the part when Scottie can't let go of Madeleine's ghost.
The dual role carried considerable personal significance for Novak who had been aggressively groomed for stardom by Harry Cohn, head of Columbia Pictures, and she fittingly delivers a multi-shaded, intoxicating performance. When we first glimpse Madeleine in Ernie's it's as a peacock displaying; she is of course deliberately drawing Scottie's attention. After Scottie plucks her from San Francisco Bay, she is sensuously calculating - her voice a soft, clipped purr in a Hollywood exaggeration of femininity. In Muir Woods Madeleine is ethereal and unknowable but here and there Novak allows us to glimpse the vulnerability of a guilty woman falling in love for real. We're exposed to further "reality" when we meet Novak's Judy: heartbreakingly cheap and greedy for approval.
Vertigo is one of the films most cited as evidence of Hitchcock's misogyny, yet it unmasks the detrimental dominance of the male gaze. Though we spend much of the film aligned to the male protagonist Scottie, frequently sharing his point-of-view, 94 minutes into its two-hour plus duration the tormented Judy looks beseechingly to us, throwing herself on our mercy with a confession and, sensationally, our allegiance shifts from the male to female lead. We may start the film following in the footsteps of the mighty Stewart but in the end our heart belongs to the magnificent Novak.
Vertigo will be screening at the BFI Southbank on August 18 and throughout September
Watch a clip of Kim Novak in Vertigo
Judy throws herself on our mercy with a confession and, sensationally, our allegiance shifts from the male to female lead
Share this article