The Hitchcock Players: Grace Kelly, Dial M for Murder |

reviews, news & interviews
The Hitchcock Players: Grace Kelly, Dial M for Murder
The Hitchcock Players: Grace Kelly, Dial M for Murder
The blonde victim fights back as another tennis pro tries to bump off his wife
Grace Kelly dials S for Scream
Aside from the platinum hair and the porcelain beauty, there is no identikit Hitchcock blonde. She can be an ice-hearted femme fatale or a traumatised hysteric, or she can be Grace Kelly, a peachy embodiment of femininity whom the director enjoyed throwing in harm's way. He would memorably do it in Rear Window, a film which he talked about to his leading lady throughout the making of Dial M for Murder.
Hitchcock first saw Kelly in the same 1950 screen test which persuaded Fred Zinnemann to cast her in High Noon (1952). Whatever he saw, he deemed her ideal for Dial M for Murder (1954), a film which had the same provenance as Kelly herself. Still under 25, she had spent most of her short career in television and on the stage. Frederick Knott's television play became a theatre hit, and Hitchcock did little to open it out from the London flat where the titular murder is conceived, plotted and botched.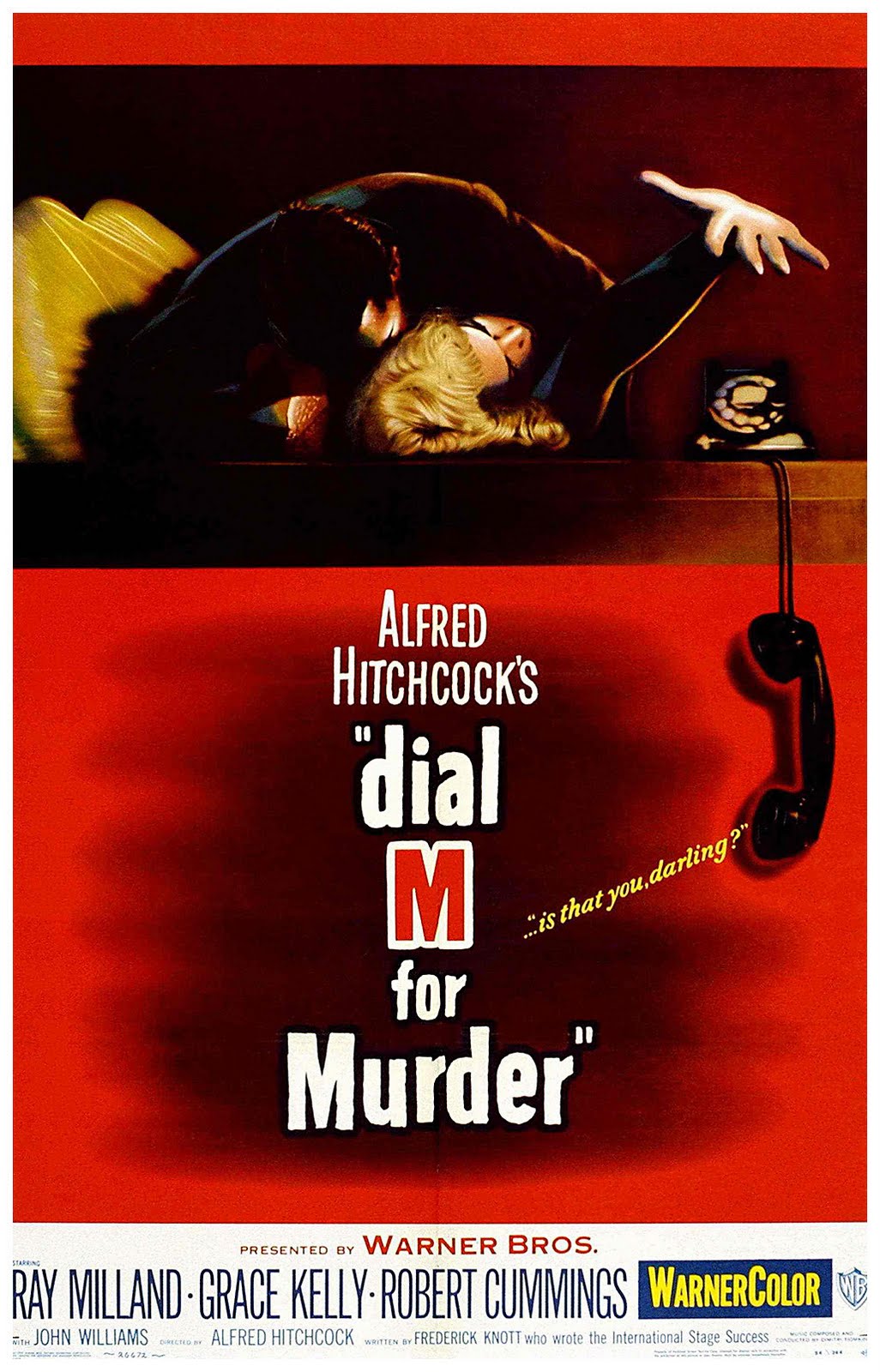 Kelly plays Margot, the wealthy young wife of suave tennis pro Tony Wendice (Ray Milland) who is having an affair with an American writer of crime fiction, Mark Halliday (Robert Cummings). (What was it for Hitchcock with cuckolded tennis pros and murder? Strangers on a Train also features a tennis ace who wants to bump off an unfaithful wife.) Wendice blackmails a moustachioed ne'er-do-well from varsity days (Anthony Dawson) to murder his bride while he and Cummings are out dining, only to reckon without the apparently fey Margot's ability to look after herself. The defining image of the play finds Kelly reaching for scissors as she is being strangled and plunging them into her assailant's back. With the help of Halliday's honed literary imagination and a wily chief inspector (John Williams), Wendice's dastardliness is slowly revealed, but not before Margot is found guilty of murder and sentenced to swing.
The staginess of the action is echoed in Kelly's stylised portrayal of a blemishless victim. It was an index of the inner light she somehow projected in her brief film career that she could suggest an adulteress as a shining vision of loveliness. Milland was certainly keen, though Kelly publicly denied any involvement. One day her prince would come, but not before Hitchcock had again put her in the line of fire.
The murder sequence in Dial M for Murder
It was an index of Kelly's inner light that she could suggest an adulteress as a shining vision of loveliness
Explore topics
Share this article