The Guernsey Literary and Potato Peel Pie Society review - artery-furring whimsy |

reviews, news & interviews
The Guernsey Literary and Potato Peel Pie Society review - artery-furring whimsy
The Guernsey Literary and Potato Peel Pie Society review - artery-furring whimsy
Lily James seeks postwar secrets in a Channel Islands weepie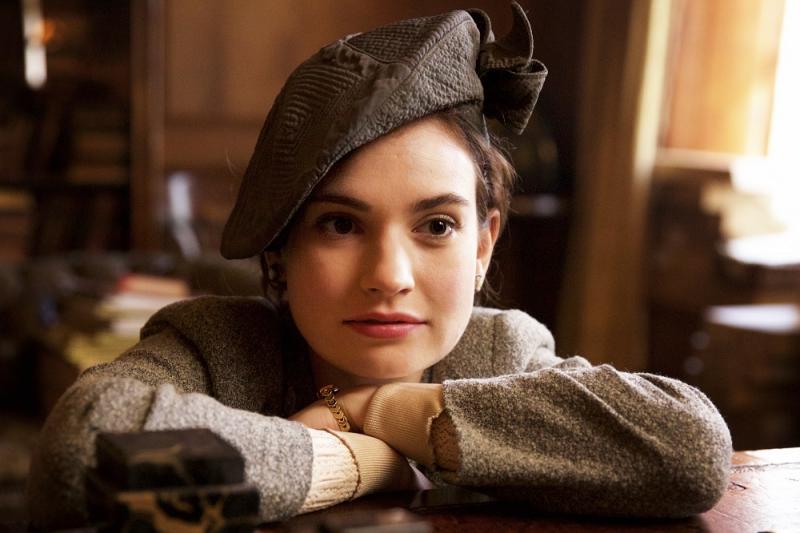 Lily James looks a picture in 'The Guernsey Literary and Potato Peel Pie Society'
There's a serious film to be made about the German occupation of the Channel Islands. The Guernsey Literary and Potato Peel Society is not that film. The absolute gobful of a title more than hints at artery-furring whimsy.
Its provenance is explained in the opening sequence when, after dark on the island in 1941, a tipsy, bucolic crew of Guernsey residents are apprehended for breaking the Wehrmacht's curfew. They explain that they have convened to discuss literature in a book club for which they instantly extemporise a name. In truth, they've been gleefully glugging home-brewed gin while scoffing a contraband pig and the eponymous pie.
They make for a rambunctious cohort: earnest widow Amelia Maugery (Penelope Wilton), crabby postmaster Eben Ramsey (Tom Courtenay), hot young pig farmer Dawsey Adam (Michel Huisman, whom GoT fans will know as Daario Naharis), and two younger women: dauntless Elizabeth McKenna (Jessica Brown Findlay) and kooky Isola Pribby (Katherine Parkinson). Those scrumptious names are a pair of Americans' idea of what passes for quaint, the film being adapted from the 2008 novel by Mary Ann Shaffer and Annie Barrows.
In 1946, smart young metropolitan authoress Juliet Ashton enters into a correspondence with Dawsey, who has come upon her old copy of Charles Lamb in a bookshop. She feels impelled to tell the literary society's story and sails for Guernsey with a rock gleaming on her finger, her dashing American beau (Glen Powell) having gone down on one knee at Weymouth dock. The island she sets foot on is, needless to say, a far cry from the postwar London of champagne, fast dances and bombsites, and soon works its enchantment. The only problem for Miss Ashton is that the story of the book club is bound up in wartime traumas, of which its members will not speak. One of their number is absent from the island, and has left a blonde child behind. But gradually Juliet tweezers it out of them.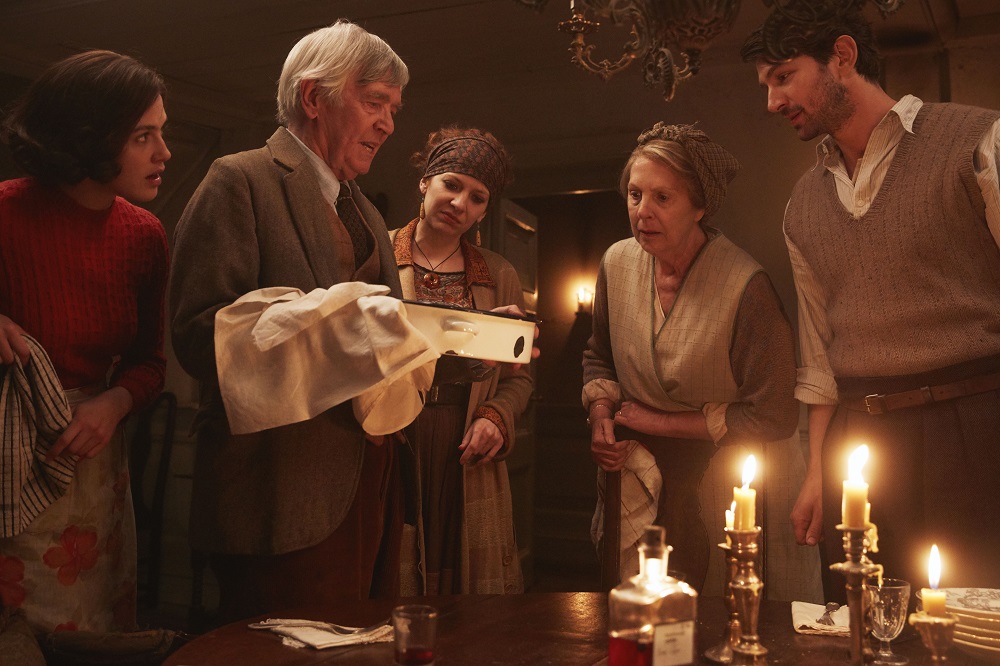 Lily James skilfully puts lovely splashes of energetic colour into a character whose main task is to ask questions and react to the answers. Stylishly dressed in Forties tweeds and woollens, she looks a picture and is often told so. "You are beautiful on the outside, and men do like that," says Parkinson, rather delightful as a witch-like brewer of potions whose psychic radar is a tad askew. Courtenay and Wilton give Rolls Royce performances one senses one may have seen before. Matthew Goode, who must be gagging to play an oik, has fun as James's paternalistic literary agent.
No one should hold out for surprises in this gentle paean to the healing properties of a good book. What you expect to happen in this clockwork plot happens. Sobaholics will need to bring along a mopping-up cloth. Mike Newell, who shot Four Weddings, knows how to sell jokes about English reserve. The major surprise is that the title is a misnomer. The bit about the (disgusting) potato peel pie is true. But before anyone boards the ferry for Guernsey, they should be advised that the cinemascopic cliffscapes and picturesque seaside village were supplied by, respectively, Yorkshire and Devon. The accents are, concomitantly, all over the place: the north, the west, Holland. This is destined to fill a rainy afternoon between Christmas and New Year.
No one should hold out for surprises in this gentle paean to the healing properties of a good book
rating
Explore topics
Share this article