The Great Gatsby |

reviews, news & interviews
The Great Gatsby
The Great Gatsby
Baz Luhrmann's Fitzgerald-spawned epic is busy and brash and big - but great? No, except for Leo
The adjective doesn't lie: Leonardo DiCaprio's Jay Gatsby is the best thing about Baz Lurhmann's big-screen take on the 1925 novel
The mothership has landed. After a year or so of countless stage adaptations ranging from a recitation of the novel in its entirety to a themed party and (just this week) a dance piece, Baz Luhrmann's celluloid version of The Great Gatsby has finally arrived in all its superhero-style 3D scale and scope. So, is this Gatsby great?
Not by some measure, and for every moment of inspiration and ingenuity comes another that fails both its literary source and Luhrmann's own instincts. Only in terms of the title character does the film deliver on the adjective that gets written out before us in the closing moments. Stick with
Leonardo DiCaprio
's Jay Gatsby if you want greatness; otherwise, you search in vain.
DiCaprio's achievement - a self-evident companion piece to his erstwhile Howard Hughes in The Aviator - is doubly impressive whether or not you recall the boring pretty boy that Robert Redford made of the same part in Jack Clayton's deadly 1974 film of F Scott Fitzgerald's 1925 novel (adapted, one tends to forget, by Francis Ford Coppola). As effortlessly commanding as he is charming, DiCaprio's Gatsby projects the easeful elan that comes from presiding over this self-made moneyman's own American Versailles until such time as the only thing that truly matters - namely, the love of the married Daisy Buchanan (Carey Mulligan) - recedes from view and his surface calm gives way to a thundering fury (see DiCaprio pictured above) at once terrifying and thrilling to behold.
Luhrmann's film, co-written with Craig Pearce, could use more such primal moments and considerably less of the swirling ostentatiousness that comes as scant surprise. After all, what really is the appeal of a slender novel at which practically every art form has had a separate go, John Harbison's 1999 opera included? Surely much of the attraction lies in the perennial allure of a degree of luxury and high style whose essential vacuity Fitzgerald exists to strip bare. That, in turn, allows Luhrmann et al to have their opulent cake and eat it too, swooning before all the feathery and fountain-filled excesses of the Gatsby manse while cautioning us against the transitory nature of it all: what use is all the wealth on earth without the person you love? The dream here exists a glimmering Long Island dock away from nightmare.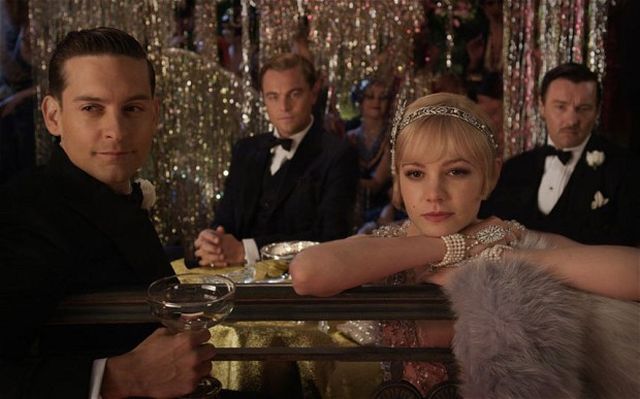 As befits the belated entrances Gatsby makes to his own jazz-age bacchanals, it takes a while before DiCaprio takes hold of a tale that is narrated for us by Daisy's cousin, Nick (Tobey Maguire, pictured left with his co-stars), the wide-eyed Midwesterner who in this version has landed in a sanatorium and is encouraged as a form of therapy to write the story that unfolds before us (go figure.)
The conceit is one way, I suppose, of amplifying the gravity of events. If an alcoholic Nick Carraway is so undone by Gatsby's calamitous fate, shouldn't we be, too? In actuality, what one gets is an undercooked bromance whereby an awestruck Maguire looks on at the profligate neighbour whose own fall from grace will become his as well.
Passages from Fitzgerald's text, as Nick is glimpsed busily typing them, are among the images that hurtle towards us in three dimensions, as are confetti, party streamers, and shattered glass. Too bad a hapless Maguire has problems pronouncing the word "orgiastic" in one of the direct citations from the novel that fuel the inevitable voice-over, Fitzgerald's literary shimmer once again pressed into the service of a film that can't find a visual equivalent of such gossamer prose.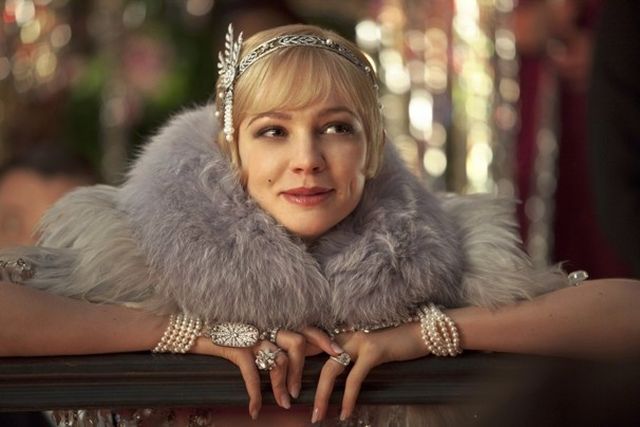 The acting in general seems strangely off, DiCaprio always excepted, as if Luhrmann were more interested in the larger fact of a gilded age giving way to its own extinction than in shaping his defining quintet of perfomers in any meaningful way. Mulligan (pictured above), in particular, seems both wispy and teary-eyed and there's little in her early encounters with DiCaprio to persuade us that this is a love worth the trauma that ensues. As her adulterous husband Tom, Joel Edgerton comes across as a Yale-educated yob, which might justify Daisy calling him a "brute", but there's not a scintilla of dash or swagger to a character who surely comes naturally by both. Perhaps Edgerton and the shining-eyed Jason Clarke, as the car mechanic George Wilson whose doomed wife Myrtle (a one-note Isla Fisher) is Tom's lover, would have been better off switching roles.
That said, I wasn't bored for a second, and I doubt others will be either, given the ongoing pull of the bright lights and glamour that give The Great Gatsby its celebrated overlay just waiting to be punctured by vanity, venality and worse. And if the novel remains as fundamentally out of reach as Gatsby is from those who clamour for his company, well, there's always the next adaptation. Which, the way the landscape has been looking of late, may well arrive within about a week.
Watch the trailer for The Great Gatsby
Much of the attraction lies in the perennial allure of a degree of luxury and high style whose essential vacuity Fitzgerald exists to strip bare
rating
Explore topics
Share this article