Grabbers |

reviews, news & interviews
Grabbers
Grabbers
Creatures from outer space battle a pub full of drunks in this likable comedy horror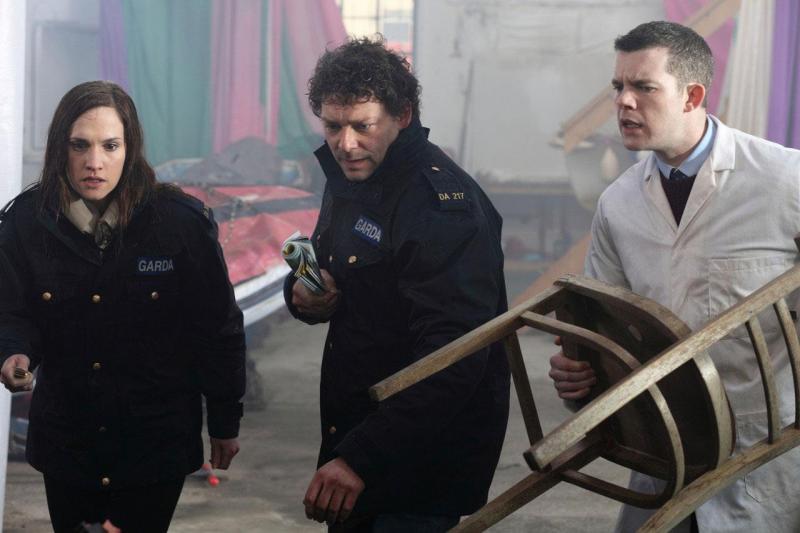 A penknife, a rolled-up newspaper and a chair: the gang tool up in 'Grabbers'
"It's always the quiet places where the mad shit happens," observes Garda Lisa Nolan (Ruth Bradley) in Northern Irish director Jon Wright's creature feature. And, credit where it's due, the mirthfully monikered Grabbers presents us with some classically mad shit. Set on the fictional Erin Island - a fishing village off the coast of Ireland - Grabbers is Wright's second feature after 2009's Tormented.
After a prologue involving the fatal molestation of fisherman by an unseen sea monster, we're introduced to Garda Ciarán O'Shea (Richard Coyle). He's rebounding off rock bottom, drunk and despondent after the breakdown of his marriage. Enter new recruit Nolan, a chipper townie and O'Shea's new partner in (fighting) crime. The attraction between the two is immediately apparent but Nolan has also caught the eye of Dr Adam Smith (Russell Tovey), a marine ecologist who's investigating beached whales which appear to have been attacked.
Meanwhile, local inebriate Paddy Barrett (Lalor Roddy, pictured below right - in orange) has made a related discovery - "I caught myself a sea monster today," he boasts in the pub. With a fool's lack of foresight, he's keeping the wriggly thing in his bathtub. Little does he know that a far larger, immediately more hostile manifestation of this "foreign species" – one that can pick you up, shake you and poke its giant tentacle down your chimney - is doing just that to a couple down the road.
The seemingly indestructible Paddy coins the name "grabbers", much to Dr Adam's displeasure (it's also a terrifically to-the-point title for the film). These slimy, sometimes gargantuan, tentacled beasties are creatures from outer space, thirsty for our water – and, of course, our blood. The discovery of their allergy to alcohol ("he must be a teetotaller") brings the film to life, with the central characters hatching a hilarious plan to hole up in the local pub and get the entire village safely plastered. After testing they conclude that they're looking at "Paddy levels of [blind] drunkenness" to deter it.
Despite the ingenious and hilarious central premise, elsewhere Grabbers is unashamedly derivative, directly referencing or channelling beloved films such as Aliens, Night of the Living Dead, Tremors, Jaws, Lake Placid and Shaun of the Dead. Yet by comparison to those it reveres it falls short. As leads Bradley and Coyle (best known for their TV work) are likable but they lack chemistry as a couple. Even more distractingly, the usually reliable Russell Tovey misjudges his performance. However, Lalor Roddy as the perma-pissed Paddy is a boozily believable hoot.
Screenwriter Kevin Lehane pens some impressive quips but fails to flesh the characters out sufficiently, decreasing the emotional investment and therefore the jeopardy. Wright's direction sometimes lacks cohesion and momentum and he should really avoid signposting his scares as the frights are sometimes delivered in diluted measures. On the other hand, the budget CGI largely stands up to scrutiny (even if there's a feeling that we've seen the creatures before) and I loved the idea of a house under attack from a monster which can simultaneously enter through any window or door.
Whatever its failings, ultimately it's hard not to be picked up and tickled by Grabbers. While it's unlikely to be keeping us chuckling and cowering for years to come, this little movie is conceptually fabulous and fine craic for sure.
Grabbers is in selected cinemas now and on DVD from 31 December

Follow @EmmaSimmonds on Twitter
Watch the trailer for Grabbers
Subscribe to theartsdesk.com
Thank you for continuing to read our work on theartsdesk.com. For unlimited access to every article in its entirety, including our archive of more than 10,000 pieces, we're asking for £3.95 per month or £30 per year. We feel it's a very good deal, and hope you do too.
To take an annual subscription now simply click here.
And if you're looking for that extra gift for a friend or family member, why not treat them to a theartsdesk.com gift subscription?