Good Kill |

reviews, news & interviews
Good Kill
Good Kill
Examination of the soul-destroying effects of perpetrating slaughter by remote control
The war game: Ethan Hawke as Major Tom Egan (right), with Bruce Greenwood and Zoe Kravitz
When President Obama took office in 2009, he was riding a wave of idealistic expectations of a superior brand of politics and even a better kind of world. That all looks ludicrous now of course, and one of the lasting stains on his reputation is likely to be the way the USA has ramped up its campaign of drone strikes under his leadership.
Good Kill is set in 2010, as the drone campaign was kicking into high gear. Its troubled anti-hero is Major Tom Egan (Ethan Hawke), a former USAF F16 pilot with six tours of duty on his record, but now confined, along with his team, to a Portakabin-style container on an Air Force base in Nevada from which he pilots drones by remote control. Like the operators themselves, we watch the ensuing mayhem exclusively on TV monitors as targets in Afghanistan are exterminated by a simple trigger-pull on a glorified wargaming joystick. A "good kill" means a bullseye.
Writer/director Andew Niccol (who also directed Hawke in Gattaca and Lord of War) has grasped that there's no need for histrionic exaggeration. He merely allows the disconnect between Egan's day job of robotic slaughter and his average-American home life of barbecues and beer in the Las Vegas suburbs to work on us as it's also working on Egan. His wife Molly (January Jones, pictured above) is a former Vegas dancer now persevering in her role as wife and mother, but her relief that her husband is no longer flying fast jets in a distant war zone is being eroded by his growing frustration and guilt. Major Egan yearns to return to a real cockpit – there's a vivid dream sequence in which he pilots a screaming jet across the desert at zero altitude – but times have changed, and today's war is being "prosecuted" (in the military euphemism) by kids recruited for their gaming-arcade skills rather than their fighter-jock heroism.
The framework provides scope for some strong performances. Jones is stunningly good as Molly, torn between loyalty, dismay and bitterness as she learns that what she thought was her husband's righteous work is, in fact, eating him away from within and destroying the family. Bruce Greenwood, usually relegated to reliable second banana, steps up forcefully as Egan's veteran commander Lt Colonel Johns. He presents a facade of prickly authoritarianism peppered with f-words to his recruits – though there's some bleak humour in the way his bracing start-of-term pep talk is revealed to be an oft-repeated set-piece. But even he starts to feel qualms when his unit comes under CIA control (he refers to them as "Christians in Action"), represented by a cold-blooded voice over a telephone loudspeaker (Peter Coyote), ordering the annihilation of vehicles, buildings or people seemingly on the flimsiest evidence or a mere hunch.
Some of Egan's co-workers, such as Zimmer (Jake Abel) and Christie (Dylan Kenin), remain unambiguously committed to their work of zapping the bad guys, indifferent to whether they might have picked the wrong victim, but Airman Suarez (Zoe Kravitz) introduces a note of acidic scepticism. "Did we just commit a war crime?" she asks after one especially heartless attack.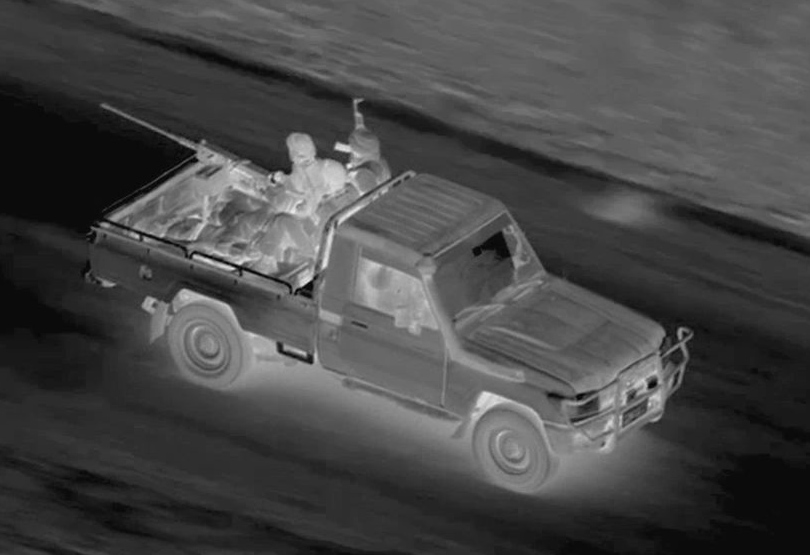 You might argue that it's mere indulgence to focus on one American officer's descent into hard-drinking self- loathing, considering the mass carnage he's delivering to the other side of the world, and to place the blame for the really bad stuff on the CIA feels like a cop-out. Niccol also undoes some of his good work with a disappointingly silly ending. But this is the story he has chosen to tell and in the main he does it strongly, matching the all-seeing drone footage (pictured above, a Taliban truck awaits destruction) with surveillance-style panoramic shots of endless Las Vegas suburbia to hint at the way the War on Terror sucks everybody, everywhere under its morbid shadow.
For another perspective there's Tonje Hessen Schei's new documentary Drone, also released this week. It's a forensic inside look at the people and the technology involved in "the biggest targeted killing programme in history". Posterity is not going to judge all this kindly.
Overleaf: watch the trailer for Good Kill
Subscribe to theartsdesk.com
Thank you for continuing to read our work on theartsdesk.com. For unlimited access to every article in its entirety, including our archive of more than 10,000 pieces, we're asking for £3.95 per month or £30 per year. We feel it's a very good deal, and hope you do too.
To take an annual subscription now simply click here.
And if you're looking for that extra gift for a friend or family member, why not treat them to a theartsdesk.com gift subscription?