The Forgiveness of Blood |

reviews, news & interviews
The Forgiveness of Blood
The Forgiveness of Blood
Overcoming harsh traditions of the past proves difficult in contemporary Albania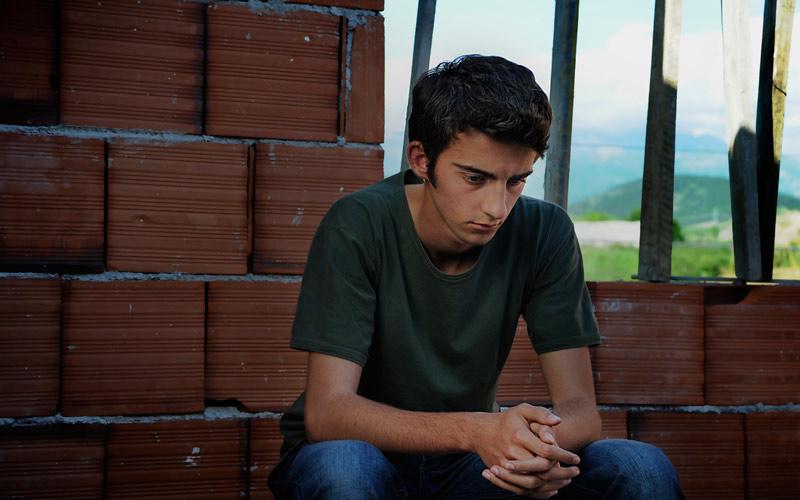 A teenager locked up at home - for blood feud reasons: Albania's Tristan Halilaj as hero Nik
Blood feuds and mobile phones are not something you expect to find in the same film narrative. But they are both part of the landscape of American director Joshua (Maria Full of Grace) Marston's Albanian-language The Forgiveness of Blood, which shows that while a small Balkan nation has caught up with the modern world in some technological respects, age-old traditions of clan revenge survive. Murder must be avenged with murder, making for generations-long disputes.
The kind of simmering disputes between neighbours that end in bloodshed were a part of William Faulkner's American South. In the Albanian context we know the world best from the historical novels of the country's greatest writer Ismail Kadare. In The Forgiveness of Blood they erupt in a small Albanian town, where hero Nik (Tristan Halilaj), a beguiling 17-year-old, is about to end school, and has plans for small business activity in the form of an internet café. He's popular, and tentatively courting a local girl. His sister Rudina (Sindi Lacej) has plans to go further, to university.
Murder must be revenged with murder, making for generations-long disputes
Their wider family dynamic seems stable, with younger siblings, and extended family close-by. The clan is led by the father, Mark (Refet Abazi), who earns a living delivering bread in a horse-drawn wagon through a beautiful landscape (sunnily caught by cinematographer Rob Hardy), and passed by ageing Mercedes: age-old elements of the culture co-exist alongside contemporary ones. Judging by the slow process of a roof extension going up on their house, the family seems to be doing at least OK.
Until the issue of roads erupts. Specifically a short-cut used by Mark on his delivery rounds, across land that was once in his family, before the Communist Enver Hoxha regime (the only one in which secret police pressure virtually closed down the blood feud issue) assigned it to a neighbour; the latter seems to be spoiling for a fight on the issue by closing access, first with stones, then with more substantial blockades.
It leads, to no surprise, to a stand-off ending in murder. Nik's uncle is jailed for 18 years - the local police do have a presence, almost powerless though they are against local traditions - while his father goes into hiding. That brings the codes of a Middle Ages canon, the Kanum, into play: until vengeance is achieved, or until Mark is imprisoned, Nik as an almost adult male is confined to his home. That claustrophobia is emphasised by the contrast with the light outside: his main recourse is weightlifting and fitness training on the protected roof to pass the time. The soundtrack is equally sensitive to his depressive mood.
If he leaves his hideout, he will be killed, and the teenager is left by his father (who on a couple of occasions returns furtively at night) with the family gun that is their only defence. It's a heavy responsibility for an adolescent who just wants to go back to school and meet his possible girlfriend (he creeps out at night, too, until they start communicating by mobile). Women and children are excluded from the revenge principle, and there are times when a besa, a limited period of immunity, can be granted. When sister Rudina (pictured above) has to take up her father's bread round so the family can survive, even she experiences breaches, both formal and from competitors, of accepted traditions. In this society there are traditional processes of mediation – but they can take years. That's too long for the young Nik, whose final gesture gives a hint of better times ahead, at least for him.
Halilaj's performance - suggesting fecklessness, then charm and finally the existential isolation of an exile - carries the film, though the mostly non-professional local cast are also impressive. Blink, and you might think it was a documentary, such is the believability of the details.
Marston won a Silver Bear at the Berlin film festival, along with his Albanian co-writer, Andamion Murataj. The Forgiveness of Blood achieves less worthy fame when nominated as Albania's Best Foreign Language Film at the Academy Awards last year. First submitted and then challenged by another local director on the grounds of the level of foreign involvement, both from director and producers, the Academy finally rejected it. Which leaves a sense of paradox: for a country that is never going to have an enormous film industry - it's hard to know who to partner with. In Hoxha days, Albanian would-be directors went largely to Moscow; now the industry seems to be trying to attract support from Europe or America. It leaves an impression that the feuding, on screen or off, is not over.
Watch the trailer to The Forgiveness of Blood
Halilaj's performance in the role, initially feckless, charming, and finally existentially isolated and an exile, carries the film
rating
Share this article
Subscribe to theartsdesk.com
Thank you for continuing to read our work on theartsdesk.com. For unlimited access to every article in its entirety, including our archive of more than 10,000 pieces, we're asking for £3.95 per month or £30 per year. We feel it's a very good deal, and hope you do too.
To take an annual subscription now simply click here.
And if you're looking for that extra gift for a friend or family member, why not treat them to a theartsdesk.com gift subscription?