Falling review - Viggo Mortensen's powerful directorial debut |

reviews, news & interviews
Falling review - Viggo Mortensen's powerful directorial debut
Falling review - Viggo Mortensen's powerful directorial debut
Portrait of a disintegrating mind: Lance Henriksen excels as an angry old man
"Son, are you sure you're a fag?": Willis (Lance Henriksen) and his son John (Viggo Mortensen)
"California is for cocksuckers and flag-burners. Did they know you were a fag in the army?" Willis (Lance Henriksen; best known as Bishop in Alien) asks his son John (Viggo Mortensen), now living in LA with his husband Eric and their adopted daughter Monica.
And that's one of Willis's more restrained outbursts. He's tipping over the edge into enraged, foul-mouthed dementia. Yet somehow his son, a mild-mannered pilot (he was in the air force, not the army, as he reminds his dad) who's trying to get him to move from his isolated farm in the snowy northeast, is a model of kindness and patience – sometimes almost unbelievably so. His reaction to his dad's homophobia is a subtle twitch of the eyebrow and corner of the lip.
Falling adds yet another string to Mortensen's bow, as if he needed one. A poet, photographer, painter, editor at Perceval Press, his publishing house, and actor (Lord of the Rings, History of Violence, Green Book, The Two Faces of January), this is his debut as a writer/director – and he also composed the score.
He's said that the idea for the film came to him when flying across the Atlantic after his mother's funeral. Although not specifically based on his own father – well, thank God for that – there are real events and conversations in there, and he's been a care-giver to several members of his family who've had dementia, including his parents, so it's clearly a subject close to his heart. He even dedicated the film to his two younger brothers.
It revolves around Henriksen's extraordinarily energetic, powerful performance. He's a dad from hell, slipping in and out of lucidity, constantly reviling his two dead ex-wives as whores and fag-breeders, wondering whether you can get AIDS from the Pacific ocean, over-sharing about excretory issues and making racist comments whenever the occasion arises, as it does each time he meets Eric (Terry Chen; Almost Famous; House of Cards) who is Chinese-Hawaiian, not Japanese, as Willis is snarlingly convinced.
Yet some redeeming features lurk: his relationship with his granddaughter Monica (Gabby Velis) is affectionate and she's impressively unfazed by his rantings. "When a guy my age thinks he has to pee, he already did," he informs her comfortingly when she wets the bed. Not so demented, then. "We're friends," she tells her father. Nothing is clear-cut, as is the way with life and memory loss, and Willis is refreshingly alive, hardly a faded forgetful sort.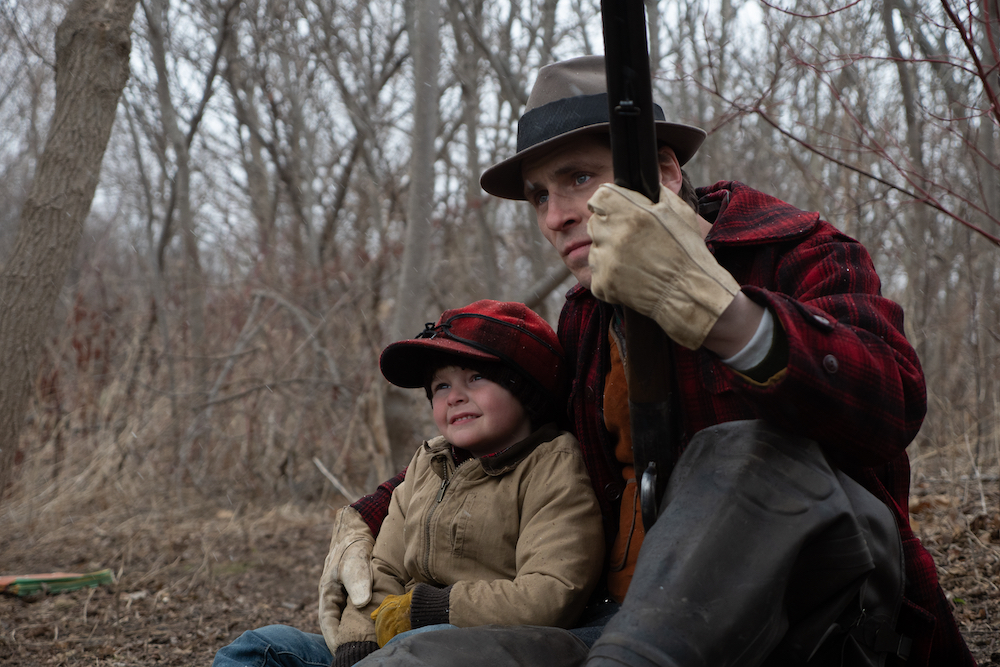 But old man Willis doesn't quite gel with the younger one we see in flashbacks, played by an excellent Sverrir Gudnason (Borg McEnroe; The Girl in the Spider's Web; pictured above with John, played by Grady McKenzie) who, although taciturn and old-school, seems to have a close, even happy relationship with little John. They go duck-shooting together when he's about four, John manages to shoot one down, and, bizarrely, his father lets him have a bath with it and take it to bed.
The trajectory of Willis's life remains mysterious. You presume that his jealousy, misogyny and rage is responsible for his self-contained, graceful wife Gwen (Hannah Gross; Joker; The Sinner) leaving him, taking John and his sister Sarah with her, though we're not shown the precise turn of events, and the flash-back perspectives veer ambiguously between Willis's and John's. Cinematographer Marcel Zyskind's shots of this rural landscape, and the flowery wallpapered farmhouse interiors, deteriorating with age, are consistently powerful. Old Willis must own the last analogue TV, balanced precariously on his kitchen table along with miscellaneous bits of machinery – a nice contrast to John's upscale Californian kitchen with its vast pantry-fridge.
Probably it's that hard-wired memory of affection in spite of the bad times that accounts for the way John and the equally long-suffering, cloyingly sweet Sarah (Laura Linney in an unsatisfactory cameo) put up with their impossible dad. At lunch - a scene that never quite comes together - in John and Eric's garden, he tells Sarah's composed daughter (Ella Jonas Farlinger) that the rivet in her nose looks like shit, she's scarred for life and now she'll have to marry a circus freak. "Why do you dye your hair blue?" he asks Sarah's teenage son (Piers Bijvoet). "Are you planning on being a homo?" The scene throws some light on the devotion of Willis's second wife and the extent of his dementia – he's confused about which wife is which: "Not Gwen, the other tramp" – but otherwise it's more of the same.
Sarah and John are both keen to get Willis to move to LA, but it seems a lost cause, although they manage to schedule an appointment with a proctologist, played with lugubrious panache by David Cronenberg. "I'm going to check your prostate. Strictly routine," he says as he snaps on some purple gloves. "Find anything you like?" asks Willis. "Maybe you should try my son's. There's probably a party going on in there."
After surgery back east (in the end Willis draws the line at the idea of a Californian surgeon) John moves in to care for him and attempts, with predictable results, to get him to eat healthily. Violence erupts, and it's a relief to hear John finally let rip at his father, but in the end, a kind of peaceful resolution is reached between the two. "I'm sorry I brought you into this world so you could die," murmurs Willis to his newborn son at the start of the film, setting the tone, perhaps, for the abrasive yet deep-rooted relationship that follows.
The film revolves around Henriksen's extraordinarily energetic, powerful performance. He's a demented dad from hell
rating
Explore topics
Share this article