In The Fade review - twisty German courtroom drama |

reviews, news & interviews
In The Fade review - twisty German courtroom drama
In The Fade review - twisty German courtroom drama
Diane Kruger stars in ambitious thriller tackling racism, terrorism and revenge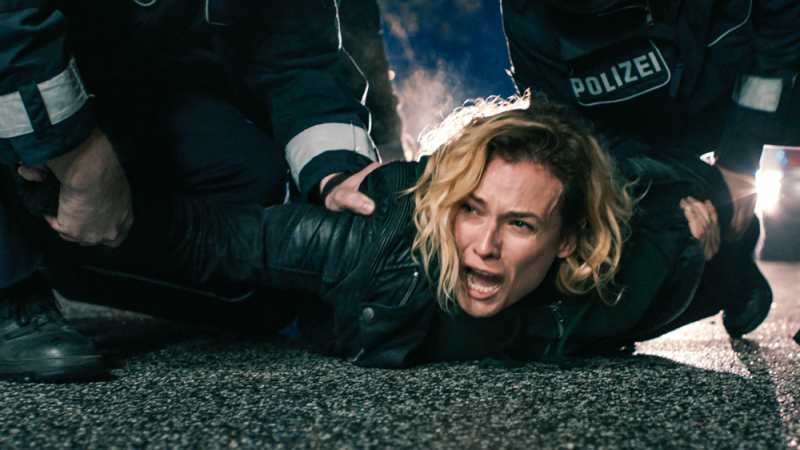 Cannes winner: Diane Kruger in 'In the Fade'
The Cannes jury in 2017 gave best actress to Diane Kruger for her performance in In the Fade. She plays Katja, who turns avenging angel when her son and Turkish husband are murdered. It's Kruger's first acting role in her native German and she's on screen for almost the entire film. Whether you are absorbed by the narrative of In the Fade (German title: Aus der Nichts) or find yourself distanced by the stylistic tics and plot holes, probably depends on how much Kruger/Katja convinces you. I kept being reminded of another intelligent, beautiful model turned actress, Jessica Lange, who took on a heavyweight role in Costa-Gavras' courtroom drama, The Music Box. If Kruger could have delivered a similarly nuanced performance, In the Fade might have overcome its somewhat clunky structure.
Director Fatih Akin, the son of Turkish immigrants, lives in Hamburg and has won high praise for previous films such as Head On (2004) and Soul Kitchen (2009) that captured multicultural life in Germany. Here he takes a darker turn, drawing on the recent rise of neo-Nazi terrorism to craft a thriller that turns into a courtroom drama and then an action-revenge movie. In the Fade won him a Golden Globe for best foreign film but has not done that well at the US box office before its release here, timed perhaps as an intelligent women's film alternative to World Cup season.
We first meet Katja in home movie flashbacks. She's a bohemian young student, buying drugs from Nuri (played by Numan Acar, best known from season 4 of Homeland). They fall in love and marry while he's in prison. Cut to the present day and we meet a more respectable couple with a cute six-year-old son and a shared business. They're running a travel and translation agency from a shop-front office in a Turkish neighbourhood in Hamburg. It's not the most lucrative of enterprises and makes their very glossy home and top-end BMW a bit baffling. (Pictured below: Diane Kruger and Numan Acar)
Turns out their lifestyle's funded by Nuri's father's property empire back in Turkey, but it's this kind of distracting detail that makes it hard to be absorbed by the main narrative. Instead of working as a device to show how prejudiced the investigating police are – they assume from his lifestyle that Nuri is still a drug-dealer and that his murderers will be from the underworld – the emphasis on luxe production design make it seem as if the filmmakers couldn't resist floating camerawork around stylish interiors and fast cars, rather than working within the cramped confinement of a real apartment and an everyday motor.
In the Fade was co-written by lawyer Hark Bohm and is partially based on a real-life terrorism case which is yet to be resolved. The courtroom scenes are screenwriting 101: the presentation of gruesome forensic detail, infuriating legal nitpicking and passionate emotional outbursts from Kruger. There's a particularly ferocious performance by the cadaverous Johannes Krisch as the ruthless defence lawyer. It's the final section of the film, when it turns into a vigilante revenge movie, which really puts too much burden on Kruger's acting skills and taxes the viewer's ability to suspend disbelief. While it's good to get an insight into Germany's current racial tensions and the film is never boring, In the Fade just doesn't quite deliver.
Overleaf: watch the trailer to In the Fade