End of Sentence review - an American father and his estranged son reconcile in Ireland |

reviews, news & interviews
End of Sentence review - an American father and his estranged son reconcile in Ireland
End of Sentence review - an American father and his estranged son reconcile in Ireland
An exploration of masculinity: John Hawkes stars in an unassuming road movie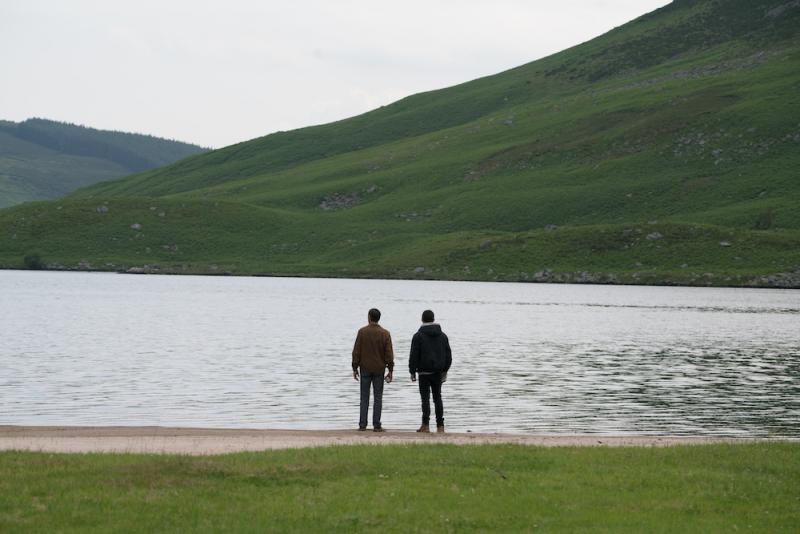 Lake woebegone: Frank (John Hawkes) and Sean (Logan Lerman)
It's not until the final moments of End of Sentence that Frank (John Hawkes) lets himself laugh – he's swimming in the icy waters of an Irish lake - and what a relief it is to hear. Icelandic director Elfar Adalsteins's debut feature (Sailcloth, a wordless short starring John Hurt, won several awards in 2011) is a study in family shame, masculinity and keeping things inside.
In this father and son road movie, set in the US and Ireland with a script by Michael Armbruster (Beautiful Boy), we slowly find out why Frank is so buttoned-up – he never takes his shirt off, not even in bed. His twentysomething bad-boy son Sean (Logan Lerman) is very much the opposite. But in spite of an excellent cast, with Sarah Bolger as a brief, bracing love interest, the narrative is never quite compelling enough and the back-story to this family estrangement remains murky.
The brilliant Hawkes (pictured left, below, with Logan Lerman as Sean), best known for charismatic, menacing roles such as the cult leader in Martha Marcy May Marlene, the abusive husband in Three Billboards Outside Ebbing, Missouri, or the meth addict in Winter's Bone, is a self-effacing Mr Much Too Nice Guy here. His son, on the other hand, is every parent's nightmare. At first there seems to be no connection between them at all.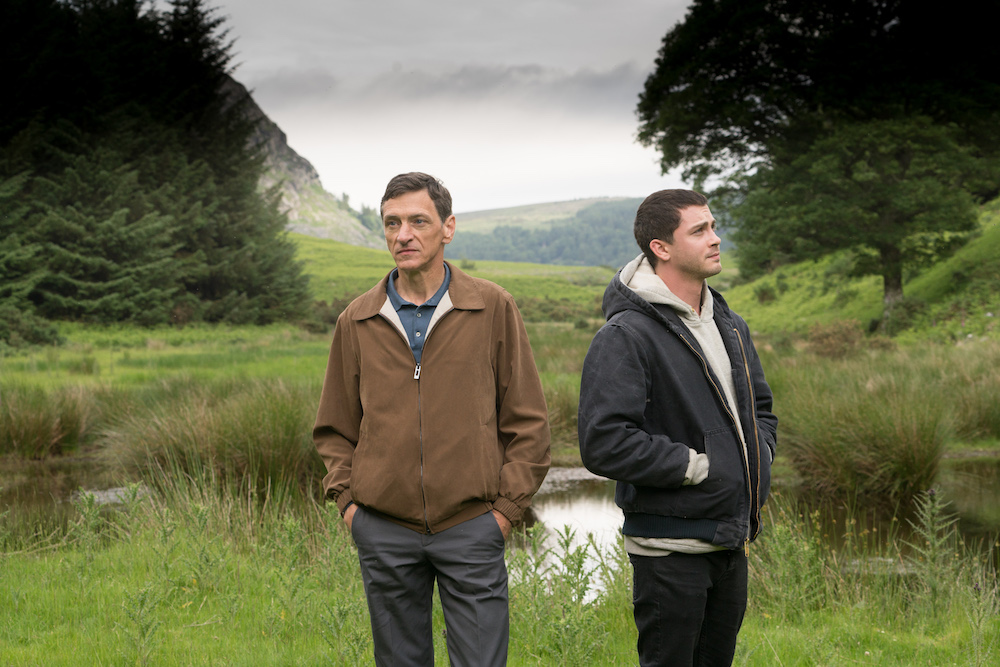 Just released from jail in Alabama for car theft and arson, Sean finds his widowed dad waiting for him at the prison gates (his dying mother Anna came to say goodbye to him a few months earlier. That time, Frank didn't come in, presumably because, as usual, he didn't want confrontation).
Sean promptly tells him to fuck off and throws the bag of clothes Frank has brought for him in the bin. Frank, baffled and nervous, tells him Anna's dying wish is for father and son to take her ashes – the blue urn, known as Mom, plays a big role - to a lake in Ireland. Sean has a job lined up in California in five days' time but finally agrees to go, lured by the prospect of a house his mother has left him (though the house, fittingly, turns out to be derelict).
The action unfolds in the rental car – automatic as Frank can't drive stick, another sign, thinks Sean, of his dad's hopeless wimpyness – on the journey to Dublin, where, after a Guinness-soaked family gathering, Frank grows suspicious about an affair Anna may have had on her frequent, mysterious trips to Ireland. Then on they go through the gorgeous green landscape of Connemara, Galway and Donegal, with a short, dangerous detour into Belfast that ends up creating a bond between the two when Mom almost gets lost.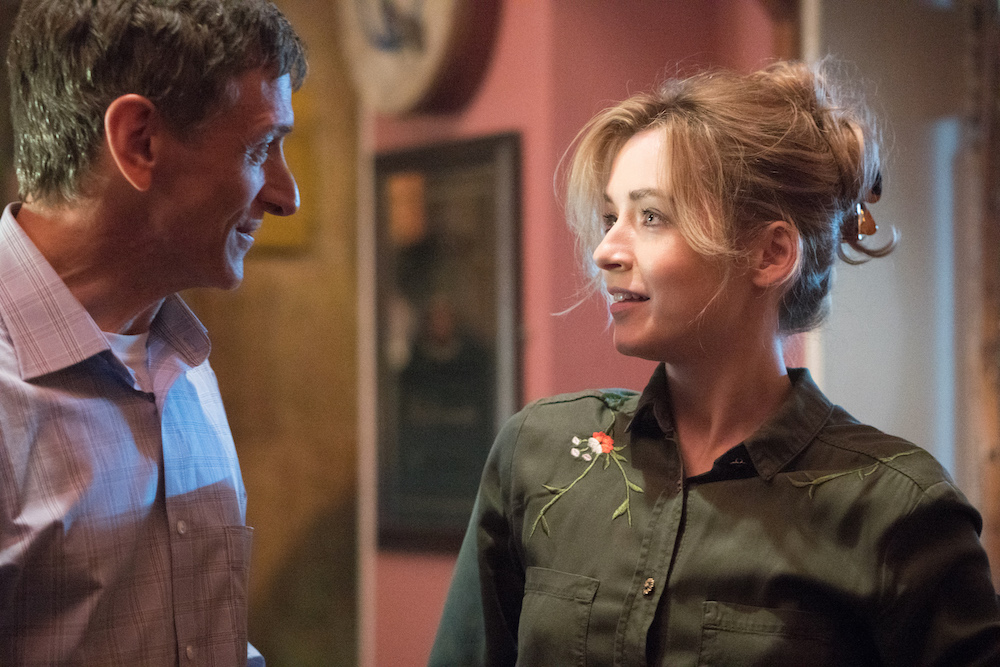 Frank's quiet modesty and the way he lets people walk all over him drives Sean crazy. In a disturbingly cruel scene, after Jewel (Sarah Bolger, pictured above with John Hawkes as Frank) comes on board, he tries to goad Frank into fighting him in a hotel room. That's when we, and Sean, see why Frank won't expose his body, and why a horrible, yet not completely convincing, legacy of abuse unites the two men and also tears them apart. Spoiler alert: Frank's father was an evil, sadistic drunk so you do wonder why Frank – or Anna - would have let their small son go anywhere near him. But when Frank finally lets some anger out and lands a punch on a security guard, he and Sean start to meet as equals.
Some of the best scenes involve Jewel, whose hard-bitten joie de vivre is irresistible to both men – she hooks up with Sean after the funeral - especially after she shows off her beautiful voice when joining in with a pub band on "Dirty Old Town". Sean seems ready to fall in love with her. But Jewel is only along for the ride – she says she's escaping a violent boyfriend, but she's a graceful grifter. Even Sean recognises that her brand of living for the moment, never mind who gets hurt along the way, is not the answer.
After Sean confronts Jewel – and rescues the urn - he and Frank find catharsis as they make their way to the lake to scatter what remains of the ashes, though we never feel an intimate connection to either of these damaged men. "Sometimes you're the pigeon, sometimes you're the statue. That's life. Move on," is a motto that Frank passes on to Sean, and it seems a fair way to sum up the texture of this thoughtful, unassuming film.
Frank's quiet modesty and the way he lets people walk all over him drives Sean crazy
rating
Explore topics
Share this article