DVDs for Christmas: Film and TV |

reviews, news & interviews
DVDs for Christmas: Film and TV
DVDs for Christmas: Film and TV
Our film writers recommend box sets to stick in a stocking
Thursday, 15 December 2011
Factory setting: Charlie Chaplin in 'Modern Times'
Over the year we have reviewed many a new film and television drama in theartsdesk's Disc of the Day slot. As our series of DVD recommendations comes round to the movies, we have chosen to concentrate not on individual titles but box sets. For completists we suggest everything from Harry Potter to Ken Loach, The Avengers to Tarkovsky. If you want more Chaplin or Eisenstein in your life, here, too, is a good place to start. These collections and collations are a worthwhile investment for serious and playful fans of film and drama alike. The great thing about a box set - be it three discs of mystical Hungarian cinema or 30-plus discs of Columbo - is that it's not just for Christmas.
Ken Loach at the BBC (2entertain, 6 discs)

Ken Loach settled into a consistent stylistic groove - clear, precise realism (plus the odd dash of non-naturalism) - at the time of 1969's Kes. It's therefore often forgotten, outside film scholarship, what an inventive, risk-taking, and exuberant director he was at the start of his exemplary career. Several of the mid-Sixties dramas in this collection, including Up the Junction, Three Clear Sundays and the experimental (and very funny) The End of Arthur's Marriage vibrantly use Brechtian musical strategies to attack outmoded abortion laws, capital punishment and materialism respectively. In the epochal Cathy Come Home and In Two Minds, Loach skilfully deployed documentary techniques to emphasise their critiques of dreadful housing conditions and, in the latter, repressive parenting and damaging mental healthcare.
There are seven single works here from The Wednesday Play/Play for Today era, including two chewy Jim Allen dramas about workers organising; Allen's Days of Hope, which spans upheavals in the socialist movement from 1916 to 1926 but is more emotional than that sounds; and Barry Hines's colliery diptych The Price of Coal, one part comic, the other tragic. Not for Christmas Day, perhaps, but peerless nonetheless. Graham Fuller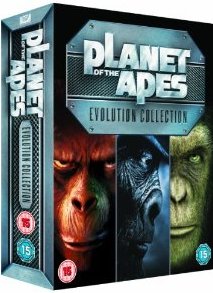 Planet of the Apes: Evolution Collection (20th Century Fox Home Entertainment, 7 discs)
"You damn fools!" Planet of the Apes' iconic final shot saw Charlton Heston's Taylor on his knees in front of a half-buried, post-nuclear Statue of Liberty. It revealed that his journey to a world where dumb humans were slaves of civilised apes had been through time, not space. Franklin J Schaffner's 1968 film is a genuine classic with its jarring music, jagged action camerawork, unbettered ape make-up and incisive satire. The four sequels' quality often dips alarmingly, but they make a uniquely elegant narrative loop. In Beneath the Planet of the Apes (1970), Taylor triggers an atom bomb, destroying the Earth even as it's abandoned in his spaceship by chimps Cornelius and Zira for a reverse trip to 1971 in Escape to Planet of the Apes. Hostile humans murder them, but son Caesar grows up to avenge them in an ape revolt in Conquest of Planet of the Apes (1972) - Taylor's spaceship therefore starting the events which will end in ape triumph. The redundant nadir of a series which also cannily reflected its era's nuclear dread, civil rights and race riots was Battle of Planet of the Apes (1973), until Tim Burton's grim 2001 Planet of the Apes remake. This year's Rise of the Planet of the Apes completes this seven-disc collection, getting the series back on track but ignoring its predecessors. Nick Hasted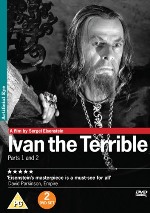 Ivan the Terrible, Parts 1 and 2 (Artificial Eye, 2 discs)
You have to see both parts of Eisenstein's sound masterpiece side by side. While sequences in Part 1 may look like re-runs of the more unequivocally patriotic Alexander Nevsky – though the attention to detail mean that Kazan under siege seems even more real than Nevsky's ice battle on the frozen lake – the darker nuances of absolutism in Part 2 make it clear why Stalin disgraced Eisenstein for going too far.
Visually, it's flawless: every frame supremely composed, the evocation of palatial and religious ritual without a hint of studio-carpenter workmanship. And the contrast between the sudden burst into colour of the iron-ring Oprichniks' orgy and the black-mass-cum-murder in the cathedral always amazes. The human level is harder to deal with: all the participants, including Cherkassov's compelling Ivan and Serafima Birman's evil-in-furs personified, adopt silent-film postures and eye-acting. But that was all part of Eisenstein's grand design, too. There's nothing quite like it, and Prokofiev's music even outdoes in terms of darkness as well as light what he'd achieved in Nevsky. A pity the sound is so raspy, though the 1999 restoration serves up sharp images; for quality in both, you need to invest in the American perfectionist company Criterion's much more expensive box set, which offers Nevsky too and countless fascinating extras (none features here). David Nice
The Avengers Complete 50th Anniversary Collection (Optimum Home, 39 discs)
Coral lipstick, white Chelsea boots, a bowler hat - the tricks of the trade for the most moreish spy-fi series of the Sixties, lipsmackingly issued in a complete 50th-anniversary set (which costs about the same as the white Chelsea boots). The Avengers, with its bizarre stories, rapid live filming and provocative pairing of John Steed and his lusciously dangerous female sidekick - variously Cathy Gale, Emma Peel and Tara King - showed that a sharply written, brilliantly cast TV series, even when filmed harum-scarum in a studio, could set a pace for entertaining suspense that the contemporaneous James Bond movies were pushed to match.
The Avengers evolved from standard male writers' fare to its sexual iconoclasm by accident. The first episodes - all is explained in a wealth of insider interviews - starred Ian Hendry in a gritty semi-realist set-up stalled by a strike. Twinkly supporting actor MacNee was asked to rescue it and Hendry's lines were given to Honor Blackman's Mrs Gale - hence her mesmerising "masculine" cool, a purely economic decision. On Blackman's Goldfinger call-up, the writers reverted to a babe for the first Mrs Peel, Elizabeth Shepherd, and there it might have flopped and ended. But colour film beckoned, in came the iconic Diana Rigg, dazzling in the new miniskirt fashions, followed by the underestimated ingénue Linda Thorson. The plots, almost operatically weird, are eye-catching vehicles for rapier-witted sexual duels and acting, by MacNee and Rigg in particular, as laconic and stylish as it comes. Ismene Brown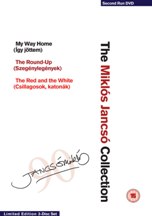 The Miklós Jancsó Collection (Second Run DVD, 3 discs)
We know what we mean by the Eastern European cinema from the Sixties: playful, allusive, often surreal. The more hatchet-faced, overtly poetic oeuvre of the Hungarian director Miklós Jancsó stands slightly apart from the likes of Forman, Menzel and his compatriot Szabó. These three films each in their own way find drama in the intersection of man, landscape and a pivotal moment in Hungarian history. In My Way Home (1964), it's the Red Army surging into Hungary towards the end of the Second World War. The Round-Up (1965), set in an isolated stockade, tracks back to the crushing by the Hapsburgs of the Hungarian rebellion in 1869. The Red and the White finds Hungarian idealists taking part in the Russian Civil War in 1919. In each case individuals are defined by their relationship to a larger power, so it would be easy to read the films as allegories. But they are far more forcefully rooted in their context, and as Second Run DVDs' (as ever) exceptional literature suggests, these are narratives about any number of European power struggles. The Round-Up is accepted as Jancsó's masterpiece, but My Way Home, about a friendship between a Hungarian refugee and his Soviet guard, has a highly beguiling naivety. The black-and-white cinematography is ravishing throughout. Jasper Rees
The Complete Jean Vigo (Criterion Collection, 2 discs)

As François Truffaut once did to his lasting wonder, you can treat yourself to Vigo's complete canon in a single revelatory afternoon. The virtuosic French director, son of a (probably) murdered anarchist, died at the age of 29 in 1934, leaving behind the scathing travelogue parody À propos de Nice, the anti-authoritarian mini feature Zéro de conduite (which inspired Lindsay Anderson's If…), and the breathtaking canal-life romance L'Atalante, which features magnificent performances by Michel Simon, Dita Parlo, and Jean Dasté and paved the way for poetic realism. Also included is Taris, Vigo's sparkling, semi-surreal short about a swimming champion. If you don't own the British edition, which was released seven years ago, this Region 1 set from New York's Criterion Collection is a must-buy. The documentary extras alone are worth the cover price. Graham Fuller
The Molly Dineen Collection Volume 3: The Lie of the Land (BFI, 2 discs)
Amazon's entry for The Molly Dineen Collection Volume 3 lists Geri Halliwell and Tony Blair, the subjects of two of the documentaries collected here, as actors. It's rich, as nobody could put on an act for one of Dineen's subtly woven examinations. Many of her films look at exiting from worlds that are about to be lost, and two collected here snugly fit that bill. The Lord's Tale catches the House of Lords as the Blair government is eradicating over 600 hereditary peers. Touching and depressing, it lingers after it's gone. Lie of the Land, completed five years later in 2007, uses another Blair hobby horse – the abolition of fox hunting – to worm into a society the urban-focused administration paid no heed to. Her Party Political Broadcast for the 1997 election captured an unposed Tony Blair that resonated so much he won the election. Unseen footage from its filming mesmerises. Blair is absent from Geri, where Spice Girl Halliwell is in free fall after departing the band. Here, the lost worlds are Halliwell's immediate past and her sense of belonging. If reflection is central to the Christmas season, The Molly Dineen Collection Volume 3 is right at home. Kieron Tyler
Harry Potter: The Complete 8-Film Collection (Warner Home Video, 8 discs)

Muggles, it all ends here. The merchandising and media circus of the Harry Potter franchise is now over. It has been transfigured into a neatly packaged 8-disc box set. Starting with Harry Potter and the Philosopher's Stone (2001) and ending with the two-part cinematic rendering of the final book, Harry Potter and the Deathly Hallows (2011), the DVD set allows you to press fast forward on the lives of the young actors who star in it.
Going from fresh-faced 11-year-olds to glamorous ingénus, always imperilled, inevitably just inches from death, Daniel Radcliffe (Harry Potter), Emma Watson (Hermione Grainger) and Rupert Grint (Ron Weasley) improve greatly as they grow up. The woodenness of the first two films is replaced by competency in the third, fourth and fifth. Radcliffe may be largely charmless to start with, but rather like his mastery of magic, he has been schooled to become much more watchable from 2007 onwards as particularly David Yates, director of the final four films, takes the reins. The special effects, explosions, flying dragons and broomstick chases are a triumph. Devouring all eight films in succession is, and I speak from experience, more gruelling than even watching the entire Lord of the Rings franchise in one go. But if you've got a spare 18 hours, heartily recommended. Matilda Battersby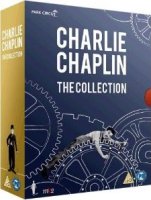 Charlie Chaplin: The Collection (Park Circus, 12 discs)
With the possible exception of Harry Potter (see above), Charlie Chaplin remains the most instantly recognisable character in the history of British cinema. If any proof and/or explanation are necessary, this latest collection supplies both. Ten full-length films beginning with The Kid (1921) track Chaplin's progress from silence to sound and thence in his final movie appearances to the final silence. Among other curios included is The Chaplin Revue, a trilogy of shorter films from the 1910s which was released in 1959 with an introduction from Chaplin himself. It's intention was to reacquaint new audiences with the cane-twirling Tramp. That project has really never stopped.
Chaplin took an ostrich-like attitude to the arrival of the talkies, continuing to rely on the storytelling properties of mime, although wordless sound came to be here and there deployed through to the factory-set Modern Times in 1936. It was that overbearing symbol of modern times, Herr Hitler, who inadvertently persuaded dialogue into Chaplin's mouth. The Great Dictator (1940), his crude but stirring anti-Nazi satire, is included here alongside Monsieur Verdoux (1947) and Limelight (1952), as well as A King in New York (1957) which he made once settled back in Europe after the McCarthyism had effectively drummed him out of the US. The pathos is too cloying for some tastes, but for those who like Chaplin, this is a gold rush. Jasper Rees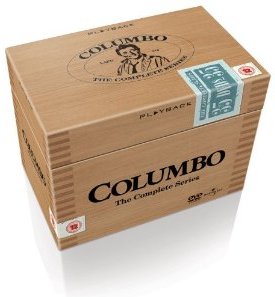 Columbo: The Complete Series (Universal Pictures UK, 35 discs)
Columbo's consistent quality over a remarkable period (1971-78, then again, only half a notch down, 1989-2003) was inseparable from the late Peter Falk, of course. William Link and Richard Levinson created the format of upper-class murderers seen carefully committing their crimes, and the apparently shambling LA detective who catches them with his steel-trap mind – a cross between Philip Marlowe and Miss Marple (the pair also made Murder, She Wrote...). But it was Falk, a glass-eyed, Method-acting regular in John Cassavetes's naturalistic indie films, who inhabited the character so successfully that Wim Wenders didn't distinguish between them when Falk played a wise angel in Wings of Desire (1987). The class aspect of Columbo's investigations was laid bare away from the elite he jailed (played by clever Falk pals such as Patrick McGoohan - four times - and Cassavetes) when the mask dropped as he ruthlessly interrogated witnesses on his working-class level. In the final episode, Columbo Likes the Nightlife (2003), the detective, Falk 76 by now, remorselessly investigates two deaths involving a British rave promoter. He's an odd fit in this sharp-edged modern setting. But just one more thing: he gets his man. Nick Hasted
The Andrei Tarkovsky Collection (Artificial Eye, 7 discs)
I wish I could recommend this collection of seven feature films by Andrei Tarkovsky as the definitive edition of the great Russian director's work. It isn't. There's no quarrel with the remastering – the images look as fresh and crisp as ever. We can quibble about exactly which versions of some of the films are included (director's cuts or not). It's on the extras front that this collection is lacking. There's a new 90-minute film by Dmitry Trakovsky (no relation, or spelling error there), Meeting Andrei Tarkovsky, which is decent - but finally not great. Not great because its round-up of interviewees draws heavily on the last European decade of the director's life and work, on Nostalgia in Italy and his final film The Sacrifice in Sweden. It does take us back to Tarkovsky's birthplace in Yurevets, but the roll-call of his Russian collaborators in mid-career looks distinctly empty (a number of them have passed away, but many are still going strong: I have been privileged to interview some of them over the years). You'll find more such context on previous issues, most notably the Criterion Collection in the US. It's a context that is necessary. "We live in the dirt and blood of modern Russia," the director said – and his visuals stand the test of time. What poetry, indeed. A shame, too, that compilers have not tracked down Tarkovsky's student films. "I want to be remembered as a sinner," he said shortly before his death. A blessed sinner, indeed. Tom Birchenough
Subscribe to theartsdesk.com
Thank you for continuing to read our work on theartsdesk.com. For unlimited access to every article in its entirety, including our archive of more than 10,000 pieces, we're asking for £3.95 per month or £30 per year. We feel it's a very good deal, and hope you do too.
To take an annual subscription now simply click here.
And if you're looking for that extra gift for a friend or family member, why not treat them to a theartsdesk.com gift subscription?
Advertising feature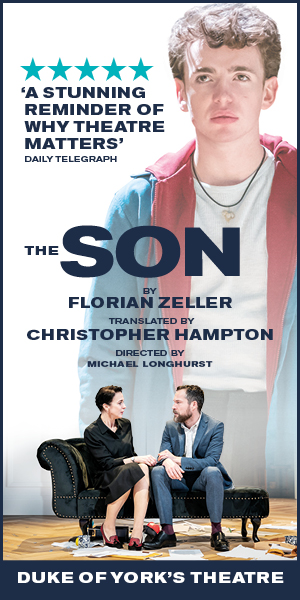 ★★★★★
'A compulsive, involving, emotionally stirring evening – theatre's answer to a page-turner.'
The Observer, Kate Kellaway
Direct from a sold-out season at Kiln Theatre the five star, hit play, The Son, is now playing at the Duke of York's Theatre for a strictly limited season.
★★★★★
'This final part of Florian Zeller's trilogy is the most powerful of all.'
The Times, Ann Treneman
Written by the internationally acclaimed Florian Zeller (The Father, The Mother), lauded by The Guardian as 'the most exciting playwright of our time', The Son is directed by the award-winning Michael Longhurst.
Book by 30 September and get tickets from £15*
with no booking fee.
---