DVD/Blu-ray: Belleville Rendezvous |

reviews, news & interviews
DVD/Blu-ray: Belleville Rendezvous
DVD/Blu-ray: Belleville Rendezvous
Idiosyncratic, lovable French animation, newly reissued
Tuesday, 23 November 2021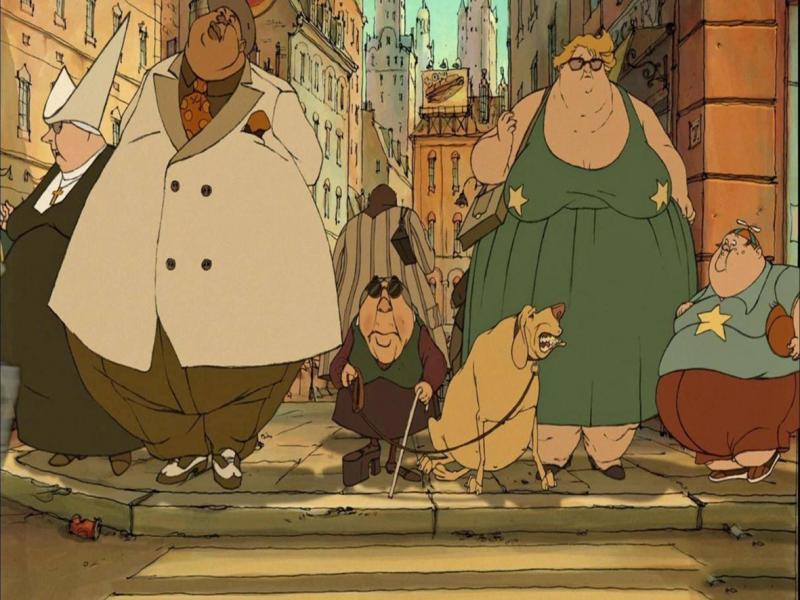 Mean streets: Madame Souza and Bruno, lost in Belleville
Why Les Triplettes de Belleville was rechristened Belleville Rendevous in the UK is one of several questions left unanswered by this reissue. Along with what happened to French director Sylvain Chomet's animation career, which seems to have fizzled out after his 2010 Jacques Tati adaptation The Illusionist.
The latter, while beautiful to look at, lacks bite, but 2003's Belleville Rendevous is a masterpiece, one of the 21st century's greatest animated features. Tati's influence is discernible throughout this near-silent film, and Chomet's idiosyncratic use of sound will amuse anyone who's giggled at the swinging hotel door in Les Vacances de Monsieur Hulot. Several clips from Jour de Fête pop up, and look out for the postman weather vane in several early scenes.
Chomet's monochrome opening sequence is terrific: a vintage 1930s newsreel featuring the titular Triplets singing in close harmony, plus cameos from Harpo Marx, Josephine Baker, Django Reinhardt and Fred Astaire, the last-named devoured by his own tap shoes. We then pan out to see the footage being watched on television in the 1950s by the orphaned Champion and his grandmother Madame Souza. Looking for something to enthuse her melancholy charge, she buys him a puppy before realising that cycling is his obsession, Champion's transformation into an angular, bird-like professional racer mirrored by Bruno the dog's increasing bulk and clumsiness. The animation style is mostly traditional, with occasional digitally-enhanced flourishes, each frame packed with hand-drawn details that repay repeated viewings. Despite the characters' stylised appearance, Belleville feels like live action. Which is largely down to Chomet's gift for portraying physical movement, whether it's a club-footed old lady shuffling downstairs or an obese dog climbing onto a sofa.
Approaching Marseille during the Tour de France, Champion and two other riders are kidnapped by black-coated heavies and shipped across the Atlantic in a vast cargo ship to Belleville, Souza and Bruno following them in a pedalo to the accompaniment of Mozart's C Minor Mass. Belleville, a brash metropolis resembling a mixture of New York, Toronto and Montreal, is populated by overweight grotesques. Helped by Bruno's acute sense of smell, Souza sets out to find her grandson, a task made easier after a chance encounter with the elderly Triplets. Rescuing Champion from a fiendish mafia gambling plot involves slapstick and brutality in equal measure, one reason for the film's 12 rating. The climactic car chase, the villains driving elongated Citroen 2CVs, is superbly choreographed and viscerally exciting. An offbeat treat, then, capped by Benoit Charest's inventive and catchy score.
Curzon's transfer is immaculate and sounds great, but this release disappointingly contains no bonus features apart from the trailer. If you crave more Chomet, his 1998 debut The Old Lady and the Pigeons is available on YouTube. As is a brilliant couch gag created for The Simpsons, reprising a visual gag seen in Belleville's opening minutes.