DVD: Zift |

reviews, news & interviews
DVD: Zift
DVD: Zift
Bonkers Bulgarian crime caper with a heart of coal
Tuesday, 14 February 2012
'Zift': Moth (Zachary Baharov) wonders what awful thing's going to happen next
Calling Zift hard-boiled undersells it. This Bulgarian film is so tough, it's as though director Javor Gardev blow-torched the conventions of film noir so the picture he paints from the ashes is pure black. It's in black and white, and had to be. Despite the darkness and violence, Zift is a compelling, breathless ride which flies by.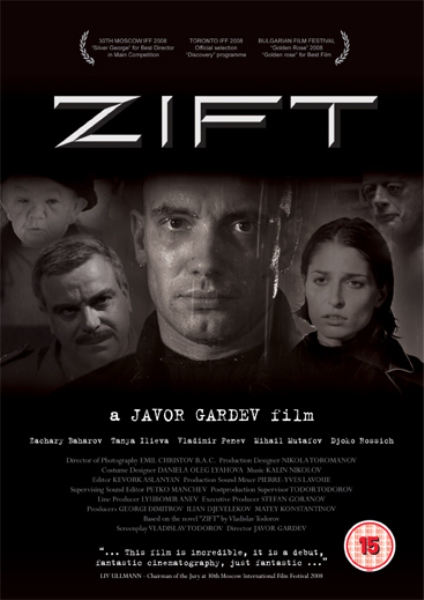 The word "zift" has a few meanings. Medically, it's the acronym for Zygote Intrafallopian Transfer. In Bulgarian slang it doubles for shit. It's also Bulgarian for tar, wads of which were a predecessor of chewing gum. Zift's main man Moth (Zachary Baharov) is a grade-A tar chewer. Sometime before Bulgaria's September 1944 communist coup, Moth has been jailed for murder. He didn't commit it, but took the fall for Slug (Vladimir Penev) who cajoled him into an ill-fated diamond heist. Moth's true love Ada (Tanya Ilieva) was part of the set-up too. In jail, Moth shares a cell with the glass-eyed Van Wurst-the Eye (Mihail Mutafov). Released into Sixties communist-era Bulgaria, Moth finds that Slug has become embedded in the administration. He wants to know what happened to the diamond. So does a not-what-she-seems Ada. Moth is in for a bad – very bad – time.
In a head-spinning mixture of flashbacks and Sixties-set scenes, Zift takes in suicide, torture, epic chases, utterly grotesque characters and bullet-headed hard men. The gloom it's cloaked in is akin to that of Finland's Aki Kaurismaki at his most bleak. So broad, it lurches into parody. The script is by Vladislav Todorov, the author of the book on which its based. Bulgarian cinema isn't close to the top of many film-fan's agenda, but Zift is so distinctive, so off the wall, that after watching it, it's hard not to begin wondering what else is going on there.
Watch the trailer for Zift