DVD: Tunes of Glory |

reviews, news & interviews
DVD: Tunes of Glory
DVD: Tunes of Glory
Ronald Neame's taut drama depicts a bloody battle of wills between Highland officers John Mills and Alec Guinness
Tuesday, 25 February 2014
Beyond the mess: The crucial man-to-man talk between Barrow (John Mills) and Sinclair (Alec Guinness)
Basil Barrow (John Mills) is a proud, repressed, upper-class lieutenant colonel who was traumatized by his experiences in a Japanese POW camp. Shortly after the war, he fulfils his ambition by taking command of the Scottish battalion once led by his grandfather. When his by-the-book methods are ignored, his stiff upper lip doesn't quiver, but one of his eyes twitches dementedly and his head looks as if it it might burst, like a plum. Mills was able to twitch that eye at will.
The cause of Barrow's apoplexy is the acting colonel he has replaced, Major Jock Sinclair (Alec Guinness), a coarse, manipulative, working-class bully. Having ruined Barrow's inaugural cocktail party with his boorish behaviour, Sinclair commits an offence that warrants a court-martial. Barrow must decide whether to terminate the career of a soldier decorated for his heroics in the North Africa campaign or to let him off the hook, but himself lose face. Only one of them can survive.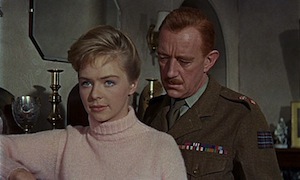 Shuttling the viewer's empathy between them, Guinness and Mills are formidable, but Dennis Price gives the stealthiest performance as an upper-class major who, though pompous and self-seeking, knows what Barrow must do. Duncan Macrae excels as the canny pipe major, so do Kay Walsh as Sinclair's jaded actress lover and Gordon Jackson as a powerless captain cautioning reason. Susannah York, playing Sinclair's motherless daughter in her screen debut, hints at future spikiness. (York and Guinness pictured above.)

Ronald Neame's most accomplished film was adapted by James Kennaway, a fomer officer in the Cameron Highlanders and Gordon Highlanders, from his 1956 novel. Set in a wintry Highlands castle town, it was shot handsomely by Arthur Ibbetson in colour, as few British films were in 1960, but it isn't especially cinematic. Neame and Kennaway brought to it the talkiness, ambience, and intensity of a play. It was the kind of movie that was falling out of favour with the onset of the British New Wave, which focused on Northern working people. If the class antagonism exemplified by Barrow and Sinclair never goes away, either in life or cinema, for a certain kind of post-war military drama Tunes of Glory sounded the last post.
Mills's face looks as if it might burst, like a plum
rating
Share this article