DVD: Rust and Bone |

reviews, news & interviews
DVD: Rust and Bone
DVD: Rust and Bone
Fighting, sex and whaling stories from the south of France
Tuesday, 19 February 2013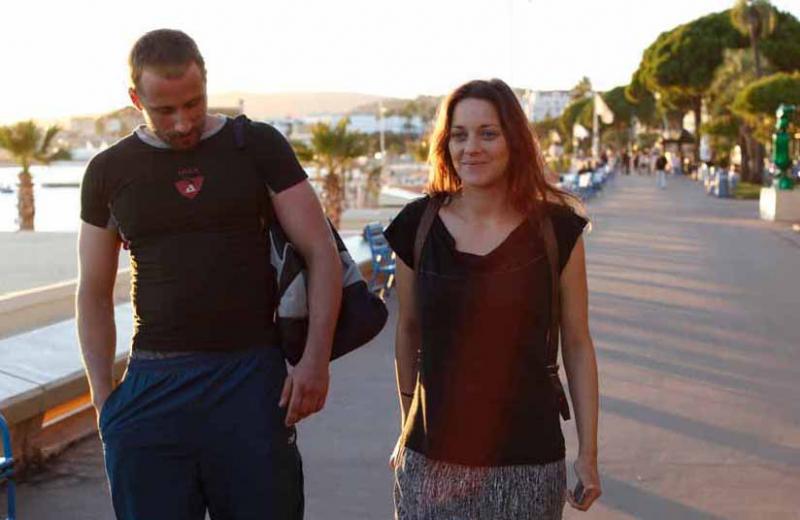 Love in a balmy climate: Marion Cotillard and Matthias Schoenaerts form a mysterious bond
Jacques Audiard's follow-up to A Prophet (2009) is an off-centre but haunting piece derived from short stories by Canadian writer Craig Davidson. Marion Cotillard is Stéphanie, whom we first meet outside a nightclub on the Côte d'Azur where she has been involved in a drunken fracas.
She's rescued by Ali (Belgium's Matthias Schoenaerts, from
Bullhead
), a bouncer, ex-kickboxer and petty criminal who's come to the coast with his young son Sam in search of some sort of existential last chance. He tells her she looks like a whore. She thinks he's a lunkheaded schmuck.
It's unexpected to find that Stéphanie works as a killer whale trainer at the local Marineland. It's stranger still when she suddenly loses both legs in a rogue-whale incident (startlingly depicted via submerged orca-cam). It leaves her crushed both physically and psychologically, and Audiard depicts the details of her recuperation in almost voyeuristic detail, but as she gradually drags herself towards the light, it's Ali she turns to. Previously he wouldn't have got a look in, but now it's as if she needs his brutish physicality to prove she's still a functioning sexual being.
Somehow, the cracked mosaic of the plot gels into a "beautiful losers" love story, scrubbed free of romance. Ali gets into the bare-knuckle fight racket, where he spits a lot of blood and teeth but makes decent money (Audiard's violent and sleazy vision of the Côte d'Azur is alarmingly believable). Stéphanie, seemingly turned on by all this snarling machismo, shows hidden talents as a bookie and fighter's agent. It takes a near-tragedy with Ali's son to crack open the hard defensive shells which cocoon the two leads.
For once, the accompanying Making Of short is truly revealing, featuring extensive interviews with Audiard and a detailed examination of how Cotillard's legs were digitally "disappeared" (Audiard cast her, he says, because she's "sexuality incarnate"). The director stresses that Rust and Bone was supposed to be "a gritty melodrama" and describes how he drew inspiration from Tod Browning's Freaks and Edmund Goulding's Nightmare Alley, both garish tales of circus hucksterism. Some of their nagging weirdness undoubtedly rubbed off.
Rust and Bone is released on DVD and Blu-ray on 25 February