DVD Release: The Best Intentions |

reviews, news & interviews
DVD Release: The Best Intentions
DVD Release: The Best Intentions
The fraught early relationship of Bergman's parents in Bille August's exquisite saga
Pernilla August and Samuel Fröler as Ingmar Bergman's well-intentioned but antagonistic parents
At long last it's here on DVD: the greatest Bergman movie the master didn't make, though he wrote the most meticulously detailed, 300-page screenplay-cum-novel (which covers all the events of the four-part Swedish TV miniseries rather than the much shorter feature film we have here). Naturally, too, he approved a luminous performance by Pernilla August who, under her maiden name of Östergren, frolicked as red-headed maid Maj in the film many love best, Fanny and Alexander, and
who as the wife of Bille August, the very distinguished award-winning director of
The Best Intentions
, rose to the ultimate challenge of playing Bergman's mother Karin. The partnership with Samuel Fröler as the repressed but equally passionate Henrik Bergman emerges, perhaps surprisingly, as one of the most truthful and painful of all screen romances.
It could so easily have been just a costume-drama footnote to Fanny and Alexander, explaining that great family saga's roots in truth. Troubled, impoverished Henrik, a would-be pastor of dangerously banked passions, is both the good father and the wicked stepfather-priest wished to death by Alexander's terrible thoughts; Karin's disapproving mother, a not unsympathetic characterisation by Ghita Nørby, has traits deliberately evoked of Alexander's grandmother (played in that drama by grande dame Gunn Wällgren, who died shortly after filming). Even farting failure Uncle Carl of the earlier film appears with the same name in a cameo and played by the same actor, Börje Ahlstedt.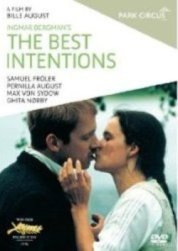 Using many of the same locations in Uppsala and the Dalarna summer-house of Bergman's maternal grandparents, August somehow gets his director of photography, Jörgen Persson, to evoke the light and shade of Bergman's right-hand man Sven Nykvist, with more than a little help from the redoubtable art direction of Anna Asp: the luxury and comfort of Karin's family homes predominantly in white and cream, the poverty of Henrik's circumstances in browns and greys. Every scene is impeccably and evocatively conjured: a rainy walk in a park at twilight, a cycle through a sun-shafted forest, the pathetic fallacy of the changing seasons in the country both at Dalarna and up north in the remote parish which is Henrik's first post and his biggest challenge.
As always with Bergman, though, the script - structured like a well-made play - and the extraordinary human performances it elicits from experienced theatre actors are what make this as much a masterpiece as any of his greatest films (Augusts husband and wife both won prizes at the 1992 Cannes Film Festival - Bille won the Palme d'Or twice there - but Fröler, whose eyes can suggest infinite tenderness or closed hauteur, was surely just as deserving). I hadn't appreciated the symmetry on previous viewings, enjoying it as an intense epic which unfurls over time in the peaks and troughs of the Bergman parents' relationship before Ingmar appeared on the scene. No time is wasted in telling us everything we need to know in the first two scenes of the film: first Henrik harsh, combative, inflexibly refusing to see on her deathbed the grandmother who made life so hard for him and his widowed mother; then Karin living, as she later describes it, unquestioningly in the love of her wise old father (Max von Sydow, economical in his ability to move us with a single gesture). Most of us will recognise the inevitability of a true love that promises only difficulty at first, indelibly conveyed both in the proprietorial smiles of August and Fröler and in the clearly-defined differences between the pettish, vivacious daughter of privilege and the emotionally scarred young man, established without words by these consummate actors long before Karin and Henrik tell each other what they think are their own faults.
The rovings over time and place are underpinned by parallel themes of mothers who resent cuckoos in their nest - there's a typically Bergmanesque scene up in Henrik's modest family home where all seems cosy, only to reveal vicious abysses brilliantly conveyed by another Bergman regular, Mona Malm - and by two crucial actions in which each of the seemingly inflexible love opponents give way. A third provides the exquisite final curtain in which Karin, heavily pregnant with what will turn out to be young Ingmar, her second child, sits on one park bench in a green Upsala park and ravaged Henrik on the other - the moment of grace we seek in every Bergman film. The centrepiece of the film is an idyll of hard work up in the pastor's new parish of Forsboda. What goes wrong is really nobody's fault, and there's a startling, heartbreaking performance from young Elias Ringquist as the catalyst of all the newly-married Bergmans' woes, the brutalised country boy Petrus.
Whether all this structuring holds together so well in the TV version, almost twice the length of the 180-minute film, I can't yet say: the four episodes were once screened on Channel Four, but I only saw the first. What we really need is the kind of lavish Criterion presentation dished out to Fanny and Alexander, which presented both the so-called "theatrical" and television alternatives complete with a riveting documentary on the making of the saga and numerous extras. There were none on my advance copy of The Best Intentions, and one at least cried out to be included: Bergman's inefffable short film-without-words Karin's Face, showing his mother through the many family photographs in the albums he inherited and proving that in Pernilla August he chose, or approved, well. Behind her are memories, or - through the films - living images, of Anderssons Harriet and Bibi, Ingrid Thulin and Liv Ullmann. She does not let them down; nor, for all its occasional mainstream ambitions and its discreet but conventional score by Stefan Nilsson, does her husband's loving homage.
Explore topics
Share this article