DVD: The Alexander Sokurov Collection |

reviews, news & interviews
DVD: The Alexander Sokurov Collection
DVD: The Alexander Sokurov Collection
The Russian director's early features embrace cinematic language to the full
Master of image, Russian director Alexander Sokurov
Internationally he may be Russia's best-known film director, but Alexander Sokurov's fame - his unique single-frame Russian Ark from 2002 aside - hasn't travelled as widely as it might. Critical reaction has often been mixed, but at least the majority of his main films from the last two decades are available outside his homeland.
This Artificial Eye collection brings a welcome couple from the very end of the 1980s (without any extras, however). Both are from scripts by Yury Arabov, Sokurov's most frequent collaborator, and are simultaneously mesmeric and challenging to watch, their intensity verging on madness, with imagery stronger than story.
From 1989 Save and Protect – its title drawn from an Orthodox prayer – is a (very) loose adaptation of Madame Bovary. Its heroine is played by Franco-Swiss non-professional Cécile Zervudacki, who speaks alternately in French and Russian to an otherwise Russian cast, emphasising the sense of her non-connection with life around her. Landscapes shot in the Russian Caucasus are spectacular, and though set nominally at the time of the novel, Sokurov brings in visual and sound elements from later eras, ending in a spectacular lengthy funeral scene that feels timeless. It's hard to watch Save and Protect without a break: the original, at just under 170 minutes, was a two-parter, to be screened with an interval; this version, colours back in startling richness, is a director's cut from 2009.
By contrast it's hard to take the attention away for a moment from the spare The Second Circle (from 1990, here in a 2005 restoration). Sombre and surreal, it's an alienated film more about death than life. An unnamed character played by Pyotr Alexandrov (pictured left) arrives in a snowstorm at some isolated community, where his father has just died in abandoned, dusty rooms. Speech is minimal throughout, except when the woman organising the funeral arrives, though everything she says is rudely, pointedly empty. But this seemingly monotonous story is illuminated by variations on light that run from black and white, through different grades of sepia, to rare piercing rays of almost-colour. A director for whom sound design is as important as visuals, Sokurov gets as many tones out of silence as he does hues from black and white.
Known equally as a documentarist, the works in Sokurov's "Elegy" series are intimate, close portraits of individuals in their time and place in Russian culture (like Andrei Tarkovsky, often seen as Sokurov's cinematic master) or history (Boris Yeltsin). The subjects of 2006's Elegy of Life are husband-and-wife musicians Mstislav Rostropovich and Galina Vishnevskaya. Alongside immaculate archive material we see him in rehersal and concert (pictured right below) and her teaching, and both give long interviews in their grand St Petersburg residence, where Vishnevskaya performs - there is no other word for it - a stunning remembrance of her difficult childhood and the death of her infant son in war-wrecked Leningrad.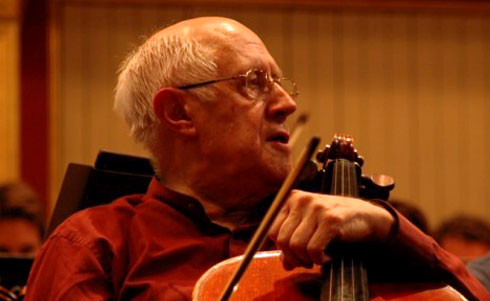 The camera angles are inventive and Sokurov, ever-present in contemplative voiceover, is exactly right in tempo and rhythm. One part of Russian culture that we largely lack in the West are "house-museums", spaces in which an eminent figure (usually cultural) has lived, and where most of their possessions remain, creating a uniquely evocative atmosphere. Elegy of Life is like a televisual version of this, with Sokurov our guide - one whose own reflections are no less part of the story.