DVD: Al Berto |

reviews, news & interviews
DVD: Al Berto
DVD: Al Berto
A poet emerges in the sensuous aftermath of Portugal's 1975 revolution
Love and literature: José Pimentão, left, with Ricardo Teixeira
There are plenty of reasons to be apprehensive about biopics of poets. The activity of writing is most often, after all, anything but cinematic, unless its moments of creativity are forced, while the "myth" of the poet all too easily becomes stereotypical.
The very first scene of
Portugese
director
Vicente Alves do Ó's
Al Berto
suggests a heavy dose of
tragédia
to come: what else do you expect from a line like "All men whose eyes are too sad are poets", delivered by a mysterious woman – Dietrich, eat your heart out – who infuses it with a glorious nocturnal mystery?
So it's something of a relief to say that Al Berto is in fact a film full of light and life, catching the often complicated interactions between a group of young people in a seaside town in central Portugal. It's summer 1975, months after the country's Carnation Revolution: while the reverberations of freedom are apparent, conflicts remain between a society that is still traditional and the new sense of liberty that's in the air. The return of Alberto (full name, Alberto Raposo Pidwell Tavares) to his hometown of Sines will stir up quite a lot of them.
In the title role, Ricardo Teixeira has something of the charisma of Jim Morrison
He has come back from Brussels (where he had been training as a painter) to reoccupy the family mansion, which had been expropriated by the revolution, turning it in to a kind of open house, where parties catch the new social and sexual liberation, alongside cultural happenings (he opened a bookshop in town, too). In the title role, Ricardo Teixeira has something of the charisma of Jim Morrison, and Alberto's approach to life is similarly sensuous, in the broadest sense: he's open about his homosexuality too, which can't but raise local hackles.
His central relationship is with João Maria (José Pimentão), who is portrayed as rather more grounded against Alberto's flamboyance. But the range of Alves do Ó's script extends much further, catching a sense of the milieu of the moment; his many female characters are no less strong, each somehow related to the main action by a different link, of family, love or friendship. He's no less subtly aware of the issues of class and privilege that lie behind the temporary freedom offered by this communal, counter-cultural world, as well as how alien it must seem to the older generation, as well as others in the community whose hostility provokes the film's denouement.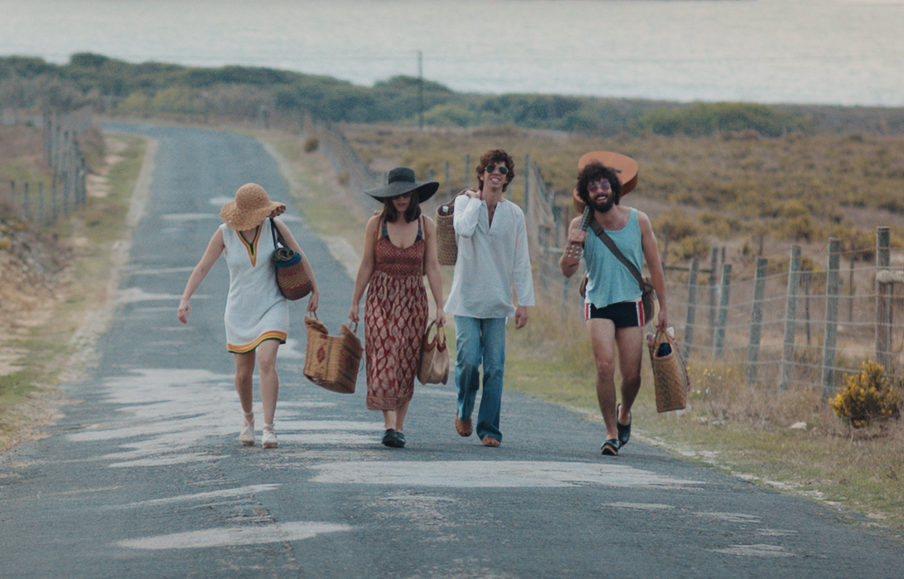 Alves do Ó's suggestion is that this short-lived but richly experienced time would prove instrumental in Alberto's development as a writer, although the poetry that he wrote over the rest of his life – he died in 1997, not yet 50 – proved very different from the sheer relish for life that comes through here. The anguish lay ahead. Unsurprisingly perhaps for a film about a writer, it's quite talky, but in the attractive sense of young people articulating their relations to one another and to their world: this is cinema for grown-ups, something that seems increasingly elusive these days. The subtle nuances of the film's particular moment in time, defined as much by the consequences of Portugal's loss of its African colonies as by a huge local industrial project that will change the landscape in a more literal sense, are all there too, but never overstressed.
Visually it's glorious, defined by some marvellous, sun-kissed cinematography from Rui Poças (if you've seen Argentinian director Lucrecia Martel's recent Zama, you'll have an idea of just what Poças can achieve). No surprise then that Al Berto won Best Film in Portugal's Premios Aquila awards last month, with Ricardo Teixeira taking Best Actor. A last detail to ponder: in real life João Maria was Alves do Ó's (older) half-brother and his script is based on diaries and other writings inherited after the former's death. Perhaps that adds a final sense of closeness to a film whose heart is richly intimate indeed.
Watch the trailer for Al Berto

This is cinema for grown-ups, something that seems increasingly elusive these days
rating
Share this article