Don't Look Up, Netflix review - hitting most targets in high style
Don't Look Up, Netflix review - hitting most targets in high style
Brilliant satire, not preachy lecture, on the way we live now
Thursday, 13 January 2022
Hosts of 'The Daily Rip' Brie Eventee (Cate Blanchett) and Jack Bremmer (Tyler Perry) 'interview' Dr Randall Mindy (Leonardo DiCaprio) and Kate Dibiasky (Jennifer Lawrence)
Most dystopian satires are located in a nightmarish future, but their scripts build on the worst of our world today. Adam McKay's Don't Look Up is different: this is now, and the notion of a comet hurtling towards the assured destruction of planet Earth is the hub for a heaping-up and jamming-together of how media and government respond to the worst imaginable crisis.
Clever, often brilliant, luxuriously but pointedly cast, sprawling – I was never bored but I understand the plea for the shedding of 20 or so minutes – and stylishly filmed. Don't Look Up doesn't disappoint in its bid to say many of the important things about where we are now, however ludicrously. Yes, we've seen it all before about how celebrity gossip smothers serious news (cue Ariana Grande), how social media makes monstrosity out of any perceived misstep, however sincere; though surely the late, politically manipulated spat between those who look up and those keeping their eyes on the ground is Swiftian-level satire.
The beating hearts are those of Leonardo DiCaprio's astronomy professor Randall Mindy and his PhD student Kate Dubiasky (the always compelling Jennifer Lawrence). The Prof's trajectory to media star is strip-cartoon predictable, the way back to humanity perhaps a bit less so (though DiCaprio doesn't quite carry off the big breakdown speech). The late introduction of Timothée Chalamet seems surplus to need, but he and his character win their laurels in an amazing grace.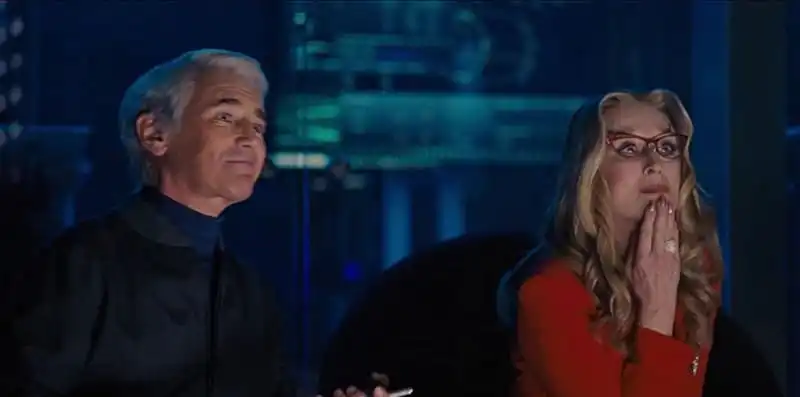 Among those who are in it for themselves, Meryl Streep as shallow President Orlean, Jonah Hill as her chief-of-staff son and Cate Blanchett as cynical-clever TV presenter have their comic thunder stolen by Mark Rylance (pictured above with Streep) as the third richest man on the planet, Peter Isherwell, CEO of tech company BASH, creepy pioneer of a device that reads your emotions (I'll try to stop clicking on cute online animal alliances) and a weirdo with an unhealthy interest in space (sound familiar?). Some of the Rylance shtick is familiar – the hesitations, the ums and ers which make it sound as if he's making it up on the spot – but the look had me crying with laughter within seconds, and there's just enough unease beneath the surface to stop the fun being too facile.
Curiously, the co-existence of mirth and disquiet is all done by the – possible spoiler alert – apocalyptic near-ending, which allows the humane characters their dignity and speaks to what matters to most of us. But wait for it – there's a coda with the biggest shock-laugh of them all. Just watch out for the bronteroc, is all I can tell you.