Don't Worry Darling review - dystopian thriller dries up in the desert |

reviews, news & interviews
Don't Worry Darling review - dystopian thriller dries up in the desert
Don't Worry Darling review - dystopian thriller dries up in the desert
The fabulous Florence Pugh can't rescue Olivia Wilde's disappointing sophomore effort
Friday, 23 September 2022
Florence Pugh and Harry Stiles in 'Don't Worry Darling'
Olivia Wilde's follow-up to her exceptional directorial debut Booksmart has been highly anticipated and, of late, accompanied by a torrent of behind-the-scenes bad press and viral virulence. It would be nice to report that the thriller itself transcends all the noise; but, despite yet another exceptional performance by Florence Pugh, it's a misfiring, undernourished, disappointing affair.
Pugh is Alice Chambers, who with husband Jack (Harry Styles) appears to be living the Fifties dream in Victory, an experimental town in the desert presided over by the guru-like Frank (Chris Pine) and his chilly wife Shelley (Gemma Chan). Amid sun-kissed, palm-treed streets, the inhabitants enjoy gorgeous homes and shiny motors, their lives a whirl of parties and well-heeled ease.
Every morning the husbands drive off in a merry convoy to their top-secret jobs at the Victory Project, leaving their wives to keep house, prepare dinner, drink cocktails by the pool and spend their endless credit in luxury stores.
The women's price for their comfort: they can't ask questions of their husbands (all they know of the work is that it's something to do with "progressive materials") or leave the "safety" of the town.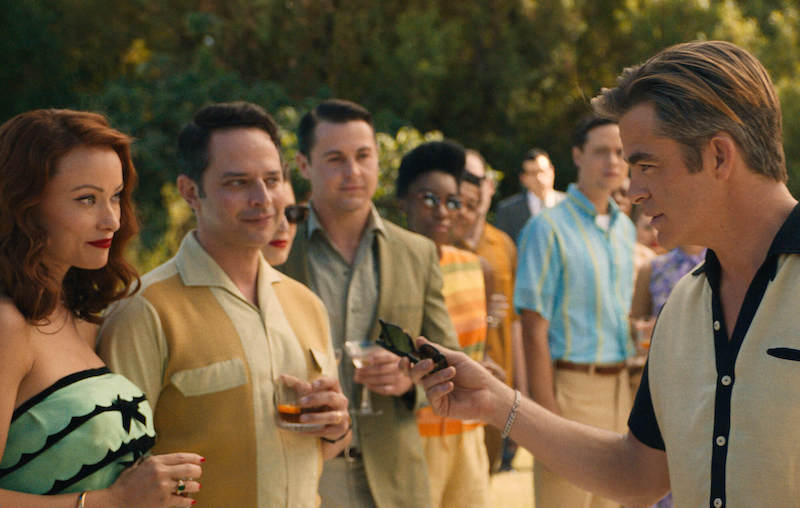 The repetitive nature of their lives (underlined a little heavily by endless shots of frying breakfasts and housework) is one signal that something isn't quite right; another is Jack's unfeasible sexual performance, the stuff of male fantasy that leaves Alice sweeping an entire roast dinner off the dining table in ecstasy; and even though the rampant chauvinism is very Fifties, Frank's constant reminder of the women's need for loyalty and sacrifice is decidedly creepy.
But it's only when one of her neighbours starts to rebel, and is ostracised as a result, that Alice herself starts to question the reality of this perfect existence. But what has she landed in: a cult, a brainwash, or something even worse?
The obvious antecedent here is The Stepford Wives, Ira Levin's 1972 novel and its screen adaptations, which mixed satire, feminism and sci-fi horror. While there's no harm riffing on Stepford, the writers of Don't Worry Darling fail to add anything new to the pot, politically or dramatically. Who'd have thought they now had MeToo and the heinous incel subculture to draw upon in readdressing their themes? And though the macabre explanation ofthe town's creation is initially shocking, it's incredibly poorly developed. It would have been far more interesting had the scenario played more on the real-life, science-led desert community that it deliberately brings to mind, the Manhattan Project; but that inference is no more than a lazy tease.
While Wilde had a wonderfully warm and sassy script to work with in her coming-of-age, female buddy movie debut, here she's left floundering. The film looks terrific, with a few stand-out horror images, but her storytelling succumbs to the repetitiveness of the Victory routine, and the tension never builds beyond middling.
The actors have the same struggle with the material, including Wilde herself (pictured above, with Pine) as the friend who's drinking the most Victory Kool-Aid. Styles, at the heart of much of the off-screen distraction, doesn't redeem his casting, lacking both charisma and danger in the role of a husband whose lack of support for his wife conceals far more than company ambition. I couldn't help thinking of another actor who played a dodgy husband in a horror scenario, John Cassavetes in Rosemary's Baby, who possessed exactly the kind of brooding edge that Wilde needed from her leading man.
Pugh has already demonstrated her horror chops in Midsommar and does everything that's needed of her here, whether presenting a sexy trophy wife, Frank's feisty adversary, or scream queen; in fact, there is an extraordinary sense of the whole film fading into the background around her. Sadly, that's of no use to anyone.