Death on the Nile review - Kenneth Branagh flounders again as Poirot |

reviews, news & interviews
Death on the Nile review - Kenneth Branagh flounders again as Poirot
Death on the Nile review - Kenneth Branagh flounders again as Poirot
The director's second helping of Agatha Christie does not thrill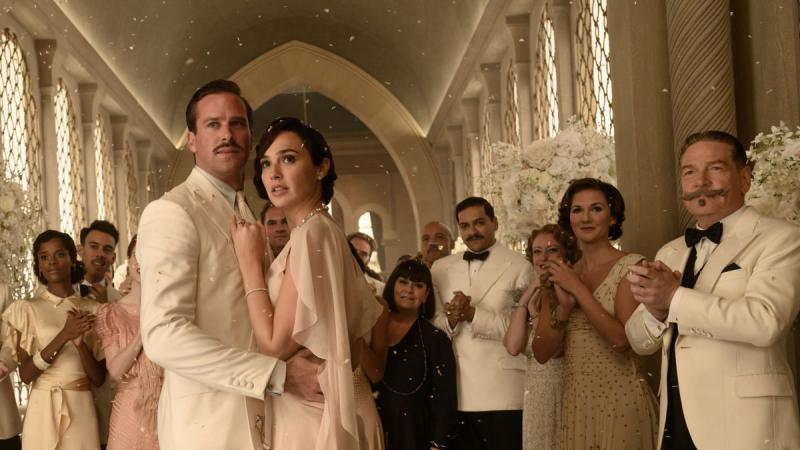 Armie Hammer and Gal Gadot as the newlyweds
Death on the Nile, Kenneth Branagh's second visit to Agatha Christie's oeuvre, was supposed to be released in November 2020 but Covid, a studio sale and some embarrassing revelations about one of its cast members put paid to that. Was it worth the wait? Not really.
Oh, it's as sumptuous as Branagh's first Christie adaptation, Murder on the Orient Express (2017) and boasts more gorgeous scenery, but it's noticeably less star-packed. If the cast of the train whodunit were all comfortably seated in Hollywood's first-class carriage, most of the Nile riverboat passengers are, with no disrespect intended, sitting nearer the back of the bus (or some other mixed metaphor).
Branagh – again starring as the Belgian detective as well as directing – bookends Death on the Nile with a bizarre origin tale of his character's preposterous moustache (quite unlike Christie's descriptions of it) and shows a long-ago amour. The black-and-white opening section, set during the First World War, is followed by a lengthy scene in a London jazz club (which is not in the book). It sets up a love triangle and, although the music is fab, adds little – and as the nightclub's customers grind and cavort on the dance floor, one suspects it's just Branagh sexing up the movie.
The scenes also delay the moment when we can bask in views of the pyramids at Giza or the Sphinx – although there's more than a hint of CGI about the location shots.
Death on the Nile is set in 1937, a few years after Murder on the Orient Express; Poirot is in Egypt for a holiday, where he meets his old friend Bouc (Tom Bateman) who, with his mother Euphemia (Annette Bening) is part of a wedding party for heiress Linnet Ridgeway (Gal Gadot) and her new husband Simon Doyle (Armie Hammer, he of the embarrassing revelations). Poirot is invited to join the party as they board a paddle steamer as it journeys on the Nile, and the scene is set for skulduggery.
There's the usual upstairs/downstairs array of characters (Christie was, if nothing else, routinely classist about the time she wrote). On the boat are Ridgeway's French maid Louise (Rose Leslie); her ex-fiancé Linus (Russell Brand, sporting facial hair even less convincing than Poirot's); her cousin Andrew (Ali Fazal), who looks after her financials; her Communist godmother Marie (Jennifer Saunders), with her travelling companion Mrs Bowers (Dawn French); plus schoolfriend Rosalie (Letitia Wright), with her jazz singer aunt Salome (Sophie Okonedo). Rounding out this large central cast, few of whom end up with substantial screen time, is Jacqueline (Emma Mackey), driven mad by the fact that Linnet stole her fiancé, Simon, just weeks before their wedding, and inveigles her way on to the boat.
Sure enough, one of the people on board gets bumped off and, as with any Christie, the tale twists and turns before the denouement where Poirot explains how his little grey cells have worked out the guilty party.
Among the ensemble Okonedo and Mackey stand out but Michael Green's script is full of clunky exposition and Branagh, though a very fine actor, still hasn't got the measure of Poirot. Death on the Nile is enjoyable enough, but no classic.