Into the Darkness review - disappointingly soapy Danish WWII drama |

reviews, news & interviews
Into the Darkness review - disappointingly soapy Danish WWII drama
Into the Darkness review - disappointingly soapy Danish WWII drama
Life during wartime among the affluent Danes requires less hygge, more hubris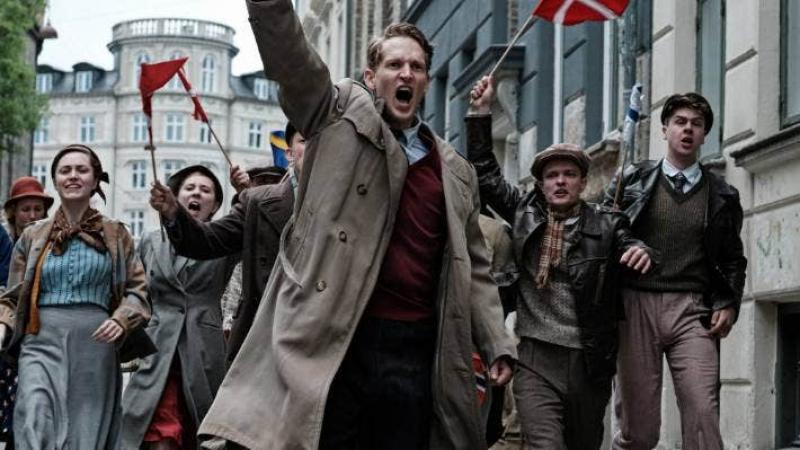 Street fighting Danes protest against their Nazi occupiers
Can a film be both too long and too short? If so, Into the Darkness definitely fits the bill. Anders Refn's long-nurtured family epic follows Karl Skov (Jesper Christensen, more famous as a Bond villain), a self-made Danish industrialist who struggles with his conscience when his country surrenders to Germany in 1940.
Should Skov refuse to manufacture the goods required by his new masters and risk losing not only his comfortable home but also deprive his loyal workers of their livelihood too? And what choices should his sons and daughter make about who they consort with and whether to stay in the military, now its been co-opted by the Nazis?
Denmark has always been proud of the fact that when it was occupied by Germany, nearly all of its Jewish citizens escaped the Holocaust. Long accepted and fully integrated into society, almost 8000 Danish Jews were evacuated across the Øresund strait to neutral Sweden. There have been plenty of films and dramas about how heroic Danes saved their Jewish neighbours by smuggling them in small boats under cover of darkness. It's always heart-warming to be able to recount stories of resistance and human decency, who doesn't love heroic tales from the war? But there's been very little about the fact that Denmark had shut its borders to desperate German Jewish refugees far earlier than its Scandinavian neighbours, or its economic, political and military complicity with the Nazi occupiers.
Anders Refn, born in 1944, is a stalwart of the Danish film and TV industry having worked on dozens of features mainly as an editor – often for Lars von Trier. He's also the father of that other film-making maverick, Nicholas Winding Refn. But Refn senior doesn't show any of his son's or von Trier's desire to disrupt traditional narrative style. The director says he spent ten years trying to get Into the Darkness made because he'd always wanted to show the darker side of life in Denmark under occupation. A decade was long enough to map out a family epic of sibling rivalries, resentful wives and devoted servants. Unfortunately the script doesn't translate to dynamic filmmaking; the movie plays like a familiar, period drama. Sadly, it doesn't have the weight or innovation of Edgar Reitz's Heimat or the savagery of Thomas Vinterberg's Festen; instead it feels a little soapy, like a Danish WWII Downton. There are innumerable family gatherings in which the audience can wax nostalgic over '40s fashion, admire period vehicles chugging through the Danish countryside and tap a toe to the ragtime jazz that two of the sons play in a dive bar. There are love-affairs with U-boat commanders and resistance heroines, a faithful housekeeper hiding a communist son, punch-ups between brothers and moral arguments between parents. It's all just a tad predictable.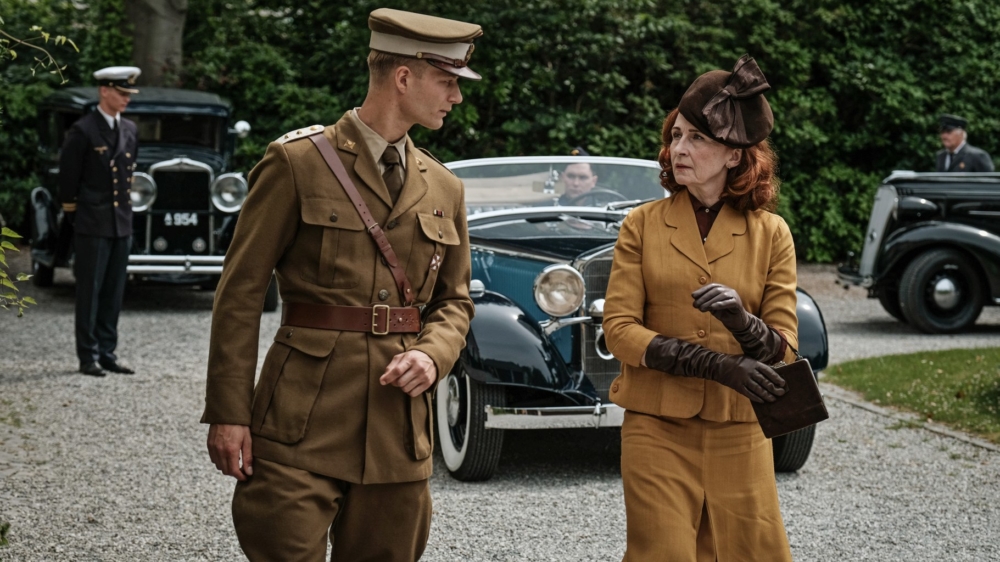 Refn's budget didn't allow for much in the way of extensive period recreation – the same locations are used repeatedly (the lavish villa and its grounds, the factory floor, the jazz club). There's little in the way of landscape and Copenhagen barely features at all – one scene of a protest march against the city's Nazi occupiers (above) features a dozen extras and seems confined to one street. The casting is very predictable too, if there's a fat man in a three-piece-suit chomping on a cigar, he's a wicked Danish capitalist all too eager to do lucrative business with the new German overlords. If there are fearful Jewish people asking for help, they are suitably nervous and dark haired to contrast with confidently blonde German officers, who could have stepped out of a mail order catalogue for Hitler's Aryan dream nation.
After two and a half hours of dialogue heavy drama, Into the Darkness ends abruptly in 1943, just as the war is turning. After all that languorous screen time, the film suddenly feels too short. Apparently Refn is making a second part, covering the final years of the occupation and will eventually combine both parts into a tv series. But while Danish audiences made the film a hit at the box office in early 2020, showing that there's an appetite at home for looking at the country's history through less rose-tinted spectacles, it's not clear how much that hunger will translate to audiences abroad. It's not even clear if Refn's film roused its homeland audience to greater compassion. This week Denmark became the first European country to strip Syrian refugees of their residency status and send them back to the conflict in Damascus. Some things don't change.