Da 5 Bloods review - Spike Lee takes on the black GIs' experience in Vietnam |

reviews, news & interviews
Da 5 Bloods review - Spike Lee takes on the black GIs' experience in Vietnam
Da 5 Bloods review - Spike Lee takes on the black GIs' experience in Vietnam
Timing is everything; Spike Lee misses out on a cinema release but hits Netflix as Black Lives Matter dominates the news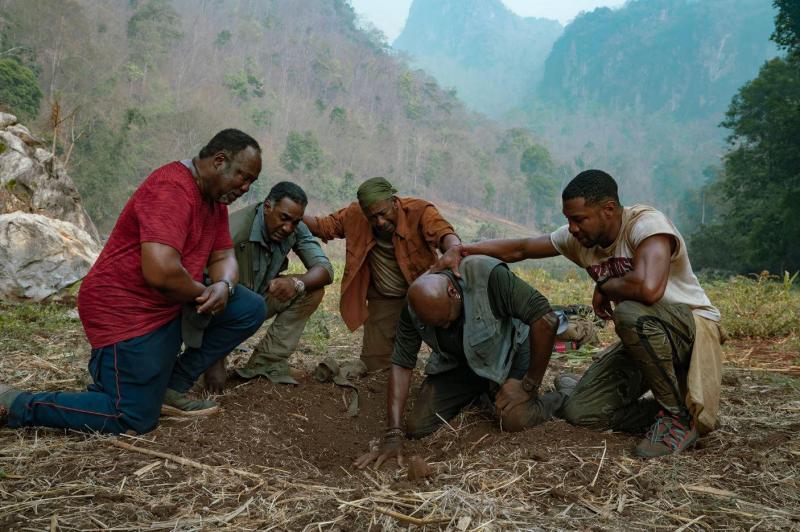 Reuniting to honour the fallen
Spike Lee's ambitious tale of five American veterans returning to Vietnam to settle unfinished business, should have opened out of competition at Cannes last month. He was set to become the first African American film-maker to head the festival jury.
Instead, coronavirus wiped out
Da 5 Bloods
cinema release and the film debuts on Netflix. Its 63-year-old director has had to self-isolate at home in New York, watching Covid-19's terrible impact on the BAME community and George Floyd's murder rock the world.
Under these circumstances, it would be great to be able to give Da 5 Bloods a wholly positive review, but unfortunately it's another instance of the film-maker's burning desire to cram just too much into a single movie. Spike Lee has so many powerful points to make about Black American history, about the Vietnam war and imperialism and on the current state of US politics, he needs several films to get it all out there. But for now, we have Da 5 Bloods, a hybrid movie which is part jungle action adventure with four former GIs returning to Vietnam to hunt for buried bullion and the remains of their beloved captain (Chadwick Boseman) and part talkie drama drenched in toxic masculinity – all interwoven with powerful archival documentary history lessons.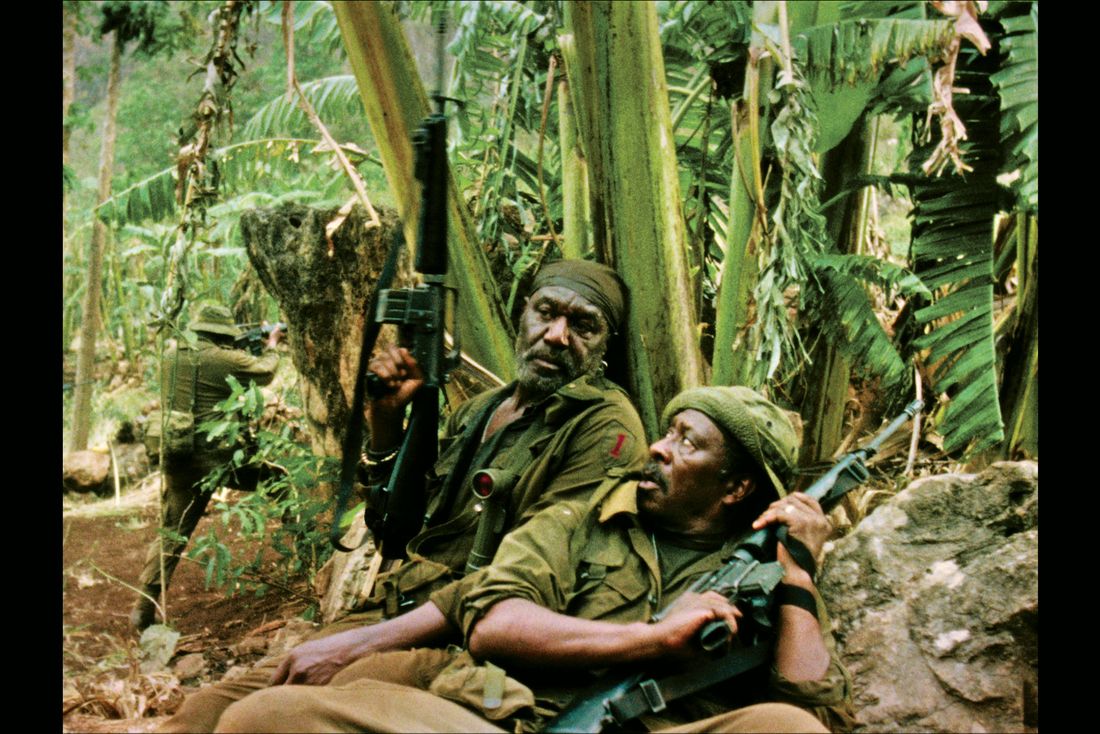 Da 5 Bloods comes complete with boys-own adventure thrills which sometimes feel like they've stepped out of a video game. There are flashback scenes of crashing helicopters and mortal combat with the Vietcong shot on 16mm film, while the shoot-outs and gory exploded bodies in the present-day setting are filmed using high-res digital cameras. Competing with the action scenes is Lee's valiant attempt to present the war from a Vietnamese perspective too. Reprising the trope of a DJ chorus from Do the Right Thing, Van Veronica Ngo plays 'Hanoi Hannah' who plays Marvin Gaye on a propaganda radio station, tells the GIs about the death of Martin Luther King and asks the soul brothers why they have come to fight the Vietnamese for their white generals. She's a powerful voice weaving through Da 5 Bloods, but it's hard not to suspect that there are scenes cut from the story of Otis (Clarke Peters above right) reuniting with a former bar girl Tîen (Le Y Lan) and finding the daughter he never knew he had. It's a soppy Miss Saigon moment and too perfunctory a nod to the mixed race children left behind in Vietnam by the retreating GIs. Similarly, the subplots involving a feisty French heiress (Mélanie Thierry) devoting her life to removing landmines, and a sleazy French fence (Jean Reno) and various Vietnamese men scheming to get the buried gold, feel rushed and token.
Lee and his co-writers reworked a script originally developed for Oliver Stone, who would doubtless have cast white actors as the veterans and made a straighter yarn along the lines of men driven mad by the quest for gold, a reworking of The Treasure of the Sierra Madre. Lee has added the complex character of Paul (Delroy Lindo above left), here given full rein as an actor as the PTSD-suffering vet, riddled with rage at the world and targetting his son, who has joined the reunited veterans on their mission. Paul is one of those African Americans who voted in Trump in 2016, seduced by the promise of a wall against migrants, he wears his MAGA cap right to the bitter end and is the most complex character in the film. Lindo's extraordinary monologues delivered straight to camera are some of the most powerful moments in the film and will doubtless do well in awards season.
But for this viewer at least, there are just too many different strands and styles to make for a satisfactory whole. Spike Lee's ambition and cinéaste's desire to make films which mix up genres and reference every high-profile war movie he's ever admired or execrated (from Apocalypse Now and Bridge over the River Kwai to the Green Beret and Rambo franchise) is ambitious, but it's overwhelming in a film of this length. Da 5 Bloods might have worked better as a drama series on Netflix instead. It would be good if he returned to the sharper leaner form he showed in BlacKkKlansman. Meanwhile it's well worth revisiting Lee's underrated WWII film, Miracle at St Anna and checking out his lyrical portrait of his beloved New York under lockdown and his brilliant, disturbing new short 3 Brothers, made in response to George Floyd's murder.