The Creator review - bold, beautiful, flawed sci-fi epic |

reviews, news & interviews
The Creator review - bold, beautiful, flawed sci-fi epic
The Creator review - bold, beautiful, flawed sci-fi epic
John David Washington goes on the run with a child AI
Friday, 29 September 2023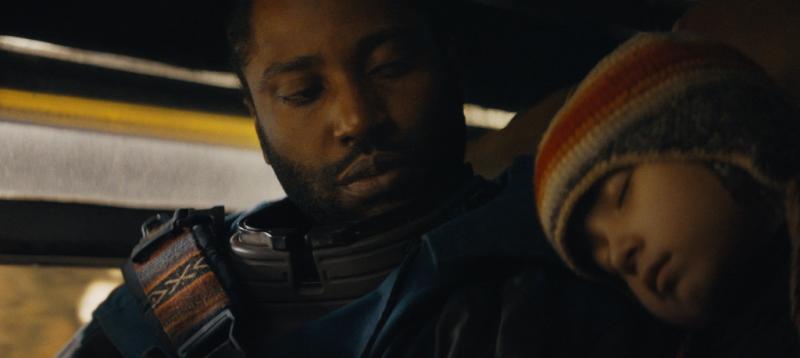 John David Washington and Madeleine Yuna Voyles in 'The Creator'
It has been seven years since Gareth Edwards directed, for me, the best of the new generation of Star Wars films, Rogue One. Having made Godzilla before that, it's nice to see him return with a more personal project, a big, bold, beautiful, if flawed sci-fi epic.
It's still pretty derivative, in an open way, with nods to everything from Terminator, Blade Runner and District 9, to Apocalypse Now, among others, the connecting themes being the confrontation between humankind and technology, American militarism, fear of the other. Usefully, all of this chimes with the current, fiery and fearmongering debate about the advance of artificial intelligence.
Ultimately, Edwards and co-writer Chris Weitz fail to make enough of their scenario's potential; the script's not that good. But, visually, the film is another matter entirely, Edwards combining exotic location shooting with seamless CGI, endless invention and flair, to offer a staggering exercise in world-building.
It opens with a speedy prologue introducing the advent of advanced AI, which is handed the keys to America's defence systems, only for Los Angeles to be nuked by those very protectors, killing millions. So far, so Terminator. But is it?
Of
course, the United States responds in the only way it knows, with righteous and indiscriminate aggression, declaring war on robots the world over. Ten years later, in 2065, that war is still waging. The fact that 'New Asia' has embraced all AI creations as equals, doesn't deter US targeting one jot. And its chief weapon in that endeavour is Nomad, a giant orbital warship, whose majestic laser targeting beams induce wonder, before destruction.
When an undercover operation in New Asia, in search of the AI creator, Nirmata, goes awry, Nomad wipes out an entire coast. The special forces operative Joshua (John David Washington) barely survives, while his wife Maya (Gemma Chan) apparently dies in the blast. Five years later, the army want him back, to offer intel on a new mission to find Nirmata and destroy the super weapon that could win the war for AI. When the hardass team leader Colonel Howell (Alison Janney, below, revelling in an atypical role) reveals that Maya may be alive, Joshua returns to New Asia.
The society that Edwards presents there has a far more inclusive, and optimistic vision than anything contained in the current, real-life AI debate. Here humans, robots and 'simulants' – robots given human features, albeit with a give-away cylindrical hole through their skulls – happily co-exist; if only the Americans would leave them alone.
After some standard US army grunt fare that is, thankfully, short-lived, Joshua discovers that the weapon is a simulant child, who may know of Maya's whereabouts, and decides to go rogue – the pair fleeing across the country, pursued both by Howell and the Asian police.
Hereon, the film essentially becomes a chase movie, as Joshua and the girl, who he names Alphie (Madeleine Yuna Voyles, below), move from paddy fields to cities to mountain temples, their journey punctuated by death and destruction.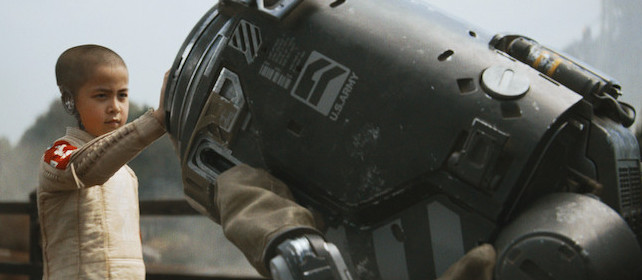 Both architecture and hardware riff upon a retro-futuristic aesthetic we've become accustomed to; at times Edwards' cityscapes have moments of ethereal beauty reminiscent of Blade Runner, at others the grunginess of District 9. But the simulant design feels entirely new and hugely impressive; it's a great touch when characters literally peer into Alphie's head to work out how she ticks. And the action scenes have the visceral, unsentimental realism that Edwards brought to Rogue One.
It's certainly gripping. And there is a sweet, slow-burn rapport between Joshua and Alphie, the cynical soldier who never loses his bigoted view of robots, and the girl whose human qualities are speedily developing alongside her powers. Washington may be a little one-note as a performer, but Voyles, only seven when the film was made, is a heart-breaking revelation.
Edwards performs miracles with a comparatively tiny budget for a film of this magnitude. It's such a pity, then, that the obvious echoes of America's involvement in Vietnam and its War on Terror are never advanced, the result being a mere gesture and a trite aftertaste rather than a meaningful statement. Even the action becomes rote in the final third, with Alphie's powers nothing to speak of, and the climax actually a bit daft. Ultimately, what may have been a genuinely great film falls short.