Cosmopolis |

reviews, news & interviews
Cosmopolis
Cosmopolis
Cronenberg directs an icily impressive Robert Pattinson in a slick, cerebral satire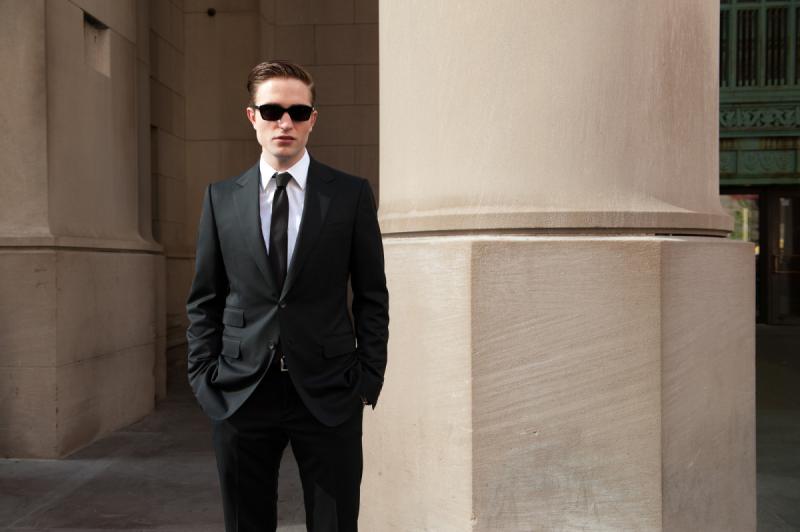 Boy in a bubble: Robert Pattinson in 'Cosmopolis'
Once again bringing to screen the seemingly unfilmable (see also Naked Lunch and Crash), the audacious David Cronenberg takes on Don DeLillo's 2003 novel - a novel which in the last decade has become frighteningly pertinent. Respectfully retaining much of DeLillo's original dialogue, Cosmopolis is a paranoid, loquacious nightmare, a sly, searing study of the alienated super rich, a meditation on greed, emptiness and jealousy.
It's set almost entirely within the comfortable cocoon of a stretch limousine which, in the hands of Cronenberg, becomes an almost science fiction-style space.
Cosmopolis opens on the front of a white limo, which appropriately fills the screen just as its interior will come to dominate the film. Cronenberg himself has described it as an "airless aquarium". A familiar sight on the streets of New York, these limos provide protection and mobile luxury to their mysterious inhabitants. Travelling in this one is whizkid billionaire Eric Packer (Robert Pattinson) – a boy in a (cork-lined) bubble. Determined to get his hair cut at his childhood barbers, he braves Manhattan's oppressive traffic, security warnings and aggressive Occupy-style protests. This particular barber, situated on the wrong side of town, is something of a totem to a man with little left to link him to his previously prosaic existence – his Rosebud, if you will.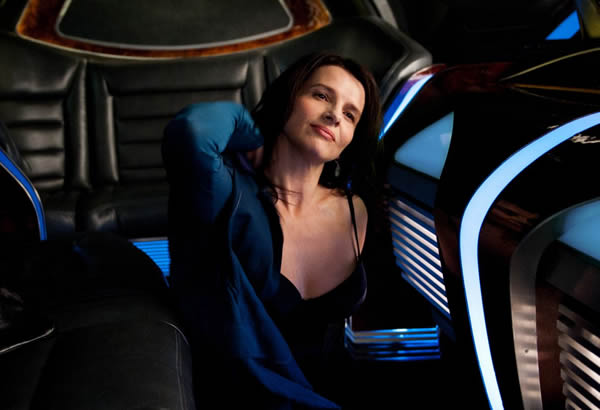 During the duration of Eric's journey his net worth plummets devastatingly and a credible threat to his life is revealed. Cosmopolis comprises a series of brief encounters: Eric is fucked by Juliette Binoche (pictured right), cream-pied by Mathieu Amalric, advised by Samantha Morton. Events takes place over the course of a single day but Eric is so detached from normality, and his interactions are so indicative of a somnambulistic existence that he could be in there for weeks, months or even years. For example, we see his marriage of financial convenience with Elise (Sarah Gadon, pictured below left) disintegrate, though it's barely even begun.
Although recognisably thriller-like in its later stages, Cosmopolis is low on action, high on contemplation. Philosophical and filled with both wisdom and the kind of bullish business-speak which renders certain individuals and industries madly annoying, it's a film that is preposterous and credible, strange and shrewd. There are some dynamite lines, such as Eric's gnomic response to a colleague querying why they couldn't have stayed in the office: "What makes you think we're in the car instead of the office?" - a line that's both disconcertingly existential and references the fact that we're in an age where being in the office no longer means being at the office.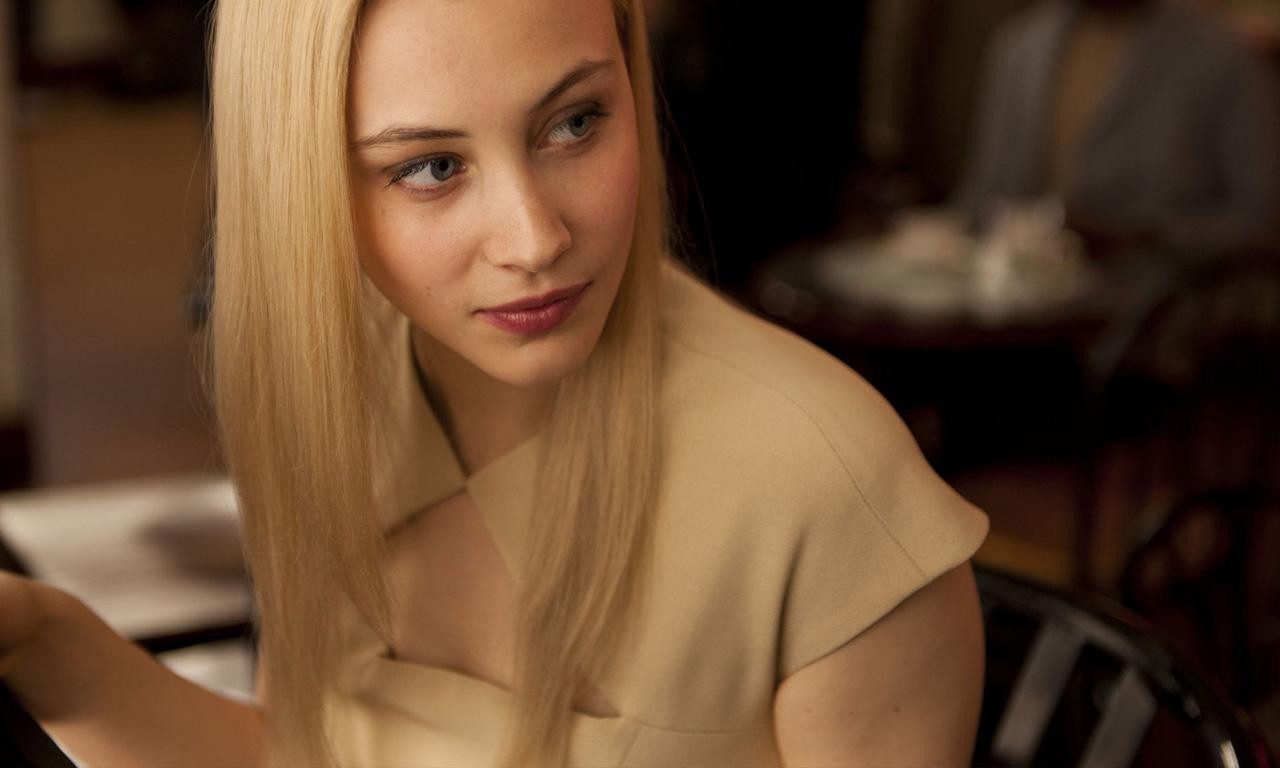 And as that remark suggests, although it echoes and critiques reality Cosmopolis also feels creepy and otherworldly, as one might hope or indeed expect from Cronenberg. The limo's high-tech interior and its slow, constant motion make the journey seem hyper-real and Eric may as well be floating in a spacecraft for all his connection to the world around him. Robert Pattinson – well cast here - has that slightly inhuman, albeit striking, appearance (something the Twilight franchise has so successfully capitalised on) and possesses a complexion which suggests he's a stranger to the outside world. In Cosmopolis, rather than being tortured by love he's beset by ennui.
Eric seems to have no tangible connections; his career soars and dives in untouchable numbers and his marriage remains unconsummated
Eric is a bored young man with the world at his feet but with no lines of toil or discernable wisdom beyond his impeccable, risk-taker's instincts. He undergoes daily medical check-ups (perhaps he's familiar with Cronenberg's back catalogue and has developed a body horror fixation). Beyond sexual liaisons, he seems to have no tangible connections (there's a hint of Steve McQueen's Shame here); his career soars and dives in untouchable numbers and his marriage remains unconsummated. Eric has a contemptuous arrogance and a disregard for society, evidenced when he tries - apparently only half sincerely - to buy the entire Rothko Chapel which his lover Didi (Binoche) informs him "belongs to the world". Such moments point to a dangerously disconnected young man.
Cosmopolis might be, in part, a study of detachment but this is cinema at its most intimate and inquisitive. Though fairly short, it's a challenging film which still entertains. An excruciatingly anxious yet playful finale reveals the identity of Eric's deadly stalker and rewards our patience. There's humour, particularly in Amalric's appearance as cream pie vigilante Andre Petrescu ("Today you are cremed by the master!"). Cosmopolis is not always entirely coherent and some will no doubt find its musings tedious but, slowly but surely, Cronenberg pushes our buttons and our limits.
Watch the trailer for Cosmopolis
Cosmopolis is preposterous and credible, strange and shrewd
rating
Share this article