Chef
Chef
Don't stay hungry: Favreau's latest is fast, furious and fun – and it gets social media right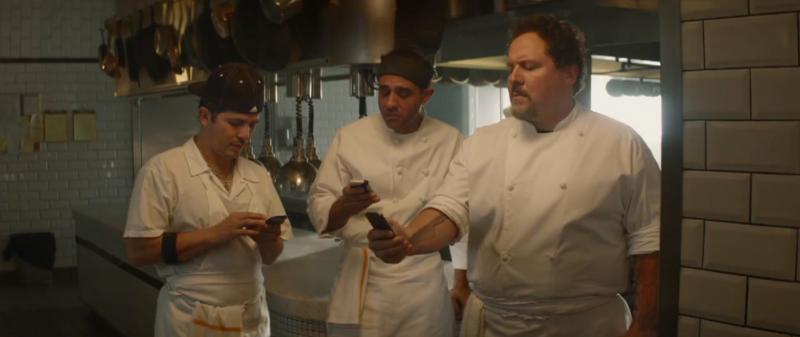 Leguizamo, Cannavale and Favreau check the tweet that changes everything in 'Chef'
It's not unusual for Jon Favreau to go small, despite his reputation for the big hits such as Iron Man, Iron Man 2 and Elf. There was the much-touted squib Cowboys & Aliens alongside the nifty minnows of Made and Very Bad Things. Favreau loves acting and making movies so much that he's a realist when things go wrong.
Or right, in the case of his latest
Chef
, which one reviewer strangely called "shallow", a word that would only apply if you expected something Bergmanesque from a juicy romp through the world of a professional chef trying to get back his magic meal-making mojo.
Favreau stars as Carl Casper, a notable chef in California whose restaurant, governed by Dustin Hoffman, was once the toast of the town. But times have changed and when feared food blogger Ramsey Michel (Oliver Platt, never better) gives him the one-two on a tired menu, conflict turns to counterpoint. Carl walks, going fearlessly into an uncertain future. His ex-wife (Sofia Vergara) is supportive, his son (Emjay Anthony) adorable and his kitchen friend (John Leguizamo) adds the spice, doing naughty things when they need doing.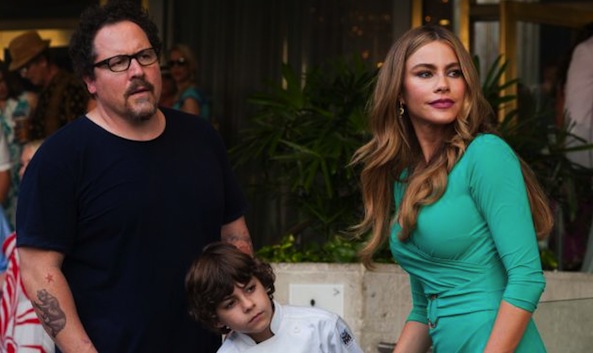 With an amazing cast (pictured left: Favreau, Anthony and Vergara) one could enjoy Chef as star-studded vehicle. But Chef's got so much more going than that. First of all, it gets social media right: Carl posts a tweet that he thinks is private. Instead, it goes out to the world, unstoppable. He relies on his son for help and learns, realistically, how to use Twitter for good not evil. His entanglement with social media is completely convincing. Secondly, Carl's aim is not a pipedream but of real life. This is The Bicycle Thieves without a stolen bike, Cinema Paradiso with intact film. Chef has very little jeopardy but it doesn't need it: real life has enough.
Thirdly, Chef is thunderously wonderful with food. Favreau himself spent weeks learning how to cook and watching him conjure on food truck and taking it on the road is a true joy. Chef joins Babette's Feast, Eat Drink Man Woman, Tampopo, Big Night and The Hundred-Foot Journey as a film not to see on an empty stomach. Seriously, eat something beforehand or be tormented and salivating throughout. Tasty cameos with Robert Downey Jr and Scarlett Johansson add to this delicious, uplifting ditty about one man learning to feed his soul.
Overleaf: watch the trailer for Chef
Watch the trailer for Chef