Blu-ray: The Night of the Generals |

reviews, news & interviews
Blu-ray: The Night of the Generals
Blu-ray: The Night of the Generals
Peter O'Toole and Omar Sharif star in pedestrian Nazi-infested 1960s murder mystery
Generalities: left to right, Donald Pleasence, Peter O'Toole, Charles Gray and Omar Sharif
Anatole Litvak's The Night of the Generals (1967), beautifully restored here to 4K, is a tortuous and at times entertaining mash-up of the July 1944 plot to kill Hitler and the murder of a prostitute in Nazi-occupied Warsaw a few years earlier.
Producer Sam Spiegel cast Omar Sharif and Peter O'Toole as Nazi officers, the same duo that had starred in his earlier success
Lawrence of Arabia
. The script – workmanlike but without any great surprises – is by the French novelist Joseph Kessel and the seasoned British screenwriter Paul Dehn.
The recent representation of Nazis on screen has become very sophisticated – in terms of depth, subtlety or potential for comedy. With Downfall and Inglourious Basterds, to name just two examples, firmly established in our filmic memory, the heel-clicking, rigid body language and barking of orders that characterises too much of veteran director Litvak's film now seems rather dated. Donald Pleasence plays a Nazi with a conscience, unable to accept the fanatical and murderous tactics of his military colleagues, but the tropes are very much of their time, and give the film a period feel, without the benefit of being a cinema classic.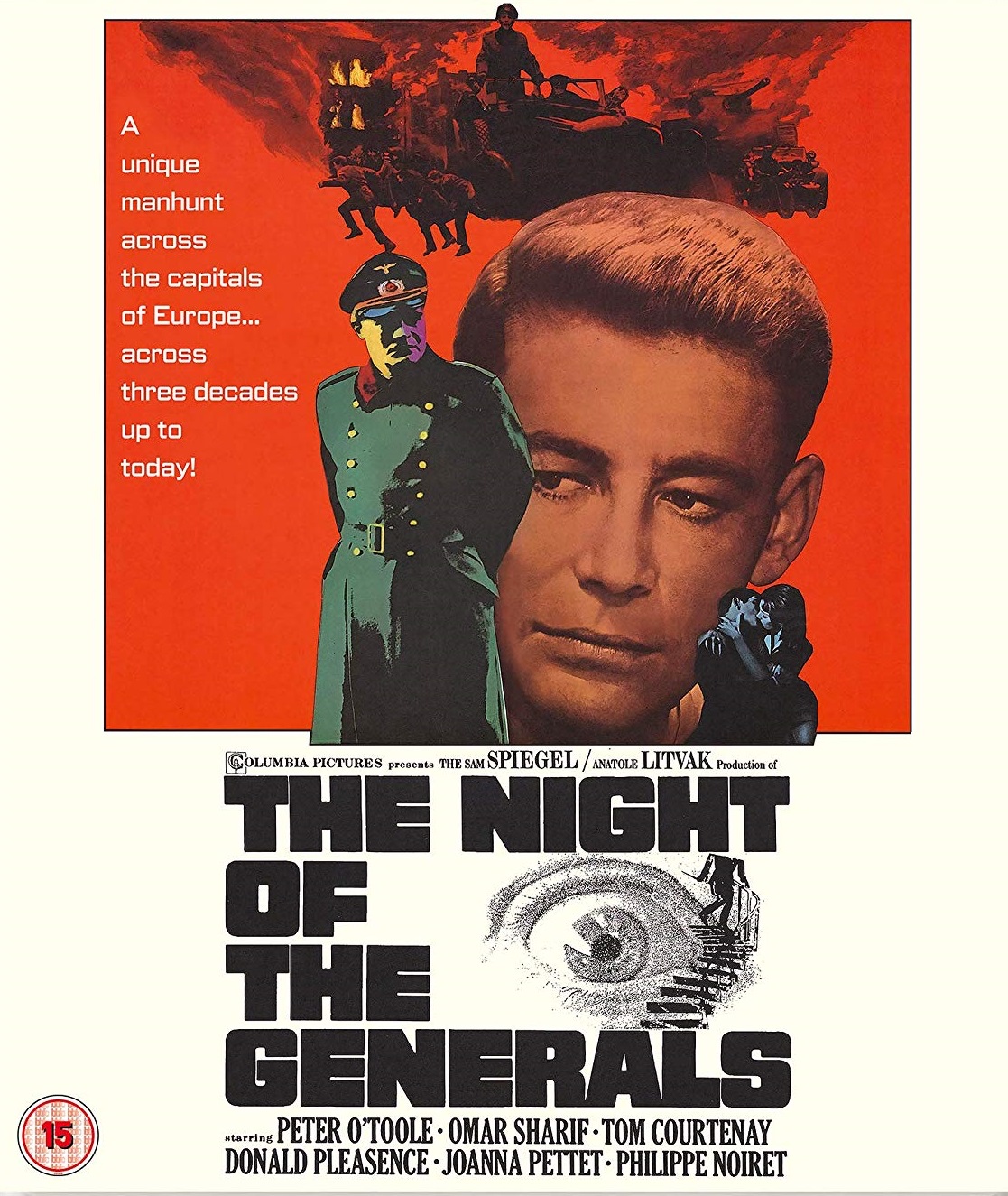 O'Toole relies as ever too much on his steely melancholy good looks. His doll-like face displays a very limited range of emotion, but this may be a choice – with a part that requires all of the psychopathy of a sexually repressed and fanatical Nazi, a man who doesn't hesitate to assault Warsaw's city centre with flame throwers and tanks, in reprisal for Polish resistance. Tom Courtenay plays a German corporal with a heart, drawn into the maelstrom of the drama: his acting offers a touching counterpoint to the more formulaic behaviour of the officers around him. French actor Philippe Noiret delivers a predictably Gallic inspector, sympathique, affable and in dogged pursuit of the guilty murderer. There is something a bit ridiculous about him speaking English in the film with an almost caricatural French accent, while most of the officers, not least O'Toole, speak a very posh English.
The film's story – a murder mystery in a wartime setting – works well enough, although the unmasking of the culprit, which takes place decades after the act, in the film's present time, hardly comes as a surprise, as the clues have been rather obviously delivered in the last third of the film. This Blu-ray release comes with a minimum of bonuses – an audio commentary by author Scott Harrison and the original theatrical trailer – but this reflects the fact that The Night of the Generals is an unremarkable star vehicle, not a dud by any means, but not a classic that deserves much background or analysis.
Peter O'Toole relies as ever too much on his steely melancholy good looks
rating
Share this article