Blu-Ray: La Haine |

reviews, news & interviews
Blu-Ray: La Haine
Blu-Ray: La Haine
Handsome restoration for Matthieu Kassowitz's take on the French dispossessed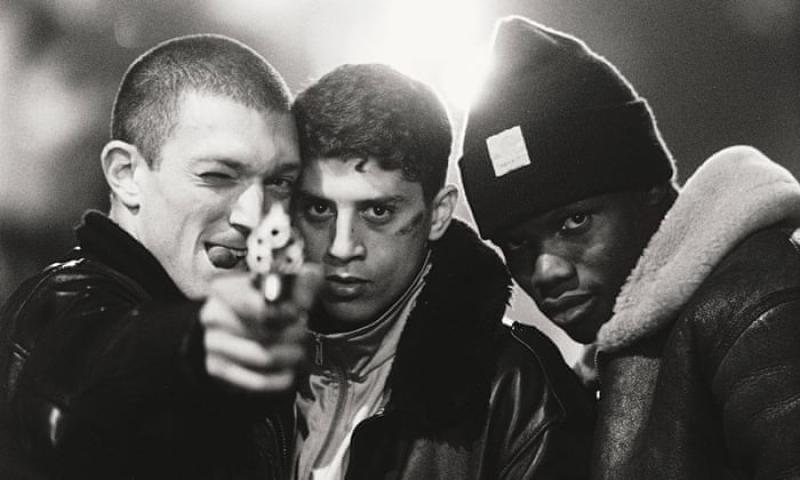 Looking for trouble: Vincent Cassel, Saïd Taghmaoui, and Hubert Koundé
The BFI has done an excellent job of giving La Haine the 4k restoration treatment under the vigilant eye of the film's cinematographer, Pierre Aïm.
From the opening image of planet earth being torched by a slo-mo Molotov cocktail to the shocking final moments, this is a stunningly handsome film. It's hard to believe Matthieu Kassovitz's blistering tale of three young men fired up by police brutality is now 25 years old as the film has lost none of its incendiary energy and style.
Kassovitz sets the scene with an archive montage of the 1993 riots that broke out in Paris after the police accidentally shot a teenager from Zaire in the head while interrogating him about some stolen cigarettes. Bob Marley's "Burnin' and Lootin'" provides the perfect soundtrack opener. La Haine then shifts to establishing Chanteloup-les-Vignes, a rundown housing project on the outskirts of the city and the three friends we will follow over the next 24 hours.
Vinz (Vincent Cassell) is backchatting with his grandma, who wishes he spent more time in synagogue and less time perfecting his Taxi Driver routines in the bathroom mirror. Hubert (Hubert Koundé) is an aspiring boxer, not so interested in violence but a dab hand at lifting credit cards. Saïd (Saïd Taghmaoui) is a hustler cutting deals with local gangs. Kassovitz (himself of Hungarian Jewish origin) was determined to show the mixed ethnicity of the banlieues and co-wrote the script with Taghmaoui whose parents came from Morocco. In the new interview shot for this edition, Kassowitz talks about how the casting of a black man, an Arab, and a Jew as best friends was a "little idealistic" in 1995, but he wanted his audience to get to know them, understand them, and make them more lovable.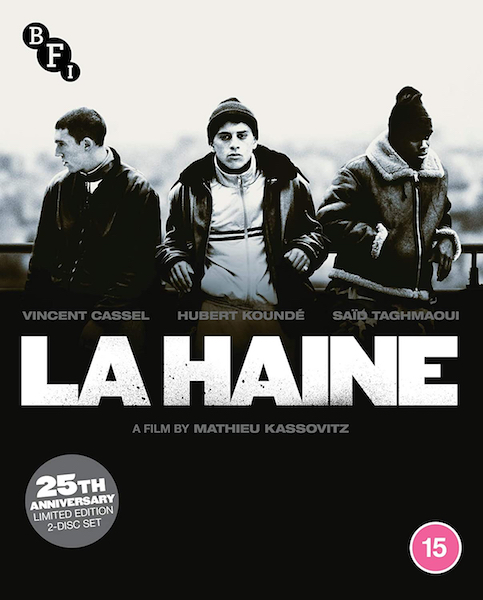 Kassowitz pulled out all the stops to distance his movie from any liberal neo-realist films that had gone before. La Haine is serious without being earnest or preachy. The script is often very funny as the three lads banter about movies, boast about what they're going to do next, and get into a series of scrapes.
Shot by Aïm in Chanteloup-les-Vignes itself, the stylised monochrome camerawork draws attention to its artfulness with considerable deployment of Steadicam, track and zoom, aerial footage, and saturated black and white images that sometimes veer on the surreal. There is no lack of stylistic ambition and the influence La Haine has had on a generation of video artists and filmmakers like Ladj Ly is obvious.
The film shifts to central Paris at night and the style changes to more hand-held, long-lensed camerawork as Kassowitz was shooting guerrilla-style without permits and a smaller crew. There's a terrible urgency in the ticking down of the clock on screen as the city goes quiet in the small hours and the lads miss the last train home. Vinz has got hold of a policeman's loaded gun during the rioting and is itching to use it; it's a question of when and with what effect.
The new Kassowitz interview, conducted in September, shows he has lost none of his combative charm, despite his having spent too much time acting in Le Bureau. There's a heartfelt tribute to the film from actor Riz Ahmed but otherwise the extras are collected from previous sources.
Kassowitz's 2004 audio commentary and a documentary made in 2005 are first-rate and it's a treat to have his earlier short films collected together, along with behind-the-scenes footage and deleted scenes. Around the time of the Charlie Hebdo massacre in 2015, there was talk of a La Haine sequel. It would be fascinating to see how Kassowitz and Taghmaoui would handle today's escalating ethnic tensions in France, but La Haine 2 doesn't seem to be happening any time soon. For now we'll have to settle for this anniversary edition or take another look at Ly's excellent Les Misérables.