Blu-ray: Jules et Jim |

reviews, news & interviews
Blu-ray: Jules et Jim
Blu-ray: Jules et Jim
Jeanne Moreau at her most sublime in Truffaut's 1962 masterpiece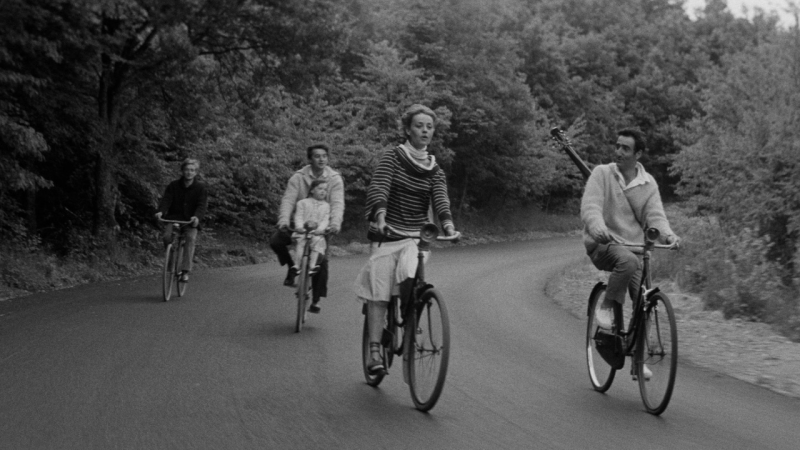 Jeanne Moreau, as Catherine, femme fatale, triumphantly leads her lovers (including Oskar Werner, Henri Serre and Bassiak)
François Truffaut's Nouvelle Vague masterpiece revolves around an endlessly mutating love triangle, set in a world that encompasses the hedonism of the Belle Époque, the horror of the First World War, and the book burning that ushered in the Nazi period in Germany. The film is a triumph of humanity as well as a deep and touching reflection on friendship, love and marriage.
Jules et Jim marked an era, not least because the two male protagonists, the Austrian actor Oskar Werner as Jules and Henry Serre as Jim, are more sentimental than Catherine, the near-psychopathic and yet overwhelmingly bewitching heroine (a stunning performance by Jeanne Moreau at her very best). The story explores the possibility of open relationships and the near-impossibility of long-term life in a conventional dyad.
The film touches on the emancipation of women that emerged in the early part of the 20th century, and which was to unfold further during the 1960s. It suggests – perhaps in a manifestation of unconscious misogyny – that this liberation comes at a cost, with freedom won at the expense of commitment. It is to the film's credit and a source for its combination of depth and delight, that there is no judgment whatsoever, only suggestion. The film celebrates love experienced in the moment, in all its sparkle and painful fluidity, and yet culminates in tragedy and death.
Impeccably shot by Raoul Coutard (who made his name with Godard), and carried forward by an ear-worm of a waltz composed by Georges Delerue, the film entertains, moves and provokes reflection in a remarkable way. References to Baudelaire, Goethe and others – never gratuitous – reflect the literary tastes shared by the trio. As became a trademark of the Nouvelle Vague, Truffaut uses a great deal of carefully positioned voice-over, often quite poetic, drawn from Henri-Pierre Roché's novel on which the film is based. This narrative device creates both intimacy and distance, a touch of objectivity that highlights the more subjective heart of the narrative. There is also, as in many of Truffaut's films, a delightful mix of lightness and humour, enabling, by way of contrast, the serious content at the heart of the story to carry emotional weight.
The threesome, a relationship that grows out of an exemplary and lasting male bond between the two men, explodes with contagious energy. The actors' performances are flawless and totally believable. There is plenty of touching sentiment but absolutely no schlock – though perhaps an overdose of Delerue's score.
Catherine (Jeanne Moreau) is both a force of nature and a goddess. She relishes her power, and displays hints of what would later be diagnosed as narcissism. She enjoys her regal dominance and flightiness, and her refusal to commit reflects the very essence of her attraction: fiercely independent on one level and yet totally dependent on the adulation of the men around her. The entrancing song "Le Tourbillon", in which Catherine is accompanied by her lover Albert, provides a resonant centrepiece to the film: Moreau is sublime, the men her adoring playthings. It is one of those unforgettable and profoundly touching sequences – rivalled in that genre perhaps only by "Cucurrucucu paloma" sung by Gaetano Veloso in Almodovar's Hable con Ella (1995),
For a BFI release, it is surprising to see sloppy and inaccurate subtitles. The bonuses are a bit underwhelming, although they include audio interviews with Moreau and Truffaut and a filmed interview with John Hurt. It is BFI material, so perhaps less expensive, though it might have made sense to trawl through the considerable archives at France's equivalent institution, INA: there is plenty of good material there. With a film as good as this, however, which has lost none of its freshness, any bonus is likely to be something of a disappointment.
There is plenty of touching sentiment but absolutely no schlock
rating
Explore topics
Share this article