Blu-ray: Anatomy of a Murder |

reviews, news & interviews
Blu-ray: Anatomy of a Murder
Blu-ray: Anatomy of a Murder
Any objections to Otto Preminger's masterful legal drama are overruled
Biding his time: James Stewart, centre, with Eve Arden and Ben Gazzara in 'Anatomy of a Murder'.
Justice and the truth run on parallel lines in Anatomy of a Murder. If they converge at all, which is debatable, it's not because the moral order demands it, but because the workings of the law allow for that possibility.
The outcome of Otto Preminger's noir-tinged 1959 courtroom drama depends on which of two opposing attorneys has the pragmatism and cunning to prevail: James Stewart's Paul Biegler, a former district attorney who favours fly-fishing over maintaining his practice in fictitious Iron City in Michigan's Upper Peninsula, or George C Scott's Claude Dancer, a slick operator from the state capital Lansing.
The Viennese émigré Preminger, who had found his footing in Hollywood as a maker of film noirs and melodramas notable for their objectivity and dispassion, followed a run of stylish literary adaptations in the 1950s with big-topic movies based on best-sellers. Anatomy of a Murder, which was followed by Exodus (1960), Advise & Consent (1962), and The Cardinal 1963), began this cycle in comparatively modest style, though it still stretched to 161 minutes. They rush by.
The screenplay was adapted by Wendell Mayes from the novel by Robert Traver, the pseudonym of Michigan Supreme Court Judge Robert F Voelker, whose protagonist Biegler describes a case exactly like a real-life one Voelker participated in as a defence attorney in the Upper Peninsula's Marquette County in 1952. Preminger filmed at Voelker's home and other UP buildings and locations near the original crime scene.
Biegler (James Stewart), who hasn't worked for a while, is asked by a young army wife, Laura Manion (Lee Remick, pictured right), to defend her husband Lieutenant Frederick "Manny" Manion (Ben Gazzara), who admits to having shot and killed the tavern owner Barney Quill after Laura claimed Quill had raped her. Biegler believes a jury might accept a plea of temporary insanity predicated on Manion having succumbed to an "irresistible impulse", so he takes the case. It enables him to justify keeping on his long-unpaid assistant Maida (Eve Arden), and to enlist his alcoholic mentor Purnell McCarthy (Arthur O'Connell) as a partner to distract him from the booze. Watching the trio working together is one of Anatomy of Murder's pleasures.
"Courtroom drama" is perhaps a misnomer because the movie scrutinises not just the trial but Biegler's entire process, including the arduous business of investigating Laura's alleged rape and the circumstances of Quill's death. Laura tells Biegler she's never cheated on Manion, but if her unsubtle flirting with the attorney is any guide, she's a woman who defines herself by her seductive powers. What she was doing in Quill's car on the night she said he raped her is unknowable. Who gave her a black eye and why the pathologically jealous and violent Manion delayed before heading to Quill's place are equally imponderable. The viewer is put in the position of perplexed juror long before the trial starts.
In court, Biegler is up against both Dancer and the prosecutor who hired him, Mitch Lodwick (Brooks West, Arden's husband), Biegler's ineffectual successor in the DA's office. Because the case starts to go against Manion, Biegler unexpectedly pulls a series of gambits. He elicits evidence that the avuncular Judge Weaver (played by non-actor Joseph N Welch, more of whom below) has struck from the record too late for the jury to ignore it. He pretends to lose his temper to flag the outrageousness of Dancer's insinuating questioning of Laura, which depends on sensationalistic rhetoric ("Do you always wear panties, Mrs Manion?" – "panties" being the film's taboo buzzword). Biegler's outbursts meanwhile buy him time to strategise.
He even has Laura's cute dog brought into the courtroom, ostensibly because it has a bearing on her dealings with Quill, primarily to charm the jury. Slowly, Biegler's adroit play-acting – enamelled in Stewart's iconographic folksiness – changes the atmosphere in the room. His introduction of a witness (Kathryn Grant) who's not whom Dancer thinks she is gains Biegler another advantage. Winning "justice", then, is attributable to a series of feints and dodges, to guile and grandstanding. The touching friendship between Biegler and McCarthy and Preminger's cool rather than sardonic appraisal of the characters preserve this outstanding film from Billy Wilder-like cynicism.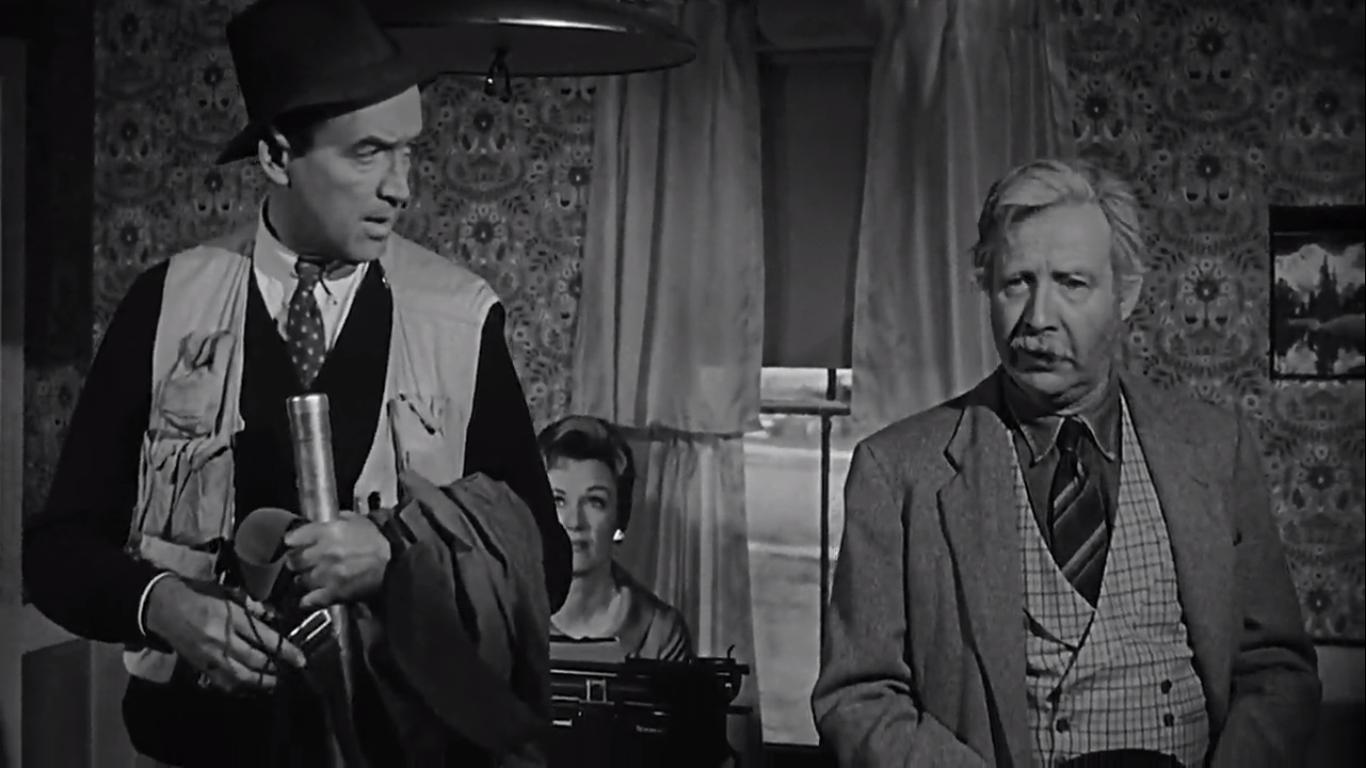 Joe Welch, as he was known, was the Iowa-born lawyer (a son of English immigrants) who served as chief counsel for the US Army when it was being investigated for communist activities in 1954. His upbraiding of Senator Joseph McCarthy in court – "Have you no sense of decency, sir? At long last, have you left no sense of decency?" – helped turn the tide against McCarthyism. The booklet accompanying Criterion's Anatomy of a Murder Blu-ray release contains a superb Life magazine pre-release article about Welch's involvement in the film, which was a major coup for Preminger. (Pictured above: Stewart, Arden, and O'Connell)
The extras also include newsreel footage from the set; excerpts from the 2014 film Anatomy of "Anatomy"; critical pieces on the score by Duke Ellington (who briefly plays a jazz pianist in the film) and Preminger's collaboration with titles-designer Saul Bass; and parts of a televised conversation between Preminger and William F Buckley Jr.
'Do you always wear panties, Mrs Manion?' Claude Dancer asks – 'panties' being the film's taboo buzzword
rating
Explore topics
Share this article