Ben-Hur |

reviews, news & interviews
Ben-Hur
Ben-Hur
Chariots misfire in disastrous reboot starring almost nobody
Friday, 09 September 2016
Estate agent v Gap model: race to the bottom in 'Ben-Hur'
Ben-Hur, the remake of the remake, is an epic misfire starring no one you've ever heard of apart from, inevitably, Morgan Freeman. What in heaven, you may ponder if accidentally trapped at a screening, were the producers thinking? Their rationale is writ large in the film's no-messing-about opening sequence. Like its own trailer naming the elephant in the room, this Ben-Hur heads straight to the chariot race. It's some mission statement.
Forget William Wyler's 1959 epic that won more Oscars than any film in history, it says. And forget Fred Niblo's ground-breaking 1925 silent classic. The CGI-narcotised kids of 2016 are going to have their socks knocked off.
The story is very much as you were, barring tweaks. The Roman orphan Messala, having grown up in Jerusalem in the royal household of Judah Ben-Hur, has the hots for his so-called brother's sister, which is a bit awks as she's a royal and he's a pauper, so he ups sticks to Ancient Rome to join the army and make his fortune. "Wait!" cries Judah. "What do you mean you're going to Ancient Rome?" "The pay is steady," Messala sort of explains, "plus there's a knockout pension scheme for knackered old centurions."
He returns as the sidekick of the new Danish governor Pontius Pilou Asbæk. As the army parades through the street of Jerusalem a freedom-fighting zealot carelessly harboured by the Hur household takes a potshot at Pontius Pilou and the Hurs are arrested, Judah is sent off to sweat it out for five years as a galley slave (pictured below) from which he escapes in quite a scary maritime battle, is fed and watered by the owner of a crack quartet of racing nags, discovers his ma and sister have been plastered in leprotic boils by a hard-working make-up department and, aeons of screen time later, here we all are in the arena for the big gallop.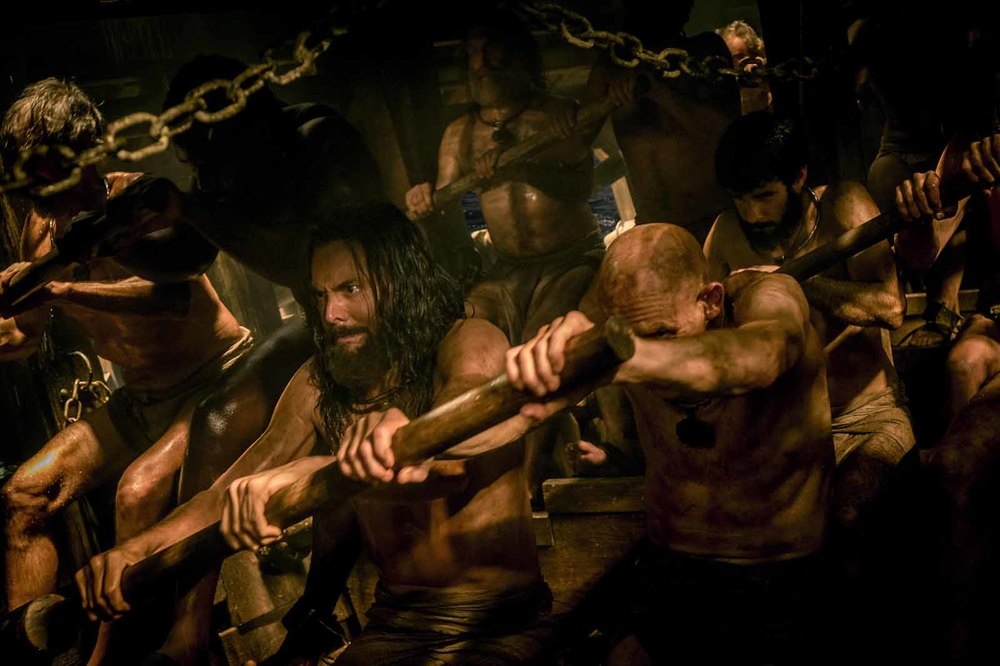 There's a subplot involving a bearded carpenter who spouts thought bubbles about peace, love and such. You can tell he's no ordinary chippie from the way bystanders are hilariously awed by his aura, until climactically he's attached to a large lump of wood he has previously dragged through the aforesaid street.
The list of actors who turned down the lead roles would take some reading. Jack Huston, not quite the whole hog as a Jewish toff, exudes a faint air of having wandered on set from a Gap shoot. Toby Kebbell as Messala has the rugged comportment of a surly estate agent. There's no sign, alack the day, of the subliminal homoeroticism that was a contraband pleasure of the scenes between Charlton Heston and Stephen Boyd. Morgan Freeman, as an itinerant American charioteering entrepreneur who resides in tents, trousers the money in the dreadlocked guise of Whoopi Goldberg (pictured below). The director is someone called Timur Bekmambetov, whose recent filmography includes Abraham Lincoln: Vampire Hunter.
General Lew Wallace's 1880 novel has been twice adapted into the most expensive film ever made. (Let's pass over the recent trash TV version featuring the Earl of Grantham as Pilate.) This new reboot was written on a sandal string. "I'm not sure you want to hear everything," Messala tells the Hurs when back from the wars, thus making a massive saving on the production budget: cue a brief montage of limbs being lopped off subjected peoples. The dialogue seems to have been certified as fit for purpose by a person previously employed in daytime soap. It hardly helps that some of the post-sync dubbing makes the characters speak like Thunderbirds.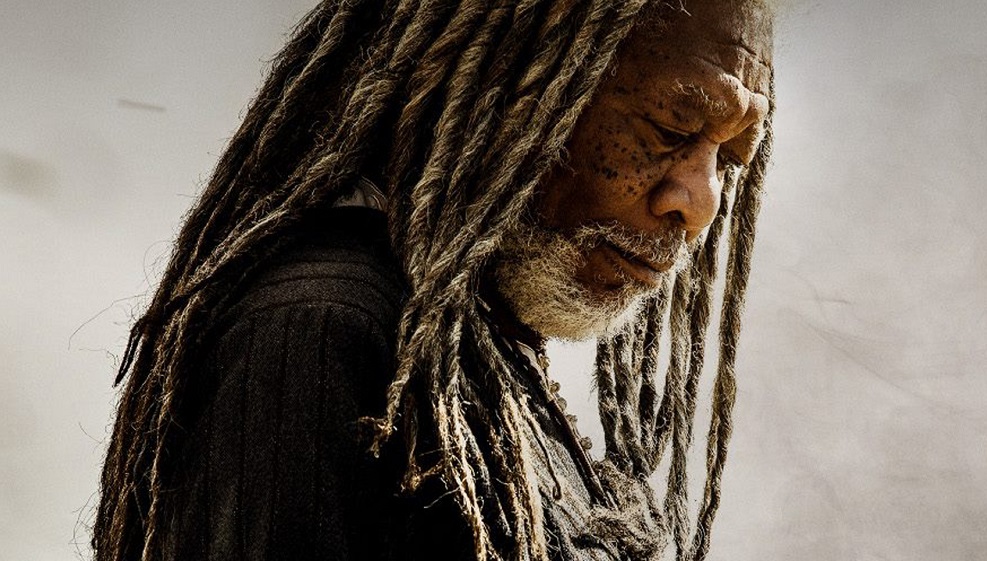 Of the plot tweaks, gone are the accidentally dislodged slate which nearly lands on Pontius Pilou, and Jack Hawkins's Roman admiral leaving everything to Judah. (To amputate another half an hour of plot, Judah shakes him off his oar and he drowns.) Much the most flatulent rewrite is reserved for the end when, in an ambience of post-crucifixion grace, Messala rises from his stretcher minus half a leg to re-befriend his quondam mortal enemy. "There were many miracles that day," intones Whoopi Freeman on voiceover duties.
On the plus side some of the panoramic landscapes would make quite nice postcards. The soundtrack supplies much angry drumming to discourage nodding off. The chariot race is by no means an embarrassment. It's just that it doesn't remotely outstrip the astonishing technical achievements of films shot nearly 90 and 60 years ago.
Overleaf: watch the trailer to Ben-Hur
The dialogue seems to have been certified as fit for purpose by a person previously employed in daytime soap
rating
Explore topics
Share this article