Belle |

reviews, news & interviews
Belle
Belle
Amma Asante returns to tell the story of the singular Dido Elizabeth Belle
Gugu Mbatha-Raw and Sam Reid are star-crossed lovers in 'Belle'
Sadly the battle to shape stories from a female perspective, or even to tell stories about women is far from over. The Centre for the Study of Women in Television and Film at San Diego State University recently found that women represented only 15 percent of protagonists in the 100 top-grossing films of 2013.
If we look closer to home the most recent BFI statistics put the percentage of female directors working in the UK at just 8 percent (that's based on films released in the UK in 2012) - meaning this is even rarer than you'd think. So for a film to be directed by one woman and to feature another in the lead is unusual; for them both to be women of colour makes it nothing short of remarkable. The director and star are not the only remarkable thing about
Belle,
which gives us a mixed-race woman who lived amongst the aristocracy in Georgian England and was acknowledged as family, if not as an equal.
Considering the above it's no surprise that it's taken Amma Asante a decade to follow up her directorial debut, A Way of Life, which earned her a BAFTA for Most Promising Newcomer and the UK Film Talent Award at the 2004 London Film Festival. Belle - the story of Dido Elizabeth Belle - was inspired by a painting (pictured below right) from 1779 which, although unsigned, is believed to be the work of Johann Zoffany. Looking at the portrait in question it's not hard to see how it inspired curiosity: the affection between the two young women - one black, one white - is appealingly evident. The work caught the eye of screenwriter Misan Sagay (the movie's third key female creative - though if you check out the imdb entry you'll find many more, from the composer of the score, Rachel Portman to one of the film's editors, Victoria Boydell) who was keen to learn more about the friendship she saw depicted.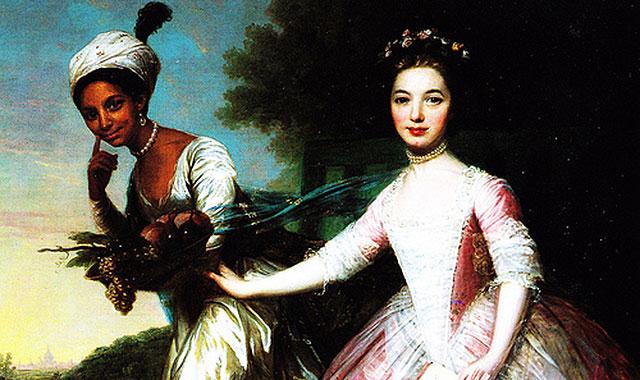 Belle begins with Captain Sir John Lindsay (Matthew Goode) arriving to take his impoverished, illegitimate daughter (Lauren Julien-Box) to a place of safety. She's a beautiful child, born of a liaison with a slave and bears her mother's dark skin. He leaves her in the care of his uncle the Earl of Mansfield (Tom Wilkinson), the Lord Chief Justice of England, and his wife Lady Mansfield (Emily Watson) who are initially aghast but grow to love Dido as their own. Residing at Kenwood House, she becomes the playmate of her cousin (Cara Jenkins) who has been abandoned by her father at the bequest of his new wife.
The girls (played as adults by Gugu Mbatha-Raw and Sarah Gadon, the latter pictured below left with Tom Felton who plays a typically repugnant creature) grow up to be inseparable. As they "come out" to society and try to land husbands both women find they are disadvantaged - Dido by her heritage, Elizabeth by her lack of fortune. Meanwhile Lord Mansfield is presiding over a landmark trial relating to the Zong slave ship which tossed its diseased human cargo into the sea when the captain realised that the men were now worth more dead than alive; it's a case in which both Dido and her legal apprentice love interest, John Davinier (Sam Reid), take a passionate interest.
Mbatha-Raw is best known for her work on television and in theatre; she has landed supporting roles in film before but Belle marks her transition proper. Under intense pressure she gives a performance of dignity, conviction and great sensitivity - a star is truly born. And the established cast that surround her could hardly be bettered.
However, as a whole Belle is a little too earnest, a little too focused on stirring speeches, alongside poorly disguised exposition. Issues which would have been long since addressed are presented as if they are brand-new - for example we see an adult Dido struggling to comb her Afro hair as if she's never had to do so before, or acting surprised when she's not invited to dine with her family - a matter which has been a routine occurrence - simply so that we might have this explained.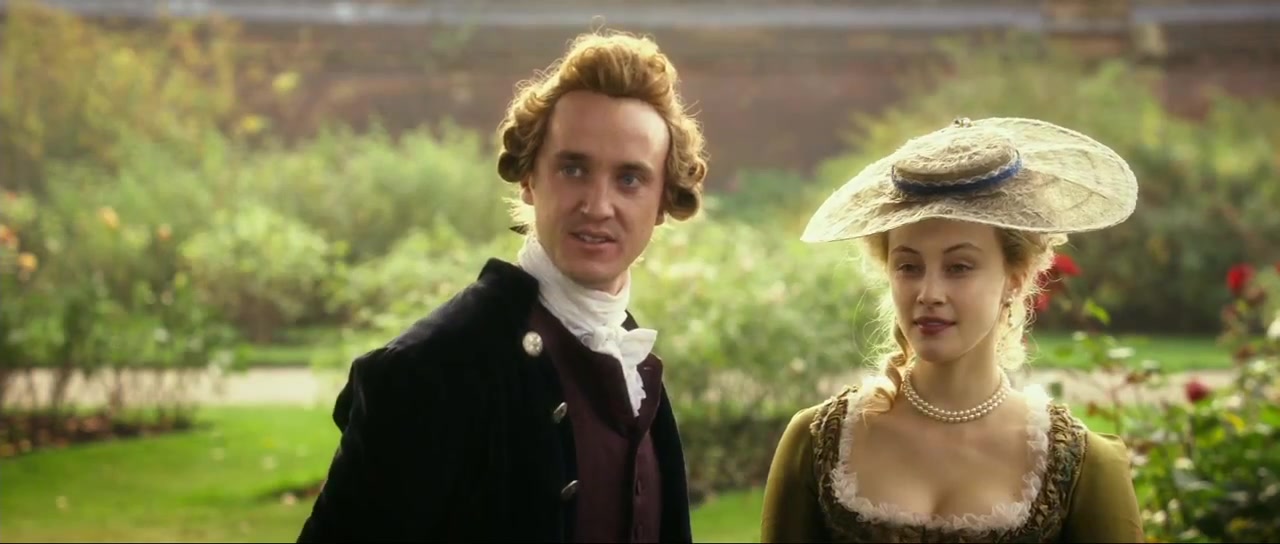 Furthermore Belle takes Dido's incredible story and squeezes it into a romantic period drama template that audiences will be all too familiar with. Yes, it's hugely refreshing to have a mixed-race actress at the centre of the story and for some of the focus to fall on slavery in Britain (a subject still virtually ignored onscreen), but the treatment lacks weight, with Assante's film sacrificing a credible examination of events in favour of the largely fabricated - although admittedly heartrending - romance (Dido did marry Davinier, though many years after the film suggests and there was no evidence he was the abolitionist firebrand we see here).
It's a film that's infused with a modern sensibility which might have worked in smaller doses. Both Dido and Elizabeth spout astonishingly right-on attitudes, despite it being illustrated how conservative and "proper" their upbringing has been. That Dido would harbour an interest in the fate of those she shares a skin colour with is likely, but her seditious actions are less so. Perhaps if it had more courage visually (see Jane Campion's Bright Star for an example of how to give period romance a fresh aesthetic twist) this wouldn't seem so out of kilter.
With its simplified social issues and focus on emotionally manipulative entertainment at the expense of all else, Belle will appeal to those who found the prospect, or content, of 12 Years a Slave a bit much. Sadly it's bold only in its appropriation of modern attitudes - and, of course, the fact that it dares to depict Dido's story at all. Whatever the exact truth, the painting and bare facts are enough to confirm Dido was a mould-breaker. It's a shame - particularly given the wealth of talented women involved - that the same can't quite be said for this film.
It's a film that's infused with a modern sensibility which might have worked in smaller doses
rating
Explore topics
Share this article