Larry Crowne |

reviews, news & interviews
Larry Crowne
Larry Crowne
Hollywood hates teachers redux, this time with a radiant Julia Roberts
Julia Roberts and Tom Hanks in 'Larry Crowne' - a movie that merits detention
What is it with Hollywood and education? Hot on the heels (shamelessly come-hither pumps, in fact) of Cameron Diaz in the lamentable Bad Teacher, we now get Julia Roberts as a disaffected babe who, we're told, is a teacher even though she spends precious little time in actor-director Tom Hanks's new film doing anything of the sort.
Still, at least Roberts's unquenchable radiance lends
Larry Crowne
some measure of class; otherwise, here's another movie that merits detention for failing to make more than a passing detour in the direction of real life.
You might be forgiven briefly at the outset for expecting the film to nod in the direction of the 21st century, as Hanks's eponymous blue-collar Larry loses his job and decides to start anew by giving himself the college education he never had. But Hanks's screenplay, co-authored by My Big Fat Greek Wedding's Nia Vardalos, doesn't give an actual fig about what goes on in the classroom, except in the cheapest and cheesiest of ways.
Far more important is getting Larry through class - he gets an A+, 'natch - so that he and Roberts can then embark upon their romance. (That's not possible, for obvious reasons, for as long as he remains one of her students.) And lest you think that Roberts's Mercedes Tainot (there's a name to reckon with!) might be drawn to Larry's mind, think again. The erotic clincher would appear to be that she likes the way he smells when hopping a ride on the back of his bike, not to mention that as a dab hand as a short-order cook, Hanks's amiable, tired-eyed Larry presumably scrambles a mean egg.
Much else gets scrambled along the way, including a bizarre subplot featuring the latest UK stage talent to hit the Hollywood big-time: Gugu Mbatha-Raw (pictured below with Wilmer Valderrana as her boyfriend), Ophelia to Jude Law's London and Broadway Hamlet, who crops up as a scooter-riding student called Talia who seems determined to land Larry in serious trouble with her glowering boyfriend (Wilmer Valderrana). That Talia's apparent cunning disappears in time for a preposterous happy ending matters about as much as the narrative's convenient dismissal of Mercedes's porn-surfing writer husband (Bryan Cranston), who must be really stupid not to realise that he has the hottest chick in five states living under his same roof. (It might have helped if Mercedes's nickname were not Mercy but Foxy.)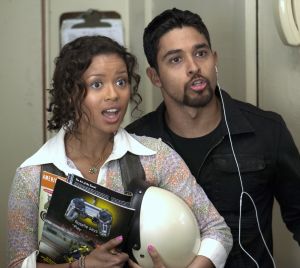 Mercedes's given class turns out to be one on public speaking, though I would genuinely like to see Roberts have a go at teaching "Shakespeare the politician" - the course she is prepping as the film ends. Instead, we get various set pieces in which her motley line-up of students (one of Meryl Streep's daughters, Grace Gummer, among them) address the assemblage in various cutesy and/or manic guises while Mercy looks on with a quality of contempt that is considerably less strained than the script: Roberts could instruct Cameron Diaz on how to rise above the crass.
The dialogue runs toward the following: "Are you clairvoyant?" teacher asks student. "No, Steve Dibiasi," comes the reply. (Fabulous, no?) The passing mention of Pygmalion seems a bit much in context given Larry's inability not just to pronounce the word "spectacular" but to realise that mobile phones aren't welcome in class: his gets confiscated twice though not, of course, by his comely new flame.
Hopes vanish quickly of a post-Up in the Air look at downsizing in America, with intriguing forays into the role of race in a country whose economic malaise crosses social and ethnic barriers. (Playing Hanks's neighbour, the likeable Cedric the Entertainer gracefully fields aphorisms early on about the "fired man [being] the forgotten man come Monday".) Allusions to "manifest destiny" and Macbeth notwithstanding, the film exists merely to pair its two leading players for the first time since Charlie Wilson's War.
I don't doubt that Larry Crowne has its heart in the right place unlike Bad Teacher, which is actively malign. But there's a much better, tougher movie here that Hanks, working across the venture as director, co-star, co-writer and co-producer (his first directing credit, incidentally, since That Thing You Do! in 1996), wouldn't have had to fight anyone except himself to get made. Or are even A-listers of this stature not allowed to follow their own clearly capable instincts? (Roberts's worn-out walk, for instance, physicalises her character in an instant.) If that's the case, Benjamin Disraeli might as well come from "Disrael", as per one of this movie's feebler jokes. Class dismissed.
Larry Crowne is on release from Friday
Watch the trailer for Larry Crowne