Barney's Version |

reviews, news & interviews
Barney's Version
Barney's Version
Novelist Mordecai Richler makes a mostly welcome return to the screen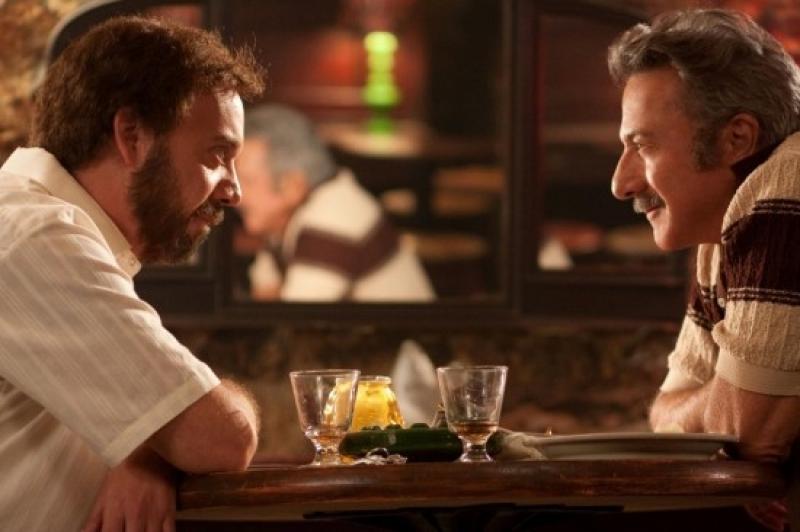 'Life is not all briskets and blow jobs': Paul Giamatti and Dustin Hoffman in 'Barney's Version'
Canadian writer Mordecai Richler's eclectic contribution to film includes uncredited work on Room at the Top, the screenplay for Fun with Dick and Jane and the original book behind Richard Dreyfuss's early success The Apprenticeship of Duddy Kravitz. Like that 1959 novel, his final tome, Barney's Version, dealt with the colourful history of a Montreal Jew.
Where Richler was alive to see the 1974 film of
Kravitz
, however, his 2001 death makes this adaptation of
Barney
something of a memorial to an author one suspects would be better known had he been born on the other side of the world's longest border.
Despite the high-profile presences of Paul Giamatti and Dustin Hoffman, one wonders how much Richard J Lewis's film will change that situation. For while there is a lot to like in this witty, engaging portrait of a loveable reprobate whose noble intentions are continually scuppered by selfishness, adultery and intoxication, it remains very much a film of a book whose strengths – rich characters, robust acting and a surfeit of lively incident – go hand in hand with some rather glaring weaknesses.
Chief among them is the difficulty Lewis has squeezing the whole of its protagonist's diverse experience into one 132-minute film. Barney Panofsky, after all, is a guy who marries three times, becomes suspected of murdering his best friend and ends up with Alzheimer's disease, all while coping with frustrated literary ambitions, a hated career producing tacky TV, and an embarrassing ex-cop of a dad (Hoffman) who wastes few opportunities to show him up in public.
Even a multi-part mini-series would struggle to cram all that in. As it is, Lewis's film is forced to make concessions that impact most damagingly on a supporting cast that, Hoffman apart, spends most of its time languishing in Giamatti's shadow. You have to feel for Rachelle Lefevre, a Canadian starlet who lost her job in the Twilight movies for accepting the role of Barney's flighty first wife Clara, yet who barely has time to make her presence felt before being written out of the first, Rome-set segment of the narrative. Minnie Driver gets similarly short shrift as his second spouse, a garrulous shrew whose name – as in the novel – is never revealed.
That Rosamund Pike (pictured above with Giamatti) fares better as the third Mrs Panofsky – a woman whom Barney meets and falls for just hours after marrying Driver – doesn't wholly stop the one-time Bond girl being sidelined at one stage by a lurch into melodrama which sees Giamatti implicated in the death of his feckless acquaintance Boogie (Scott Speedman). It's all part and parcel, though, of a film whose faithfulness to its source prevents it having a life and identity of its own, for all the incidental pleasures that fidelity affords.
Having portrayed endearing sadsacks before in Sideways, Cold Souls and Lady in the Water, Giamatti is perfectly cast in a role that has him convincingly age 30-odd years. And while his peculiar attraction to beautiful women is a mystery that Lewis chooses to leave unresolved, it is surely a testament to the actor's natural charisma that his far from admirable character proves as winning as his behaviour is deplorable. Hoffman, meanwhile, steals scenes like the wily pro he is – not least when solemnly informing his son that marriage is "not all briskets and blow jobs".
Watch the trailer for Barney's Version
It is surely a testament to Giamatti's natural charisma that his far from admirable character proves as winning as his behaviour is deplorable
Explore topics
Share this article