Banana Split review - likable if essentially timid romcom |

reviews, news & interviews
Banana Split review - likable if essentially timid romcom
Banana Split review - likable if essentially timid romcom
On-the-shelf romcom deserves both a proper airing - and an epilogue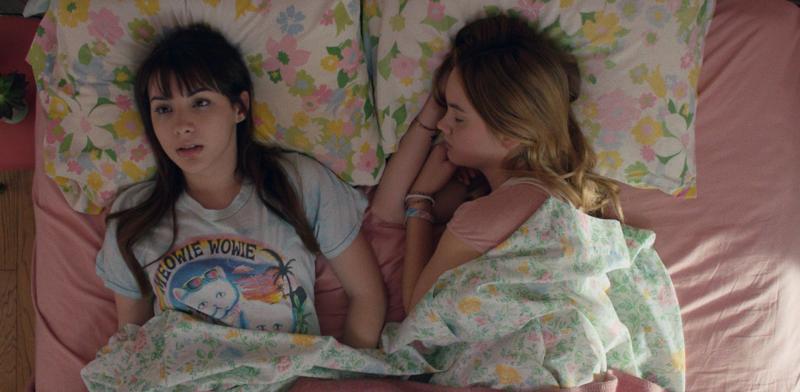 Menage-a-deux: Hannah Marks and Liana Liberato in 'Banana Split'
Is friendship mightier and more durable than sex? That's the proposition put forward by the engaging if ultimately cautious Banana Split, the Los Angeles-set romcom in which two teenagers become friends unbeknownst to the long-haired himbo boyfriend whom they have shared.
Co-written by Hannah Marks, who stars as the wounded (but maybe not) April, this feature film directing debut from cinematographer Benjamin Kasulke is sufficiently lively that one feels the timidity of its closing sequence that much more fully.
Up until then, there's a lot that both surprises and satisfies about a movie that gives us the trajectory of the doomed romance at its core right at the outset, only then to carefully plot the way in which April falls in and then out of the arms of the lanky, shag-happy Nick (Dylan Sprouse). Notwithstanding their pet names for one another that recall (of all unlikely precedents) Look Back in Anger, Nick forsakes April to take up instead with a round-faced classmate, Clara (Liana Liberatore, pictured below with Hannah Marks), herself new to La La Land. Imagine both young women's dismay, then, when they encounter one another at a drunken party only to discover that – how sick is this! – the two actually get along really well.
How long can this burgeoning sisterhood sustain itself without Nick becoming wise to its existence? That question drives a beguiling script from Marks and Joey Power whose sexual geometry is further complicated by the long-silent crush on April sustained by the endearingly nerdish Ben (Luke Spencer Roberts), who is asked both to facilitate and adjudicate goings-on when he would much rather have a piece of the action: Roberts is entirely winning in a potentially thankless part.
The film's sexual candour is sure to cause delighted titters amongst its core audience. "Can we not talk about my vagina like it's a room, please?" asks Clara with a bluntness characteristic of the dialogue as a whole. This unbridled tendency reaches a comic peak in the dinner table scenes between April, her equally single and jilted mum (played by the wonderful Jessica Hecht, a New York theatre regular), and April's intimidatingly precocious little sister, Agnes, whose own raging hormones ensure that she, too, develops a girl-crush on Nick. Hecht gets my single favourite moment, pouring wine for herself and her two daughters – both children well under the drinking age – with the self-justifying rationale, "They do this in France."
Like an incipient Thelma and Louise, the film ends with its two heroines together as if by destiny, at the wheel of a car and driving towards a future that won't be ruptured by April's decision to attend college on the East Coast. "Where are we going?" asks one. "I don't know," replies the other, even if the viewer feels by that point that so fully aware a film has chosen to end abruptly rather than embrace these characters' next and possibly far more radical second act.
Banana Split is available on streaming platforms from 8 June
The dialogue reaches a comic peak in the dinner table scenes between Hannah Marks as April and her family
rating
Share this article