Sex Education, Series 2, Netflix review - the teen sex show we deserved |

reviews, news & interviews
Sex Education, Series 2, Netflix review - the teen sex show we deserved
Sex Education, Series 2, Netflix review - the teen sex show we deserved
Happy Valentines: this humdrum holiday is the perfect occasion to stream the most affirming sex comedy in years
Emma Mackey as Maeve: Since it burst onto the scene last year, Sex Education has only gotten better
Netflix's Sex Education has returned to our screens and streams. The show made waves last year for its refreshing take on the teen comedy-drama. It took on abortion, consent and female pleasure — subjects strikingly absent from our actual high school educations.
The result was a show that was always bingeable, sometimes educative, and oozing with
sex-positive
delights. Not everyone liked it. But those of us who did — teenagers all over again — could not stop talking about it. These are high expectations for a show going into its sophomore season. But thank God and thank Laurie Nunn: this is a worthy follow up for a worthy show.
We begin where we left off. Chlamydia is in the air at Moordale High and Otis (Asa Butterfield) gets pulled back into service as a high school sex therapist. This time, so does his mother Jean (Gillian Anderson). Sex Education has switched up its structure: this series is less like a portrait and more like a collage, with criss-crossing perspectives. We find Eric (Ncuti Gatwa) navigating his attraction to Adam (Connor Swindells) while experiencing his first real romance with someone else. We find Maeve (Emma Mackey, pictured top) sceptically rebuilding a family with a mother she doesn't trust. We find Jackson (Kedar Williams-Stirling, pictured above) and Viv (Chinenye Ezeudu) trying to defy the world's expectations, while Ola (Patricia Allison) and Lily (Tanya Reynolds) try to understand their own.
The new structure works: we get deep and varied back stories. A shift in Otis' character means this series was slightly slower to win me over. Last year's forgivable rotter is now, often, a wearisome jerk. But any sluggishness soon wears off, and the second half of this series is at least as good as the last. It showcases Nunn and Sophie Goodhart and their madcap, incisive writing. It doubles down on Sex Education's lush transatlantic aesthetic, shouting-out Tina Fey and John Hughes. It's more representative than the first series, and even rights one small wrong: it asks the right questions about why we love people who treat us badly.
In a series that covers everything from divorce to addiction, Sex Education's most profound storyline arguably belongs to Aimee (Aimee Lou Wood, pictured below left). In an early episode, Aimee is assaulted on a bus, in an experience that she finds odd, then unimportant, then monumental. Sex Education tracks the impacts of this experience: fear, shame, rippling effects on Aimee's relationships. It is a tender representation of a painfully recognisable experience. (Point in case: the day I posted this review, I witnessed the exact same thing happen to a young woman on the London Underground.) Among my friends, and on the internet, this storyline has been the subject of proud reposts and loud conversations. I mean it when I say this: this is good, affirming television. As rare as it is honest.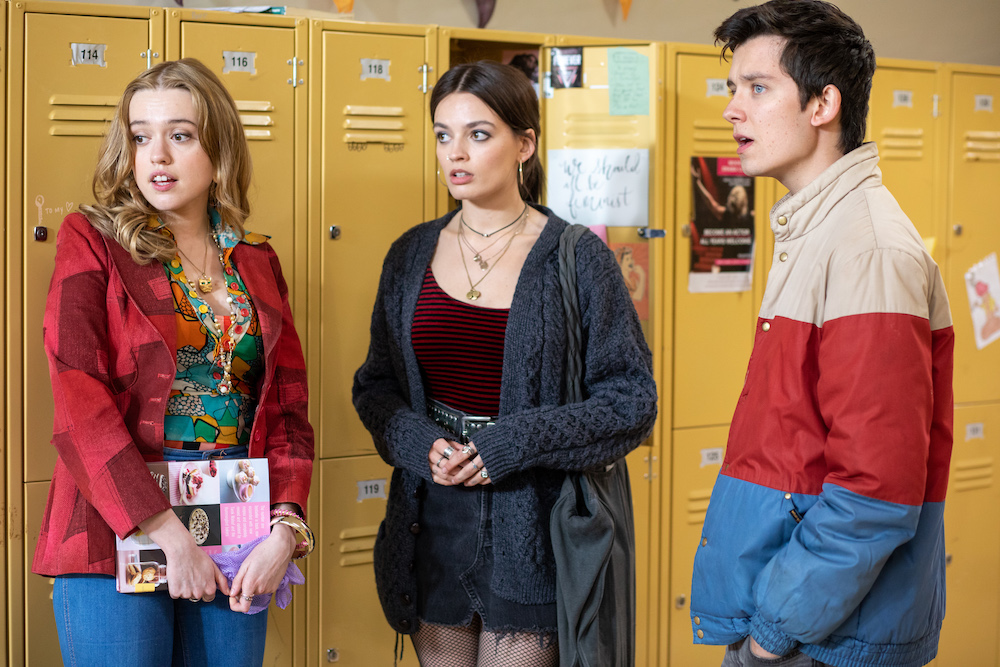 Ultimately, this series sparkles. Its performances are funny but full of feeling. There is stellar stuff from Wood, Swindells, and Alistair Petrie as Headmaster Groff. There are the irrepressible charms of Gatwa and Anderson. There is also a spate of good music moments — in particular one scene about teenage girl camaraderie, soundtracked to Sharon Van Etten's excellent 'Seventeen,' that leaves you absolutely soaring. Triumphs like these testify to the best thing that Sex Education offers us: affirming moments of solidarity, that let onscreen teenagers and offscreen streamers know that what they're going through is normal. And let them know that this too will pass.
When it debuted, some of my more cynical friends wrote off Sex Education as a frivolous bit of late-night TV. But this series, like the last series, demands to be taken seriously: in amongst the vulva jokes are some important takes on friendship, self-respect and mutual affirmation. Not to mention some decent truth-telling about sexual health and sexual misconduct, told in such a way that young people might actually listen. So here's to Series Two of Sex Education: it's still the show I wish I'd had as a teenager. It may not always be perfect, but it's definitely what we need.
This series, like the last series, demands to be taken seriously
rating
Explore topics
Share this article