Armadillo |

reviews, news & interviews
Armadillo
Armadillo
Smell the cordite and feel the fear in Janus Metz's Afghan war documentary
War is hell: Emergency treatment for a wounded Danish soldier in Janus Metz's 'Armadillo'
If war is such hell, why do we keep doing it? This may be one of the questions you'll be asking yourself after sitting through the taut and gruelling 100 minutes of Armadillo, Janus Metz's remarkable account of a six-month tour of duty in Afghanistan with soldiers of Denmark's Guard Hussars.
Metz and his cinematographer, Lars Skree, wrote their wills before setting off to Helmand Province in 2009, where they joined the Danish troops at Forward Operating Base Armadillo. It's tempting to make a lazy assumption that the Danish soldiers are something of a political fig leaf helping to make the interminable Afghan campaign look properly international, but from the moment they arrive at Armadillo it's clear that this is no sinecure. Greeting the new men, Platoon Commander Rasmus explains excitedly that they'd had a prolonged exchange of artillery fire with Taliban forces the previous day, and promises that "you can count on some action".
Metz has nudged and massaged his footage to give his film a discreet narrative shape, without betraying an authorial hand at work. The opening scenes zoom in on one of the soldiers, Mads, as he prepares to ship out, and pays a tense visit home to his obviously distraught parents. The filming is so intimate and revealing it seems too good to be true, yet it doesn't feel remotely fake.
Once the soldiers are in-country, Armadillo seems to follow its own natural progression. The mood steadily darkens as the troops learn more about the country and conditions, and the Taliban threat becomes palpably lethal. The look on the soldiers' faces when they hear that three Danes from another camp have been killed makes dialogue unnecessary. Uno Helmersson's hauntingly minimal soundtrack conveys a sense of strangers in an unknowable land.
The Danes' attempts to enlist the support of the locals are rebuffed with stone-cold logic. "We cannot co-operate with you," explains a teacher at an outdoor madrassa. "You come with all your weapons and then you leave. We're staying here, and then the Taliban will come after us. If I talk they'll cut my throat." Local farmers who have had their crops destroyed and their animals and family members killed are unimpressed when the Danes say they're terribly sorry and hand them a wad of cash in compensation (director Janus Metz, pictured below).
At first the patrols through the flat Helmand countryside seem mundane, but the knowledge that any clump of trees or cluster of buildings may hide machine guns and rocket launchers steadily ratchets up the tension. A distant explosion and plume of smoke announces the detonation of one of the dreaded Improvised Explosive Devices, and radio chatter reveals that it's serious - "Is everyone okay?" "Negative, negative... condition critical..."
The immediacy of the action footage is electrifying, not least the scene of a shocked, wide-eyed soldier who's just been shot, one of Armadillo's signature images. The camera is right in among the soldiers as they advance across open ground towards the Taliban who are shooting at them, and when they dive for cover the camera does too. In the firefight that forms the film's climax, you see bullets striking the earth a few feet in front of the cameraman, before he throws himself behind a mud bank.
It's the events which unfold in this sequence which have transformed Armadillo from being a formidable documentary which has won a clutch of international awards into political dynamite. Under fire at close quarters, the Danes respond with gun and grenade, and the camera obliquely catches the moments when the troops finish off a group of wounded Taliban in a ditch. The action is some distance away and masked by foliage, but you get the idea when there's a cry of "Die, you bastard!" followed by a hail of gunfire.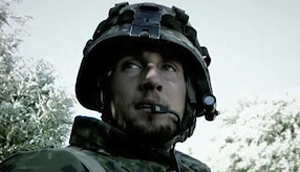 Afterwards, we see the soldiers in a surge of post-combat euphoria, especially the swaggering, blond-haired Daniel: "That was fucking great. Four of them with a grenade! This is something we'll never forget." Metz also records the scene when the CO tells his troops that the military police are investigating claims that they shot a group of prisoners and took triumphant photographs of themselves with their piled-up victims.
We see no evidence that this took place, and afterwards the platoon were congratulated and decorated for their courage under fire, but the suspicion that such savagery could have occurred provoked a furore among Danish politicians and soul-searching from the Danish public. It says something about the confused "health and safety" attitude to war now prevalent in the "civilised" West, as if it's possible to send young soldiers into the irrational maelstrom of combat and expect them to behave like lawyers or social workers. Several of the soldiers, meanwhile, have voted with their feet, and are now back in Afghanistan for another tour of duty.
Watch the trailer for Armadillo
The look on the soldiers' faces when they hear that three Danes from another camp have been killed makes dialogue unnecessary
Explore topics
Share this article