After the Wedding review - a high-tension gut punch
After the Wedding review - a high-tension gut punch
Starry cast bring gravitas to knotty drama remake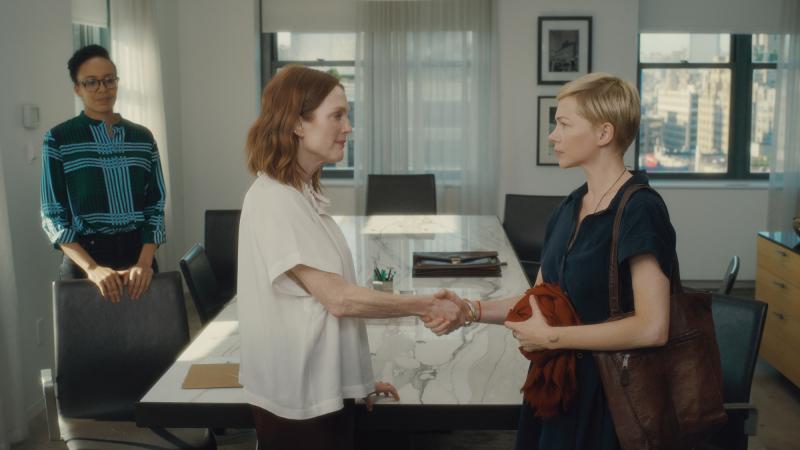 Two sides of a coin: Michelle Williams and Julianne Moore
How long can one decision follow you? How long can you hide from it? This is what underpins After the Wedding, a remake of Susanne Bier's Efter brylluppet.
It's a
drama
shaped like a
thriller
, driven by emotion rather than intrigue. We're introduced to an extraordinary situation and piece the story together as the lies fall away. With powerhouse performances from Julianne Moore and Michelle Williams, it's an engrossing watch.
Isabel (Williams) works at an orphanage in Kolkata, but is called to New York to secure funding from possible benefactor Theresa (Moore). Isabel hopes for a speedy visit, but she's delayed by the upcoming wedding of Theresa's daughter, Grace. Reluctantly she attends and quickly spots a face from her past, Theresa's husband Oscar (Billy Crudup). This proves to be no coincidence, as questions mount over why Theresa invited Isabel and what happened 20 years ago.
To tell any more would spoil the beautiful way After the Wedding's plot is structured. It unravels like Hitchcock, leaving the viewer to play catch up with everyone's deceptions. Each facial expression and dropped line adds another piece to the puzzle. We're witnessing the fallout of poor decisions from impossible situations, and the collateral damage they cause.
Director and writer Bart Freundlich lets the story breathe, trusting the actors to do the emotional heavy lifting. The dialogue is loaded with meaning but only offers exposition when necessary. There are some lovely duo scenes, such as Isabel and Grace, where the silences say more than words could. It's a shame that Grace doesn't get more time, but the pacing fits the story perfectly.
The story is definitely melodramatic, even outlandish, but it's kept firmly grounded by the cast. Moore and Williams create counterposed leads: Isabel the uncomfortable humanitarian unable to sincerely smile, and Theresa the sociable CEO with the 100mph life. We soon start to understand the masks they wear, and watch as they slowly peel away. They become two sides of the same coin, devastating and uplifting you all at once.
This is quite the achievement given the characters aren't too appealing to begin with. There's the strong odour of white saviour around Isabel that never quite dissipates, and Theresa's actions are undoubtedly dubious. Interestingly, these roles have been gender swapped from the Oscar-nominated original, no doubt in part due to Julianne Moore producing this remake.
With a small release, it's probable After the Wedding will go under the radar this awards season, but it's worth seeking out. Suspend your disbelief, and it takes you on a twisted journey, leaving you either gasping in shock or fighting back the tears.