10 Questions for Filmmaker Desiree Akhavan |

reviews, news & interviews
10 Questions for Filmmaker Desiree Akhavan
10 Questions for Filmmaker Desiree Akhavan
New York's latest multi-hyphenate on making sense of her place in the world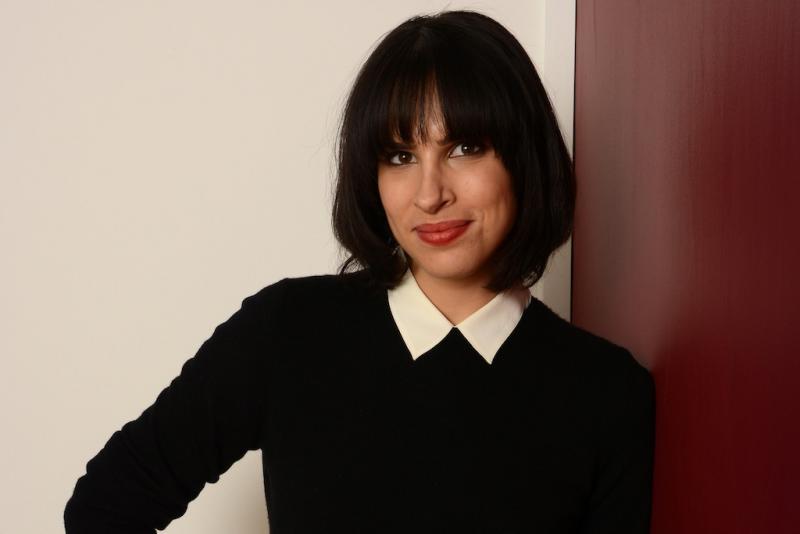 With her first film making waves, it's time the 'new Lena Dunham' was rechristened the one and only Desiree Akhavan
New filmmakers often suffer an unhelpful onslaught of comparisons and labels. Yet Desiree Akhavan offers so many options as to deflect all of them – counter measures against the heat-seeking missiles of media stereotyping.
She's a bisexual, an Iranian-American, a second generation immigrant, a multi-hyphenate (actor-writer-director), a New Yorker with a line in neurotic anal-gazing worthy of Woody Allen, and she's currently appearing in
Girls
alongside (and drawing comparisons with) the poster girl for the female
zeitgeist
, Lena Dunham. There's so much there that she can only be wholly original.
She's certainly not short of material. And it all feeds into her debut feature Appropriate Behaviour. Akhavan wrote and directed the film, and stars as Shirin, an Iranian-American struggling to deal with the break-up of her first gay relationship, while facing the chief problem in her affair – her inability to come out to her family.
Hers is a distinctive voice, sardonic and very funny. And while demonstrating a tangible feel for her Brooklyn milieu, she's refreshingly risqué when it comes to Shirin's sexual exploits, including an awkward threesome and some adventures in latex.
Akhavan's parents fled to America from Iran after the 1979 revolution. She was raised in New York, attending a prep school in the Bronx, then the prestigious Smith College in Massachusetts, where she studied theatre and film. While she laments being made to feel ugly and out of place as a child, a "freak of nature", she was also well-educated and precocious; she started writing plays when she was 10.
In 2010 Akhavan co-created and starred in a web series, The Slope, with her then girlfriend, a comedy that follows a pair of self-professed "homophobic, superficial" lesbians in love. It was her breakthrough. Appropriate Behaviour debuted at the Sundance film festival in 2014, before a long run on the festival circuit, including the London Film Festival, where I caught up with its star.
DEMETRIOS MATHEOU: In what way is your film autobiographical?
DESIREE AKHAVAN: I always say that it's personal rather than autobiographical. The events in the film didn't take place, but the subject matter is incredibly personal and true to me. When I wrote it I had recently come out to my Iranian family, and had just gone through a really awful break-up, from my first serious relationship with a woman.
I was heartbroken, and I was experiencing the most uncomfortable phase of the coming out process, after you've made the big announcement. Your family has no idea how to process the information and you can't look them in the eye without wondering if they're imagining you having gay sex, now that they know that you're capable of it.
I decided I wanted to make a film that touched on the themes that were ruling my life. But how do you put a character into scenarios that will breath life into what you want to talk about? My producer and I wanted to create a narrative that would take someone on a journey for 90 minutes. My life would be way too boring to sustain that drive. So I thought, what if the character couldn't let go, what if she kept stalking the other woman, what if that was the goal in her life, to win her back?
I like to think that Shirin is a very heightened amalgamation of my best and worst characteristics. I am very self-aware and analytical, I notice my hypocrisy and the stupid shit that I want to do. So what if I allowed Shirin to follow every ridiculous impulse, and just go for it?
You're making me think of another current film, Wild Tales, in which the characters step way beyond the point at which most of us would think twice. So you were deliberately allowing Shirin to go beyond the pale, in a sense?

Yeah, why else would you want to make movies? To explore every possibility that you can't do yourself in life.
Are there many Iranian-Americans in Brooklyn?
When you live in Brooklyn, no matter how special or different you feel you are, you end up running into 30 versions of yourself. So yes, there are. There's a community of Iranian-American artists, alive and well, but I'm not connected to it. And when I came out, at 24, I had never met or heard of even one gay Iranian, in my life. So I did feel very weird about that.
Coming out to your parents can never be easy. How much more difficult was it with your parents being Iranian?
They're not religious, and I think that's the real divider. I feel that most people come to terms with the gay thing, over time, but if your parents are religious it's harder for them. That said, coming out is the most terrifying thing, the hardest thing you'll ever do. In a strange way, for me, it enabled the web series, and it enabled the film, because I would never have been able to make work that I felt was that good until I came out. Once you've faced your worst fear, being on a set is like a fucking cake walk.
While the film feels original, one can't help noticing moments that are tonally familiar. Were you aware of working within a certain tradition of New York filmmakers?
I think I can recognise it now. I grew up watching Woody Allen. And I'm a fan of [Noah Baumbach's] Frances Ha! (pictured right) But I never make anything strategically, to have a dash of Woody Allen, a little bit of Lena Dunham. I never think,"How do I put my own spin on the zeitgeist?" I've always been making things like this. The play I wrote when I was 10 years old is along these lines!
But no latex?
No latex. I had so much to learn back then. You know, if I were to consciously imitate anyone, I'd imitate [Michael] Haneke. I wouldn't imitate someone like me. No-one's good at that.
You're writing, directing, acting. Is there one of those roles with which you're most comfortable?
I like to fill gaps where they're needed. If I can service a story by acting in it, if I feel I'm the best person for the job, I'll do that. I chose to star in this film because the film is so clearly a response to my life and my desires, that it would have been disingenuous to have hired a better-looking version of me.
I don't see a hierarchy in the roles, I don't have a preference. I have the most experience writing, but I really love all of it. You meet some people and think, "You're a director". I'm not one of those people.
How hard was the film to get financed?
It's a micro-budget film, lower than all of the films I've been travelling with on the festival circuit. My producer Cecilia Frugiuele and I share a story-by credit. She's very creatively involved. We've been friends for nine years now and Cecilia understands my crude, borderline disgusting humour. We met in London and she raised the money in the UK through private equity. I just had blind faith that it would get done. It required them taking a risk and believing in me. The fact that I had made the web series and shot it for nothing, and that it got a lot of critical attention really helped us.
Did the practical experience of making the web series help you personally, once you got started?
Yes. In finding locations that were inexpensive, shooting on the cheap in Brooklyn, moving very quickly, feeling confident on set, acting and directing at the same time, it was the best way to prepare to make my first feature.
On the first day I walked on set and had a moment, where I was looking through the camera and thought, "Oh shit, Noah Baumbach would never have put that in the frame. What would he do?" You can psyche yourself out. "I am not meant to be here. This is a hoax." And then you snap out of it. I got over it very quickly.
You had long been compared to Lena Dunham [pictured above, with Akhavan] then she offered you a role in Girls. Do you feel you're a part of a rich period for self-empowered, creative young women?
I feel that way when I look around me and see a lot of great work. But it's nothing new. I grew up watching Tracy Ullman. And there have been other incredible women doing amazing work for years. Andrea Arnold, Lynne Ramsay, Sarah Polley, I have so many idols. It's just our turn to wave the flag.
When I came out, at 24, I had never met or heard of even one gay Iranian, in my life. So I did feel very weird about that
Explore topics
Share this article