Trasmín/Gala Flamenca, Sadler's Wells |

reviews, news & interviews
Trasmín/Gala Flamenca, Sadler's Wells
Trasmín/Gala Flamenca, Sadler's Wells
Two rich offerings in the ongoing Flamenco Festival
Two tremendously exciting dancers: Belén Maya and Manuel Liñán in Trasmín.
In Trasmín, the curtain rises on two bodies leaning apart, yet reaching back to face one other, each columnar figure a twisted into a perfect spiral line from knees to the tips of curved fingers. Their feet are concealed by the great fabric swathes (for which "frills" is much too flimsy a label) of their traditional bata de cola dresses: rising from those grey cascades they look like two rococo sculptures in a fountain.
One of the dress wearers is Belén Maya, a star who has done much over her career to incorporate other dance influences into traditional flamenco. And the other is Manuel Liñán, who was named best male dancer at the 2013 MAX awards. What follows is a perfect illustration of the skillful integration of other dance influences into traditional flamenco for which both artists have become famous: a magnetic duet which is always flamenco, and yet has the sensibility of contemporary dance. The implicit erotic potential of the older woman and the younger man is galvanized by putting him in a dress (and one with a red lining: it is from round Liñán's ankles, rather than Maya's, that the intrinsically seductive colour flashes).
It is only a testimony to how electric they were together that I say it was a shame that the two dancers did not duet again, because they are each in their own right tremendous performers, and an evening of solos from either would absolutely be worth the price of admission. Both have the kind of stage presence that absolutely compels attention; after a dance has ended you realise your eyes are tired from watching so hungrily. With that kind of presence you could do anything and carry an audience, but Maya and Liñán treat us even more by offering up a series of highly original solos, continuing to play with stereotypes of gender and power, and blending hints of other dance styles into their flamenco – ballet and Indian in Maya's, contemporary, and was it a bit of Fosse I saw in Liñán there? Liñán is certainly the showier, and his erotic but tortured number with guitarist Victor Márquez 'El Tomate' was my frontrunner for best piece until Maya came on at the end in a man's suit and showed she could have taught Liza Minnelli a thing or two about dancing with a chair. An equal rating, then: five stars each, and on the wish list to return for next year's flamenco festival (Monday was, regrettably, just a one-night special).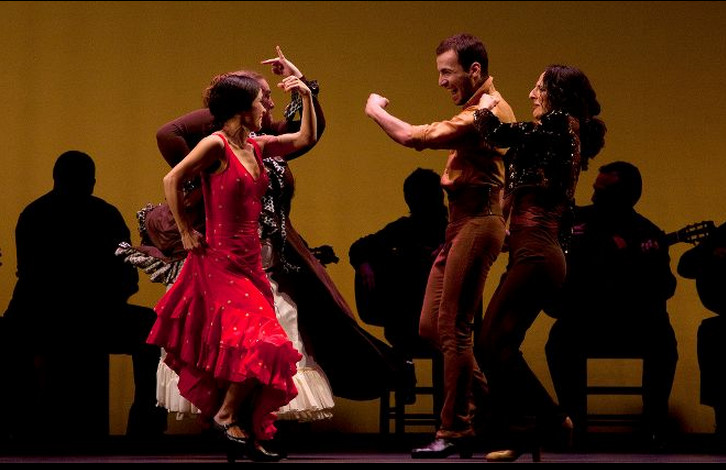 The gala on Tuesday featured four dancers, with honours slightly less evenly divided between them. Laura Rozalén was I think badly served by opening the show in silence; her style is quiet anyway, and without music I couldn't seem to 'hear' what she was saying – the point, perhaps, but after that I found her hard to connect with. Olga Pericet and Marco Flores are both deeply appealing, sparkling performers, who pleased the audience immemsely with their by turns sensual and angry duet (pictured above right). But nothing could match the visceral power of gaunt, angular Mercedes Ruiz, who first appeared in an all-black bata de cola, representing Thanatos, and sent a chill down my spine when her castanets shivered into life, shrill like a death rattle. I assumed she was much older than her thiry-four years, and that's a compliment (flamenco being, as far as I can see, one of the few art forms, or indeed professions, in which it is a positive boon to be a woman in her fifties). At the end of each dance, I was with the rest of the audience as they clamoured for more from Mercedes. (Those attending tonight or tomorrow might like to note that she obliged us with encores, and so did the other performers, leading to a run time at least half an hour longer than advertised...)
London is beyond lucky to have the annual Sadler's Wells festival bringing such world-class and interesting flamenco talent here. 'Tis a pity indeed that Trasmín was not to be repeated this year, because it was the better of the two shows, but the gala is still worth catching: its joyous finale - effectively a dance-off between all four dancers (pictured above left) - is guaranteed to leave you feeling the world is just that little bit brighter.
The implicit erotic potential of the older woman and the younger man is galvanized by putting him in a dress
rating
Explore topics
Share this article