Strictly Gershwin, English National Ballet, London Coliseum |

reviews, news & interviews
Strictly Gershwin, English National Ballet, London Coliseum
Strictly Gershwin, English National Ballet, London Coliseum
'S wonderful for some, but not for me. And what's Mae West doing there?
When boys mean girls: the tap lineup in Lady Be Good aren't who they seem
Craig Hassall, English National Ballet's managing director, apologised ironically at theartsdesk's Dance Question Time in November for putting on popular work at ENB, meaning Strictly Gershwin, a song-and-dance entertainment to follow the music-and-dance entertainment that is The Nutcracker.
My colleague Judith Flanders has already reported on her feelings about this production with unimprovable acerbity, and I'm there with her, wondering what the dancers of ENB did to deserve such pale fare as this. On the other hand, shows are not conceived with dancers in mind but with box office, and box office this is, with costumes and lighting of high glitz and elegant cut, and a salmagundi of ballet, tapdance, singing, jazz dance and tango all tossed in a glossy Hollywood mayonnaise.
Derek Deane created this for the Albert Hall originally, and it is improved by being restaged in the Coliseum, where the light-studded proscenium arches and orchestra staging are more effective in conveying the illusion of the cinema, as well as helpfully restricting the space his formations have to occupy. A large screen carries images of Hollywood stars from Humphrey Bogart to Mae West, including the two Gershwin brothers posing and some heartstopping slo-mo footage of Fred Astaire and Ginger Rogers. The effect of these giant divinities is completely to obliterate the miniature performers on the stage below.
When the show premiered in 2008, its chief assets were the veteran guest singer Barbara Cook and the effervescent ballroom duo Lilia Kopylova and Darren Bennett doing Latin. This is all much watered down now, with a quartet of singers of skimpy nasal vocal style, and the Thpaneesh numbers now done inhouse by ENB's own.
Deane's zeal for showmanship is rarely in doubt in any of his productions, and there is a white-jacketed orchestra in a glow of soft lights energetically playing Gershwin for a hyperactive conductor, who demands your attention by smacking his own bottom with his baton. The ballet dancers wear unstinted costumes, dazzlingly trimmed by Swarovski (you can never have too many sequins at ENB), and one of the two extremely cheesy tap dancers turns out to sing rather better than the singers. Take a bow, Paul Robinson.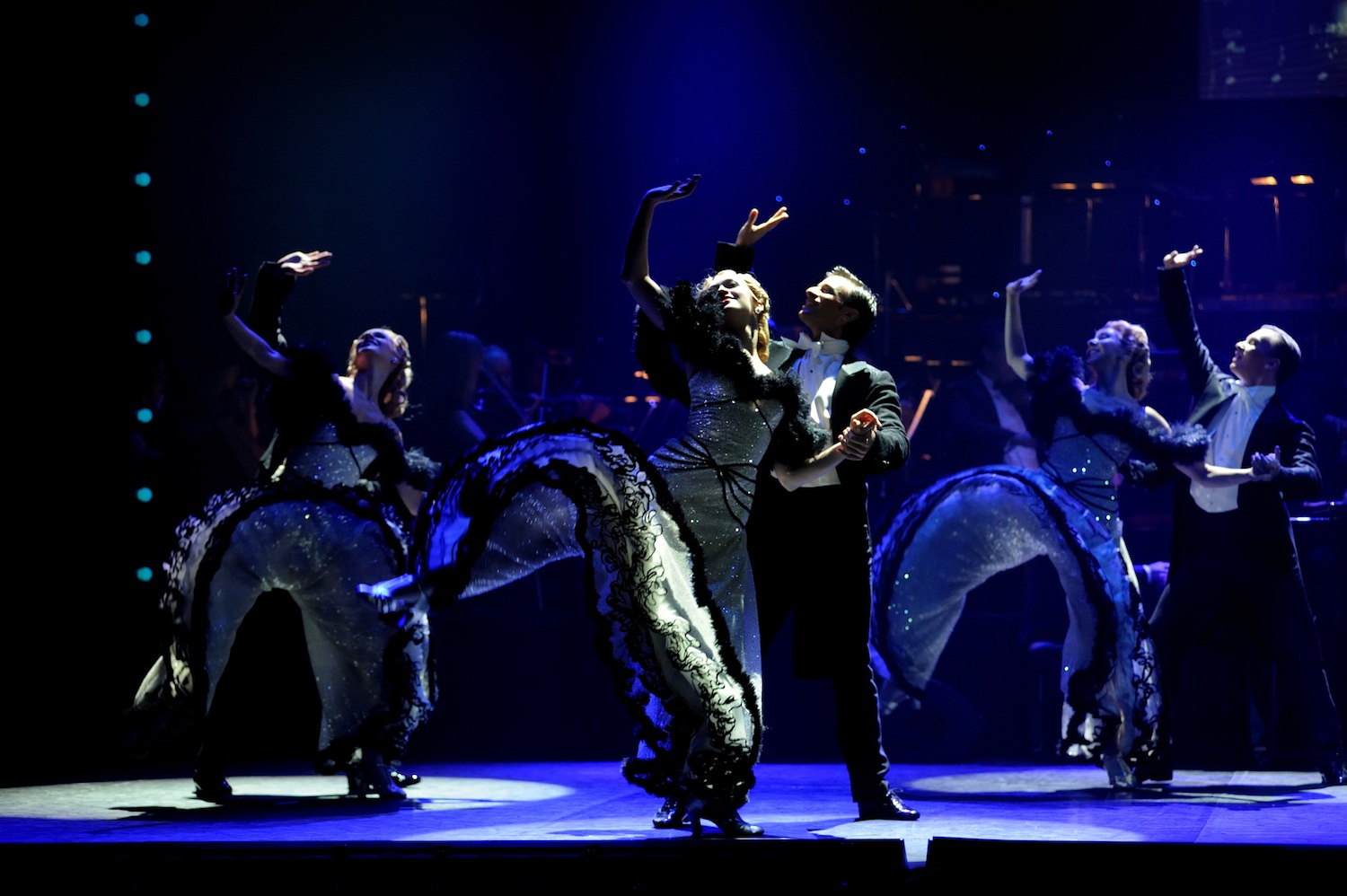 There are three big ballet ensembles, notable exclusively for Roberta Guidi di Bagno's costume designs: the Overture in swishy ivory and black (pictured right), "An American in Paris", with every known French cliché humorously stitched into the costumes (Eiffel Tower tutus with Eiffel hats, gendarmes on bicyclettes), and "Rhapsody in Blue", in which the inky-blue plate tutus are wittily made long and soft enough to waggle sexily when the girls dance, compensating for the lack of swing in the ballet-class choreography.
I suppose it comes down to your expectations. ENB is paid to be a ballet company that explores the detailed riches of that particular form of dancing. Gershwin's music is rich in swagger, poignancy, pep, carefreedom, aching nostalgia, and little of any of that comes out in the doing of Deane's steps by ballet dancers trained in a vocabulary that is strictly up and down.
The finest dancers on last night's stage, Daria Klimentová and Vadim Muntagirov, are good enough to compel eyes on any ballet stage anywhere in the world, but here Muntagirov looked ill-at-ease leading the Overture except when asked for regular ballet sequences and Klimentová was over-reticent in the big duet "The Man I Love" (though the man she'd been given had so little sex appeal that it may have been hard to pretend). Kirov-trained Dmitri Gruzdyev grinned fixedly as he slummed it in "Rhapsody in Blue" (pictured left), and the Gene Kelly man in "American in Paris" was virtually seethrough, so insubstantial was his presence.
Come on, people, this is showbiz. If you don't sell it, we won't buy it. Much more audience engagement came from Begoña Cao, proving a very charming and deft tap dancer in "Lady Be Good", with a breezy backing line behind her of hoofing boys in braces, who turned out to be ENB's girls en travesti, for once looking as if they're enjoying themselves. Enthusiastic applause. Evidently 's wonderful for some, but not for me.
Shows are not conceived with dancers in mind but with box office, and box office this is
Explore topics
Share this article