Stonehenge Fire Garden, Salisbury Plain |

reviews, news & interviews
Stonehenge Fire Garden, Salisbury Plain
Stonehenge Fire Garden, Salisbury Plain
French fire-artists turn an ancient mystery into an oddly charming domestic scene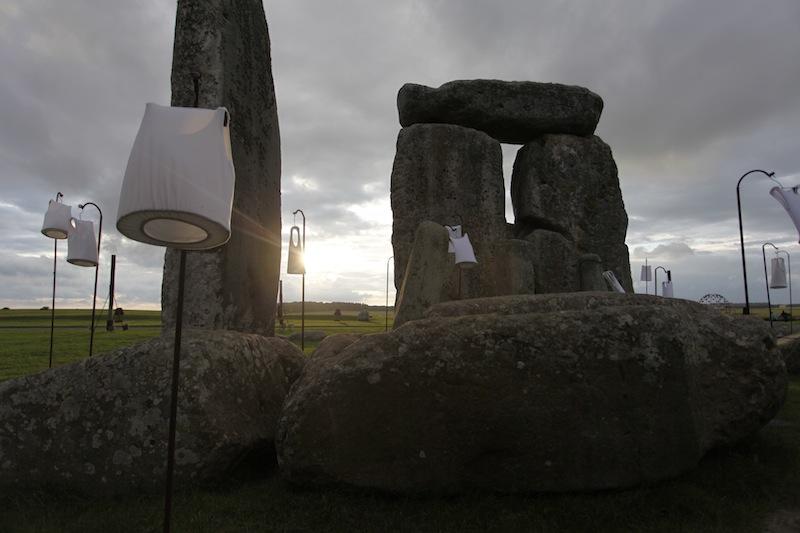 Ancient laundry: Compagnie Carabosse's installation domesticates Stonehenge
Stonehenge, the monumental mystery of Britain's past, decked out like a laundry yard with drying white vests and flowerpots scattered among its gigantic monoliths. It makes a most disconcerting image, and it is the precursive tableau that the public should not miss if they make the trek out to Salisbury Plain tonight or tomorrow for one of the Cultural Olympiad's stranger installations. Get there before it all starts.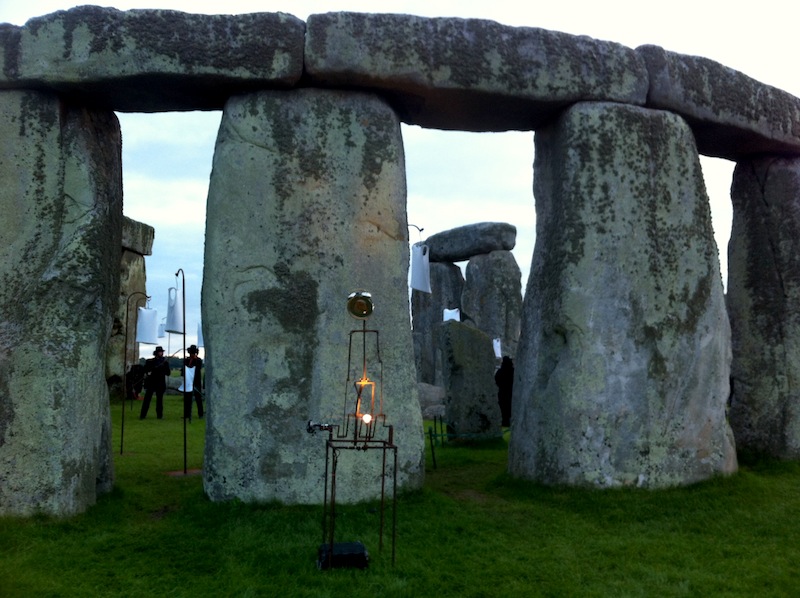 For three nights only, the great landmark and treasure of world civilisation becomes the magisterially named Stonehenge Fire Garden, centrepiece of Salisbury Arts Festival, loaned to London 2012 Festival. A cunning misnomer, as by some masterly French non-sequitur, the monument has become a whimsical scene of rusting domesticity, with creaking automata cyclists made out of cannibalised farm equipment and dead alarm clocks carefully aligned with the columns, with bits of old jeans going up in flames inside rusting exhaust pipes revealing runic inscriptions as they flare, and four circular iron gazebos studded with torches in flowerpots.
The contrast of cute and mystical is very French, in terms of performance art, and it comes from Compagnie Carabosse, who tour the world putting flaming things down in international sights. One suspects these skeletal metal cyclists and runic chimneys may appear in other installation sites too, but never mind - their spindly homemadeness works quite nicely at Stonehenge, and last night attracted many hundreds, maybe thousands of people to flood across the plain to take incredulous pictures of each other.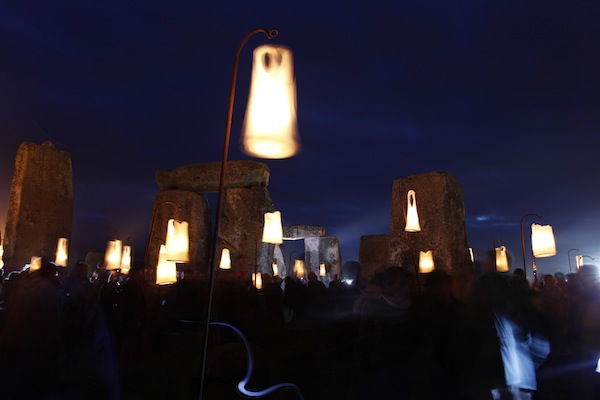 We too drove west through the spattering drizzle - and behold as we reached the A303, the setting sun cleared away the rain, the clouds became spectacular, and as darkness gathered the little white vests hanging up all around the great black stones began to glow with nightlights suspended in them (pictured above, © Lobster Productions).
The people-watching is as much part of this event as the weighing up of the set-up's aesthetic values, since as soon as 9pm comes the stones are all but overwhelmed in a seething human mass. But perhaps that massing is one of Compagnie Carabosse's messages; that Stonehenge was erected by people of much primitiveness, inventing rollers, transport for heavy objects (mysteries still unsolved), and recycling anything they had. And that a mass of humanity has swept ephemerally through the 3,000 years since then, with constantly evolving tools for entertainment - whether fire for rituals or iPhones for family videos. Stonehenge may once have been Ancient Britain's private treasure, but for centuries it has been claimed as a universal visiting right, one of the most awesome historical monuments anywhere on Earth.
So if mystery is replaced by cosiness, and a grand evening out for the family or tourists, it's perhaps telling us that, like London in the summer of 2012, we've loaned out our things to the world, for them to give us their passing take on them. Last night only the sky's majestic, unknowable changes reflected the colossal enigma of the stones themselves. The English weather and its inscrutable mystery was part of the installation, the setting sun and the night sky gave the charming "fire garden" their blessing.
At 9pm the stones are all but overwhelmed in a seething human mass. But perhaps that massing is one of Compagnie Carabosse's messages
Explore topics
Share this article