Manon, Royal Ballet |

reviews, news & interviews
Manon, Royal Ballet
Manon, Royal Ballet
MacMillan's moral maze still fascinates in its 40th year
Saturday, 27 September 2014
So ambiguous: Marianela Nuñez as Manon, Ricardo Cervera as her brother Lescaut (left), Christopher Saunders as the client Monsieur GM
In a moment of wild fantasy, I thought I might try and write a whole review of Manon without mentioning sex. After all, there's plenty of other stuff going on in Kenneth MacMillan's tale, which last night at the Royal Opera House celebrated 40 years since its première. Inequalities of class, wealth and power are ever present, and in fact drive the story to its sticky (quite literally) conclusion in the Louisiana swamps.
It's not precisely her screwing around that lands Manon on a one-way penal transport to the colonies, but her (and her brother's) screwing
over
of a rich man.
But who was I kidding? This is the 21st century, and anyone who goes to see the ballet will have inevitably waded through their own swamp of marketing material using every tart-with-a-heart, good girls v bad girls, have-we-made-it-clear-that-there's-SEX-in-it? advertising trick. And so, dear reader, I feel I must confirm to you that yes, there are quite a lot of sexual encounters in it, and yes, in bits it is quite "steamy", if by that you mean that the sexual encounters are played out centre-stage. I also freely admit that one of them – the first bedroom pas de deux – has a deservedly high reputation among ballet sex scenes for its evocation of that early, blistering stage of lust, when you can't even write a letter without stopping for a roll in the hay.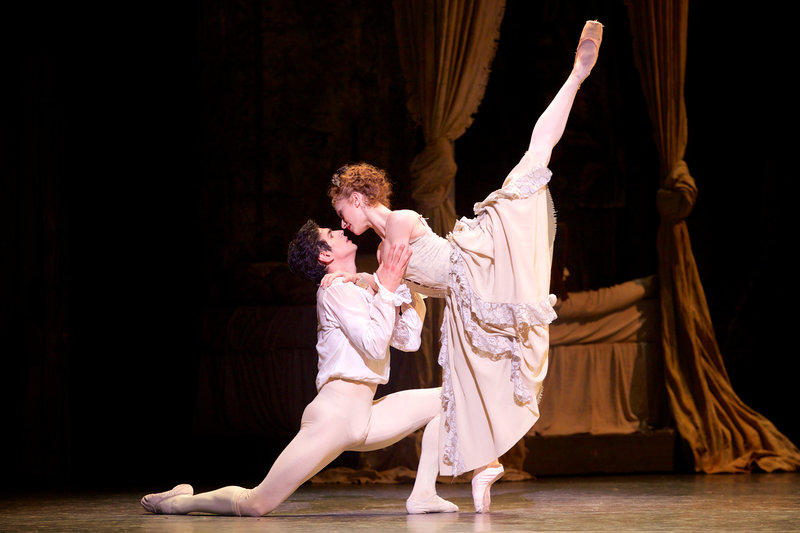 But if Manon were a success just because there's sex in it, MacMillan would not be a great 20th-century choreographer, and ballet audiences would be very shallow indeed. Manon fascinates because it's so ambiguous – a world away from swans in black and white. In the first half, Manon is the tart without a heart, showing us what Violetta in La traviata would be like if she didn't have all that inhibiting goodness. Manon gives up her unsuitable young lover with barely a backward glance, and it is the result of her brother's self-serving pimping, not of conceding to a father pleading for his daughter's happiness. The audacity of it is quite thrilling: just seconds after she has melted, with every appearance of genuine ecstasy, into Federico Bonelli's arms, Marianela Nuñez's Manon is melting into a big fur coat and walking off with Christopher Saunders as the far richer Monsieur GM.
As she does so, she walks us into a moral quagmire: we probably ought to sympathise with Manon, because she's young, pretty, poor, and being sold as a courtesan by her own brother. But she has also broken the cardinal rule of females in ballet – be faithful to your love (see Giselle), especially if your love is as earnest and handsome as Des Grieux when played by Federico Bonelli, who makes a valiant job of the part's slow balances, and does solid partnering while looking really, really devoted.
But just as words like trollop rush to the tip of the tongue, Manon recognises her error (or does she just change her mind?), ditches the diamond-dispensing dude and ends up back in Des Grieux's bedroom. Now, the viewer's approval secured by her change (or evidence) of heart, she can prepare to meet her fate, because – hello! – being, as I mentioned, young, poor, female and "immoral", there's no way she's going to survive to the final curtain. Before her inevitable death she will see her brother murdered in front of her and be raped by the gaoler of a penal colony.
Of course, we're supposed to pity her – you see that from the haunting, expressionist dance MacMillan gives to the other unfortunate, transported women – but there is also something oppressive about the relentlessness with which she is crushed. She and her brother are guilty mostly of the same crimes – being poor, wanting not to be, and so selling sex – but whereas the sparky, almost charmingly amoral Lescaut dies of a quick pistol shot, Manon has to suffer on stage. We can trace the erosion of her spirit through the five pas de deux with Des Grieux which punctuate the ballet: in the first, she is gloriously lively, Nuñez twisting and shimmering like quicksilver, so Bonelli can barely hold her. But by the last (pictured above right) she is completely limp, carried like a deadweight for much of it, and actually dead by the end.
While a good actress in romantic and comic parts, Nuñez has always struck me as too sweet-natured to bring out Manon's darker motivations, and last night she gave us an exquisitely beautiful, but inscrutable heroine. Mostly, that worked rather well – we don't know what she will do next, and neither does Des Grieux. In the brothel in Act II, Manon's gold-flecked black dress reminded me of Jealousy in Renaissance iconography (whose robe is covered with eyes and ears) and Nuñez, accompanied by uneasy low and muted woodwinds, is magnetic and discomfiting as she displays her beauty while hiding her thoughts, even from the desperate Des Grieux. But her inscrutability makes her less tragic – though no less piteous – since we don't quite know what she has done to deserve it. Neither poverty nor caprice will quite do service as a tragic flaw.
It is no bad thing to be left with questions at the end of a ballet, especially when those are questions about morality, culpability and femininity that other ballets often answer simplistically, or never ask at all. And on top of its questions and the fine dancing of the principals, the Royal Ballet's Manon offers a pleasingly decadent 18th-century visual world of gold, orange and rags, some restrained, atmospheric playing by the Opera House orchestra under Martin Yates, and excellent, thoughtful performances from supporting characters: highly musical Laura Morera as Lescaut's Mistress and Gary Avis as the Gaoler, making much dramatic meat of a small part. What's not to like? For all its shaky start, over its 40 years there's no doubt that Manon has come to deserve its place in the repertory, and its status as a modern classic.
Dear reader, I confirm that there are quite a lot of sexual encounters in it
rating
Buy
Explore topics
Share this article