Manon, Royal Ballet |

reviews, news & interviews
Manon, Royal Ballet
Manon, Royal Ballet
An unexpectedly touching debut as the young man competing with a rich, sinister older customer for Manon's body
Wednesday, 09 November 2011
What is she thinking? Lauren Cuthbertson as Manon with Sergei Polunin as her lover
Manon is the planet around which a series of moons orbit, locked in place by her gravitational pull. There is Des Grieux, who gives up his seminary studies for nights of pleasure; there is her brother Lescaut, who translates her into cash; and there is Monsieur GM, the aristocrat who wants her body, both to possess it and to display it. They all see her as an object of desire, and their desires set the plot in motion, spinning ultimately to destruction.
Sergei Polunin as Des Grieux and Gary Avis as Monsieur GM circle each other warily, and they have good cause. Polunin was making his debut in a role which, on paper, does not promise to play to his very considerable strengths, which so far have been technical brilliance and a sense of impetuous force.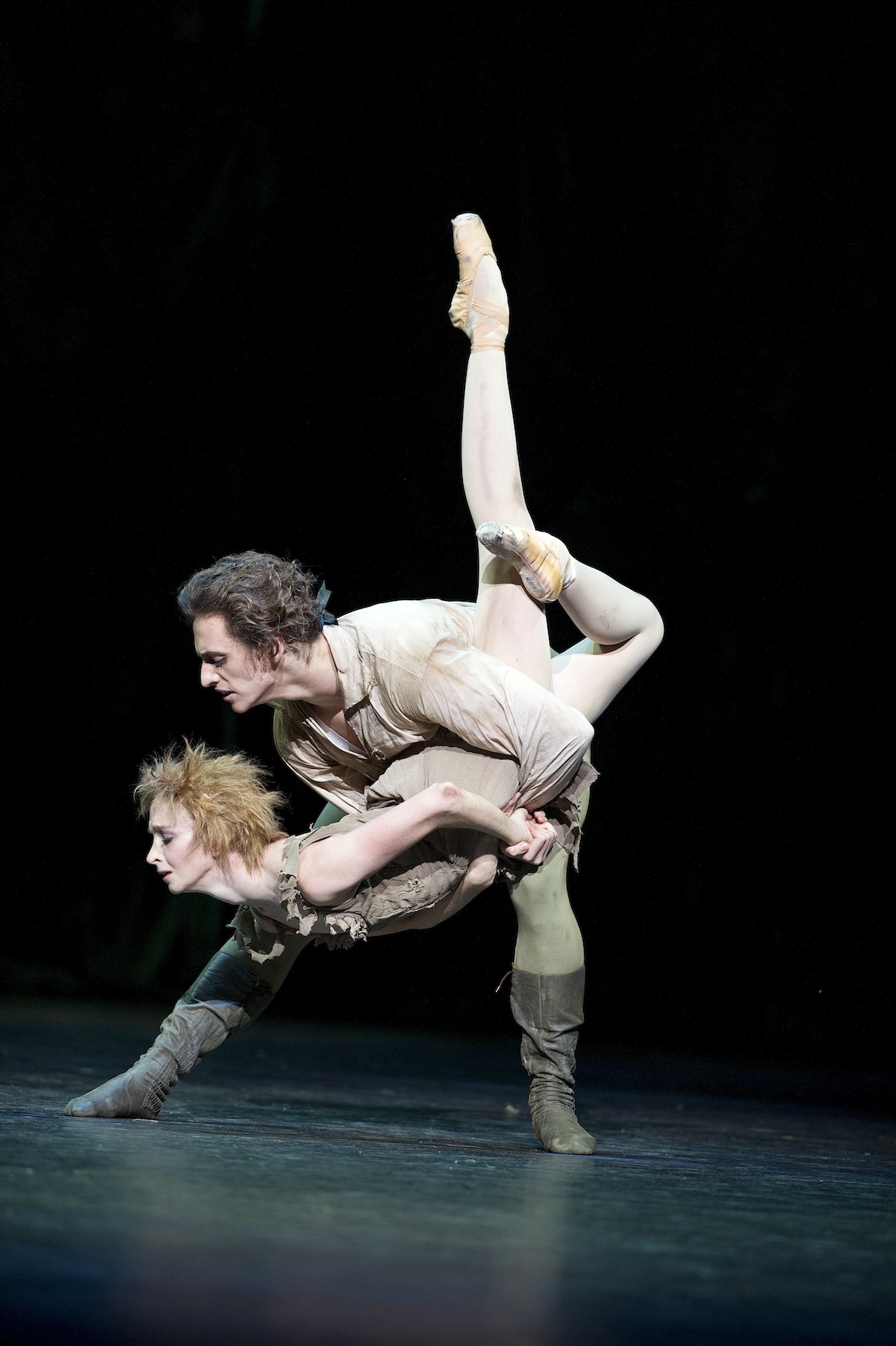 Yet as Des Grieux he found a depth that was as unexpected as it was touching, creating a believable picture of an uncertain young man transformed by sexual passion, and he equally surprisingly managed the technical demands of the role with aplomb. The part was created on Anthony Dowell, and the inside-out turns and achingly slow extensions that suited him frequently cause problems: Polunin negotiated them, if not with ease, with grace.
Avis played Monsieur GM as Des Grieux's dark side, his mirror, showing what happens when the infinite possibilities of wealth and position combine with the same sexual passion that devours Des Grieux. The choreographer, Kenneth MacMillan, had drawn only the sketchiest outline of Monsieur GM's character, and the part is usually played as stereotype, but Avis, always a fine actor, gave it chilling depths, showing Des Grieux, and us, what the seminarian might become as they circled each other.
The third of the male triumvirate, Manon's brother and pimp, Lescaut, was played by José Martin, who could not live up to this level of dancing or characterisation. Martin has always relied on his (very fine) jump to see him through, but for me it has never been adequate compensation for his unstretched feet and slightly cavalier regard for placement. In Lescaut's central drunken solo, the comedy lies in the contrast between neat execution and chaotic body language; Martin couldn't produce this, and the comedy died, despite the valiant efforts of his mistress, Itziar Mendizabal.
Like the men, I have been circling round Manon, danced for the first time by Lauren Cuthbertson, one of the Royal's hopes for the future. She has been acquiring new roles at a formidable rate over the past year, since her return from serious illness. Manon is, emotionally, a fiendish part. What does she think? It is hard to know, but decisions must be made. Is she truly in love with Des Grieux? Besotted by sex? Does she go with Monsieur GM because her beloved brother sells her, or because she wants the riches that choice brings? The answers can be various, but they must be answered. Cuthbertson, if she has made decisions about the answers, so far is not able to show us what they are.
Her one riveting moment comes when, on display in front of Monsieur GM, she is approached by Des Grieux, pleading with her to return to him. Cuthbertson's bourrées across the stage accelerate harshly, slicing away at superficialities, a viciously blunt rejection. It is a moment that suggests what her Manon might become, and leaves space for hope.
Otherwise the production has grown awfully tame, with the world's most demure whores in the world's most polite brothel. The newly revised score was conducted at funeral pace by Martin Yates, and its slow tempi and spare scoring, while musically more appealing, removed whatever sense of lush sexuality might still have lingered in the choreography.
Watch a Royal Opera House trailer for their 2009 DVD of Manon with Tamara Rojo and Carlos Acosta
These are now the world's most demure whores in the world's most polite brothel
Share this article