Interview: Carlos Saura, Flamenco filmmaker |

reviews, news & interviews
Interview: Carlos Saura, Flamenco filmmaker
Interview: Carlos Saura, Flamenco filmmaker
The veteran Spanish director recalls how he put classic flamenco on screen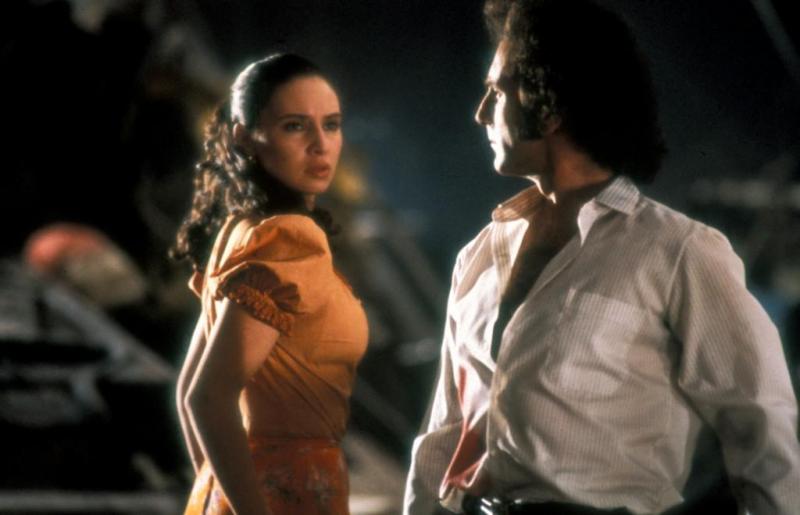 Laura del Sol and Antonio Gades in Saura's 'El amor brujo'
Carlos Saura is 80, though he looks 60. With a lived-in face and straggly grey hair, he resembles a rebel professor on a 1970s campus. He's garrulous and speaks a rolling, recklessly elided Spanish. He's had seven children by four women, one of them Geraldine Chaplin, the actor-clown's fourth child. This old man from Aragon—he was born in Huesca—has a self-evident lust for life.
Saura made his first feature film, Los golfos, about delinquency in Madrid's badlands, in 1959. Over 40 works have followed since, including Ana y los lobos ("Ana and the Wolves") in 1972, with Ms Chaplin (they were partners for most of the 1970s), and the Spanish Civil War drama ¡Ay, Carmela!, from 1990, starring Carmen Maura, one of Pedro Almodóvar's favourites.
Fury, passion, eros—these are what set Carmen alight
The intense Spanishness of Saura's work perhaps precludes him from global renown but his reach is astonishing. The Civil War, politics, Franco's repression, religion, sex, literature (including a wonderful film of one of Jorge Luis Borges's most realistic stories, The South) and especially music are topics he has addressed over five decades with wit, grit and imagination. The arrival on DVD of a famous trilogy of flamenco films he made in the 1980s prompted, in April, a conversation for theartsdesk with their maker at London's French Institute—and I'd better declare an interest, of sorts.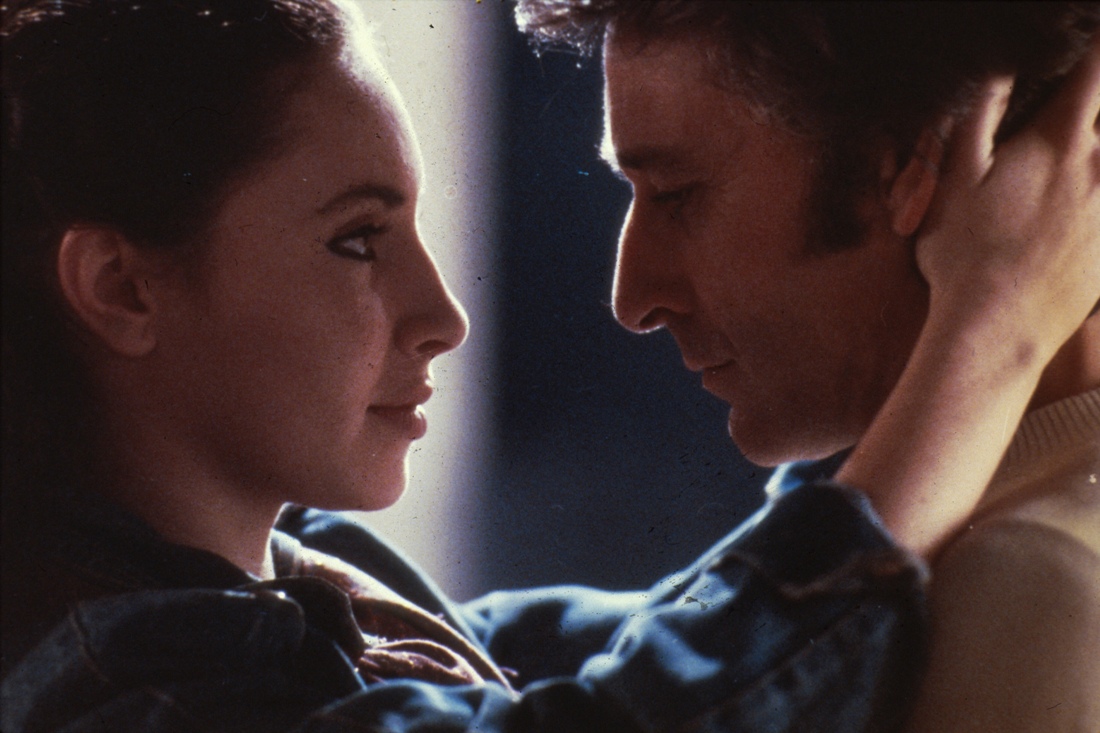 In 1983 the second of the trio, Carmen (pictured right), had a dramatic effect on my life. The spirit and fire of that film led indirectly to a book, my first, on flamenco nine years later. When in my early thirties I first met Saura, very briefly, it was too late for the book, so I've been dying to quiz him properly for 20 years. Because I consider Carmen one of the most exciting films of the late 20th-century, it might be said in talking to him about it I leave, I fear, the critical hat on a chair...
Fury, passion, eros—these are what set Carmen (and me) alight: there must have been some special spark behind the film, then, surely some spell inhabiting Saura which led to it. The truth is more prosaic. First, he's not an expert in flamenco and acknowledges how many real ones there are out there. But it's been in his life from the start. "My childhood was in the Spanish Civil War," he says. "Song was in the air, particularly flamenco song. Soldiers and workers everywhere sang it in the street."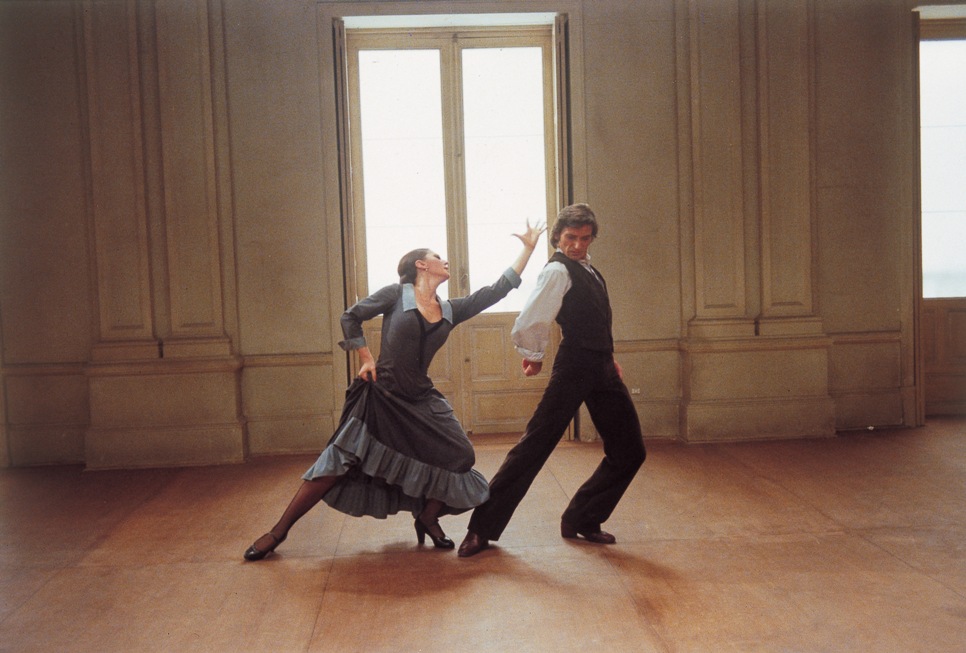 Second, Saura has long been a photographer, particularly of musicians and dancers. But what began to grab him was not the end result but the process of getting there. "It was the effort, everything in disorder, dancers working at the barre and in front of mirrors, which really attracted me," he says. "I was approached in 1980 by a producer, Emiliano Piedro, who simply wanted to make a film with me. 'Why don't we try García Lorca's Bodas de sangre ["Blood Wedding"]—Antonio Gades's dance version?'" See picture above left.
Antonio Gades was a renowned dancer and choreographer then running a national company in Madrid—Saura already knew him. With his own company Gades had, in 1974, created a version of García Lorca's play with his great dance partner of 20 years, Cristina Hoyos. "I told Piedra," Saura recalls, "that I'd be OK photographing Bodas but, being a realist, I couldn't for the life of me see how to turn this poetic text into cinema. Such a project frightened me. So Gades and his dancers did a special rehearsal for me in Madrid—really, just for me. And that's when I got the idea: to make a film of the making of the ballet, to let the story unfold as a rehearsal."
This was a relief to Piedra, who had sales to consider. The ballet was only half an hour long, which in film form would have interested only a tiny circle of aficionados. Saura's solution, with lots of backstage business at the start, made it over an hour long; it was an exquisite, spare, yet very powerful flamenco experience the like of which had not been seen on screen before, and it went down a storm out of competition at Cannes in 1981.
Carmen two years later was much more radical. Saura had first considered the Don Juan story but Gades, whose input as choreographer was this time to be properly rewarded, favoured the Bizet opera. The first ingenuity was to build a story around Antonio—the Don José figure—seeking, with guitarist Paco de Lucía as "music director", the right girl to play Carmen. This was a then unknown and preternaturally beautiful actress called Laura del Sol. Rehearsing her hard for the part, Antonio falls for her but, as in the original, she trifles with him.
Mirroring the rehearsal structure of Bodas, the second ingenuity was to make Carmen a kind of anti-performance, "a story that wasn't a story", Saura says, in which the absolute essence of Merimée/Bizet is kept; but the drama, the tragedy as it becomes in a scene of shocking violence at the end, is played out in modern dress and as if it were just a small part—a regular day—in a bigger process of show-making. The flamenco sections, erupting from the chaos of rehearsal, still have visceral, unforgettable impact.
One moment of sheer genius is when Laura del Sol prepares to perform—dance— the famous habanera for Antonio not in fact to flamenco guitar but against the sonorous crescendos and choruses of Bizet's score. As Gades joins her, with his geometric, jagged elegance, the most erotic flamenco pas de deux ever made ensues. A short while later, Antonio vents his frustration at Carmen by driving the company in a frenzied zapateado (feet stamping) across the studio: first the camera follows the feet, like guns firing, with Antonio's shrieks of "Don't run" the only accompaniment, then rises to frame the dancers, male and female, full square, turning and stamping in perfect synchronicity. The effect is utterly bone-shaking. This scene alone must, almost instantly, have launched a thousand amateur flamenco groups across the world. As it happens Carmen was a huge international success.
Saura went on to make a number of other music films, including the third in the trilogy, Manuel de Falla's El amor brujo (pictured above right), with the same team—Gades, del Sol, Hoyos—though by opting here for straight narrative and a more conventional, folkloristic approach the diamond originality of the first two was much diluted. And very little could ever match Carmen's extraordinary energy, much of which had emanated from Gades himself, "a complicated, somewhat tormented man", Saura says, who died far too young of cancer eight years ago, aged 67.
Saura's own energy seems undiminished. In the autumn he'll start filming 33 Days, about Picasso's painting of Guernica in 1937, with Antonio Banderas as the artist and his lover Dora Maar being played by Gwyneth Paltrow (though with a combination of vowels and consonants that doesn't exist in Spanish it took several goes before I could hear who Saura was talking about)—a great surprise being that Paltrow speaks fluent Spanish. Saura enjoys surprises, and likes producing them. Whether with the new film he can spring one as enduring as Carmen remains to be seen. He's probably just the right director for Picasso. In helping the world understand flamenco he remains unique.
Watch a clip from Carmen
The intense Spanishness of Saura's work perhaps precludes him from global renown but his reach is astonishing
Explore topics
Share this article