Gnosis, Akram Khan, King's Theatre, Edinburgh |

reviews, news & interviews
Gnosis, Akram Khan, King's Theatre, Edinburgh
Gnosis, Akram Khan, King's Theatre, Edinburgh
Gorgeous rhythm from Kathak legend
Wednesday, 20 August 2014
Fang-yi Sheu as Dhritarashtra and Akram Khan as Gandhari in 'Gnosis'
In keeping with the trends of recent years, the Edinburgh International Festival is showcasing a small but eclectic dance programme, light on classical ballet and heavy on contemporary, international and fusion. After choreographer Mark Baldwin's collaboration with Ladysmith Black Mambazo last week, the festival is now playing host to what may be the final performances of Akram Khan's bill Gnosis, which was a huge hit when it premiered at Sadler's Wells in 2009.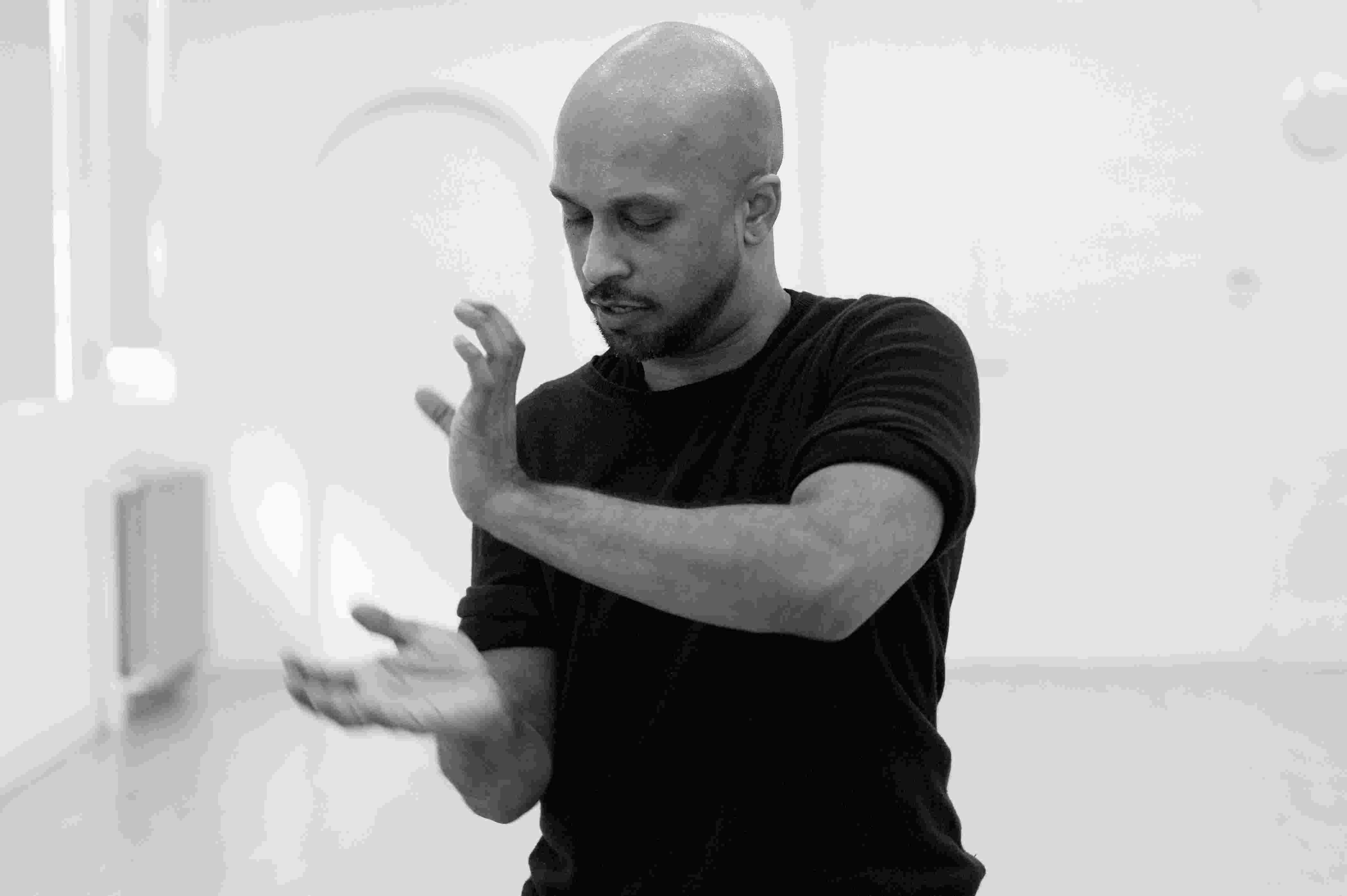 The first half starts with two long solos in the classical Kathak style, Polaroid Feet and Tarana. Khan dances with ghunghru bells on his ankles, and accompanied by six on-stage musicians. In Polaroid Feet, his hands are a marvel (pictured right), delicate and expressive as flowers following the light. In Tarana, Khan's dancing seems to merge with the gorgeous singing of Koushik Aithal. It's a sadness (as it is in flamenco) that most of us can't understand the words, although both Aithal and Khan are such expressive storytellers that we are carried along anyway, rocked by the cadences of a narrative that is clearly poetic, heroic, and thrilling.
These two solos are followed by a little unplugged section, in which Khan and the musicians improvise. Khan's stage presence is so potent, his dancing such a rich, polyphonous, almost supernatural form of communication, that his perfectly ordinary, rather gentle voice seems incongruously normal when he first takes to the microphone. With endearing warmth, he introduces the musicians and then tells us modestly that he and they are just going to throw some rhythms around, "a bit like a jam session". What ensues is the most wildly fabulous ten (15? 60? I honestly have no idea) minutes. Beats cascade aross the stage, licking out from the percussionists to Khan's feet and back in circles of ever-increasing complexity. Khan has talked of the mathematical nature of rhythm, and truly, it's like being inside a fractal growing, as patterns constantly give rise to new patterns, returning ornamented and then heading off in new directions, all backed by the steady four beats of the base rhythm.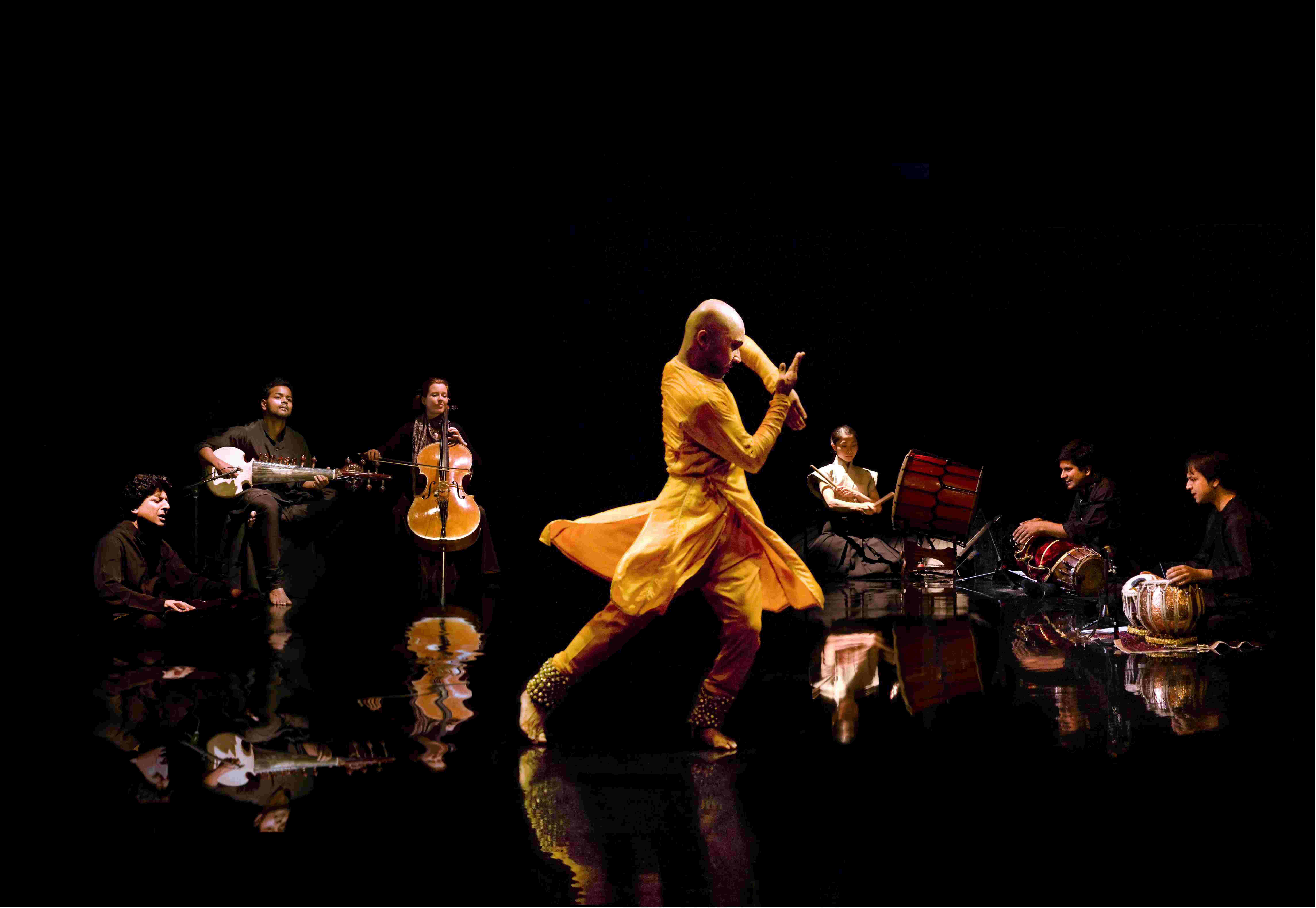 Though it's not especially loud, the beat gets under your skin and you become part of it, transported in one of the best non-drug-induced highs you can have in a room full of respectable theatre-goers. When I realised I was circling my ankle in time, I managed to pry my eyes off Khan's mesmerically rapt face for long enough to observe that the stalls were subtly alive with rhythm: heads nodding slowly, shoulders swaying – the whole audience responding like a taut sounding board. It's pure dance and pure sound combined: elemental, cleansing, unforgettable.
After the interval (during which, ears still thrumming, I seemed to hear gorgeous percussion licks everywhere in the echoing corridors of the King's Theatre), it requires some adjustment to return to the (slightly) more prosaic world of Gnosis, Khan's story piece following two characters from the Indian epic, the Mahabharata. Fang-yi Sheu, a former principal dancer with the Martha Graham company, is Dhritarashtra, a king born blind, and Khan is Gandhari, who voluntarily blinds herself when she becomes his queen. Reversing the genders of performers and parts is dramatically effective, and also typical of Khan, who has a history of working with very powerful female dancers (Sylvie Guillem, Tamara Rojo).
Fang-yi's opening solo showcases her strength with chalky downlighting that picks out her arm and shoulder muscles, and her stage presence builds to an almost unbearable intensity as she moves in silence for the first several minutes. It's a relief when eventually the percussion kicks in and the solo becomes a thunderously powerful representation of ceremonial drumming. During the body of the piece I lost track of what exactly was supposed to be happening, but plenty of individual moments stood out: Fang-yi walking over Khan, or manipulating his limp body with her white stick, that is sometimes a blind person's walking pole and sometimes a weapon, a fighting staff. The story ends with both of them dying in a forest fire, and both dancers deliver blistering solos in which their bodies become both flesh and flame, licking, flickering, contorting and finally coming to rest in stillness. There is a moment of stillness in the audience, too, before it breaks out into rapturous applause.
Gnosis is at the King's Theatre, Edinburgh until 21 August. Details of dance at the Edinburgh International Festival can be found here.